From time to time some really good web sites join Ensign on the web and when we come across them it is our duty to tell you about them so you can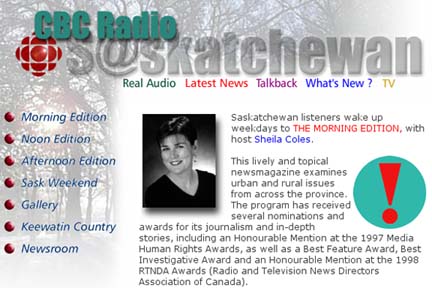 go and have a look for yourself. The CBC was one of the first broadcasters in the world to realise the potential and importance of making use of the World Wide Web and their site has and continues to be one of the best sites to be found. This week CBC Saskatchewan has put up their own site which is linked to the main CBC site but provides Saskatchewan listeners and viewers with information and background that will enhance your use of our very own broadcasting network.

The new site is masterfully done with great "roll over" Java buttons to navigate the site and just the greatest pictures of the people we are used to hearing on CBC radio. Each of the local programs have their own pages with biographies of the people who are on the shows as well as the people who are working in the background to make things happen.

Not only does this site have the information about the various shows but it is constantly updated with Real Audio hourly newscasts, and material related to programs and topics being discussed. By having this site constantly connected to the various broadcasts the CBC can provide its loyal listeners with more and increase the detail of the content. By being able to reference to the site, phone numbers from an interview, a recipe, a complex chart of information, additional background material all can move to the web site for the listener to access if needed. This is forward thinking on the part of CBC and the innovation and spirit of service will develop into new means for communicating and considering problems and issues.