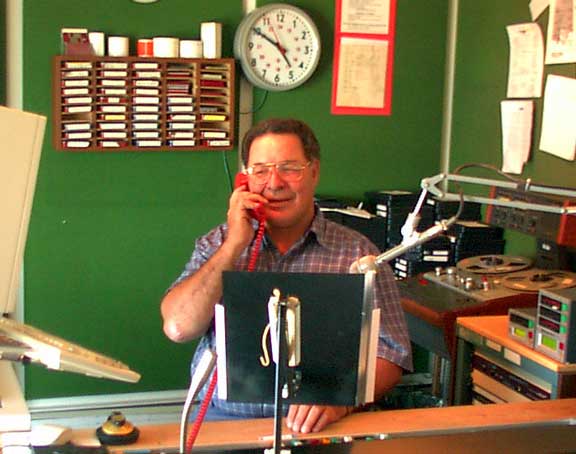 Tom Roberts
FTLComm - la Ronge - Wednesday, July 31, 2002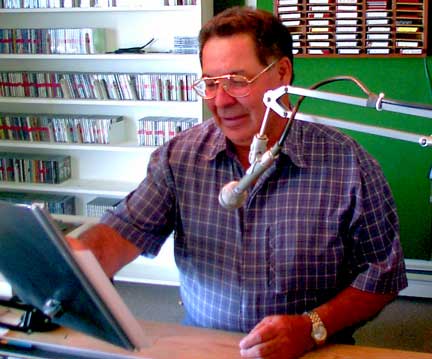 When it comes to radio broadcasting in Saskatchewan Tom Roberts is one of the growing legends. He has served with the CBC for eighteen years and was involved in the establishment of the Missinippi Broadcast network centred in la Ronge.

Tom is known to every CBC radio listener in Saskatchewan because he drops in every morning on the 6:00AM to 9:00AM morning show hosted by Sheila Coles a few minutes before 9:00 each day and gives a brief summary of the stories he will be following on his noon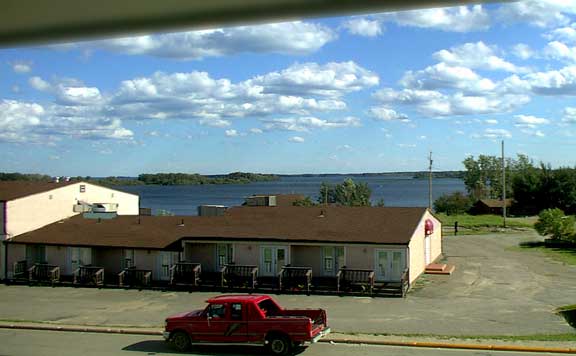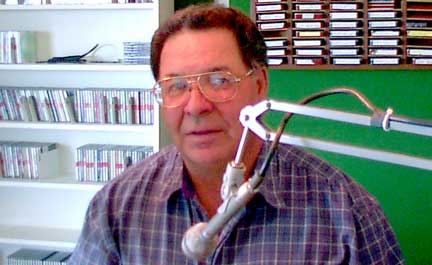 hour show that originates in la Ronge and is carried on the Saskatchewan CBC network to all of its Northern communities.

His noon hour show is one of the most appropriate forms of radio in Saskatchewan as it brings local Northern issues to the people whom those issues are vital.

Above is the view from his studio overlooking the lake from above the Robertson Trading Company Store.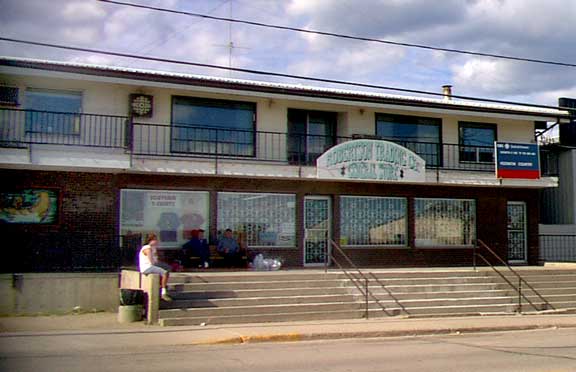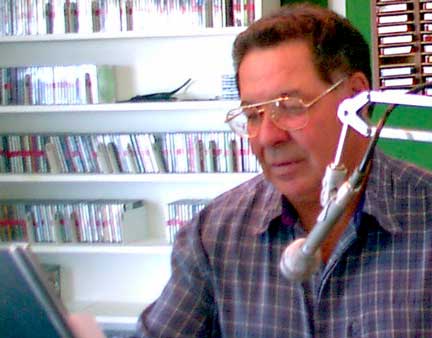 Tom grew up in his home village of Stanley Mission but like so many his age he was taken from his family and placed in residential school.

His fans appreciate his marvellous grasp of Cree humour and his Northern listeners get both his smooth Northern Saskatchewan English but also his liquid smooth Cree.

The people of the Northern half of this province are one form of Cree or another and on the Western side of the province, Dene. As a representative of this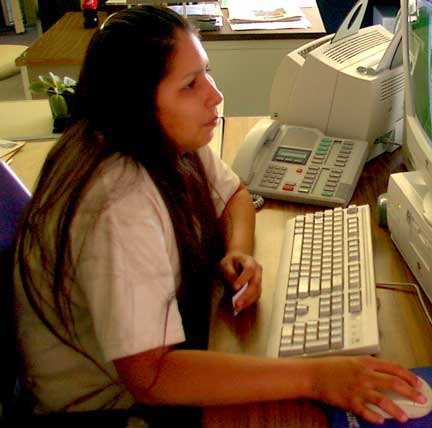 extensive cultural heritage and the equally rich Metis culture Tom Roberts does not have to explain to tell us about the heritage he can demonstrate it with his playful teasing humour and deep respect for his family, friends and all who meet him.

He explained that he sees the life of Northern people drastically improving and attributes much of this development to the individuals of Northern Saskatchewan who have chosen to become professionals in their own society. Their self determination is future.

While we talked he received a telephone call from his wife who is in Winnipeg covering the Indigenous People Summer Games as she is a part of Missinippi Broadcasting. Afterward Tom spoke with pride about the wonders of having the games here in la Ronge two years ago and who thousands gathers in the parks along main street and afterward the area was pristine and clean as though no one had been there. He felt that this respect for the environment tells so much about the youth who are participating in the games and their outlook on life.

One unsettling issue came up during our conversation as I mentioned how much the people of Saskatchewan enjoy his very short visit with them each and every weekday morning. Tom explained that he was not sure what was about to happen in September and that his visits are presently in doubt.

Starting in September CBC is cutting the morning radio programme from its six to nine format to six to eight-thirty. No one is saying what we can expect from eight-thirty to nine. I remember this spring some really dreadful programme that CBC tested during that time spot, nationally produced material that Saskatchewan listeners just turned off. For those of you who are not regular CBC fanatics, people who listen to the CBC are so used to the high level of local Saskatchewan programming that they do not turn to other radio stations but prefer silence to commericals. The Federal fools who run the corporation have decided that there is a need to make changes in the Radio One format and no one knows what to expect this fall.

Tom Roberts represents the very best of what the Canadian Broadcasting Corporation means to Canada he is the real thing, with something to say that is important and listeners who want to hear what he has to say. The listeners in Northern Saskatchewan get to hear him each noon hour on Keewatin Country but the rest of us have to settle for the minute or so that is left each morning when the National sports commentator finishes his bit and there is a moment before the nine o'clock news.