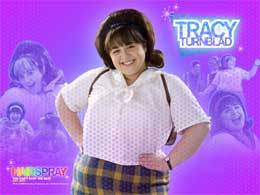 Nikki Blonsky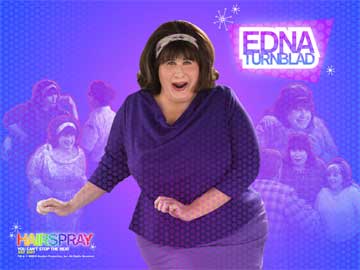 John Travolta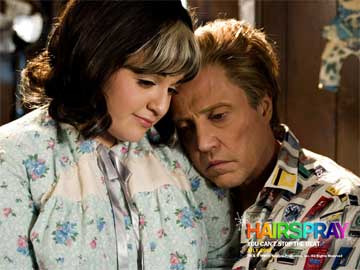 Nikki Blonsky and Christopher Walkin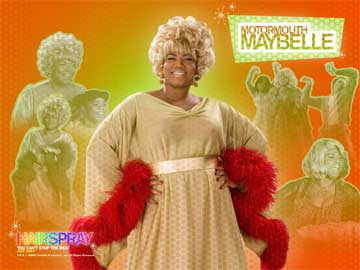 Queen Latifah
Written and performed originally as a broadway play Hairspray is quite simply a musical. It starts out with a solo and keeps up the pace from start to finish with song and dance numbers to embellish a story that everyone who sees it can identify. Unlike Chicago or Evita which are essentially operettas Hairspray tells its story through the medium of images with a rich and simple dialogue and punched up with spectacular song and dance numbers.
When I invited my wife to join me in seeing this picture she at first had reservations simply because it was a musical and many folks find the whole business of telling a story with songs a bit out of step with any real world in which we live. Only minutes into the show she was sittling on the edge of he seat laughing and completely immersed in the fun that was coming from the screen and sound track.
The co-manager of Melfort's Dynasty Threatre told me that she had reservations about getting Hairspray in because movies like musicals appeal to such a narrow audiance that she feared that it would not do well at the box office. Quite the opposite happened, Hairspray did very well and what was surprising was the wide appeal of the show. Young, old, all sorts of people went to and came out after seeing the show raving about the fun they had.
This is one of those movies that you can check your background and worries at the door and just go in and have fun. The story is not without a point or two and there is plenty of action but nothing is heavy handed or shouting in your face. The performances by the cast are just great.
Nikki Blonsky is doing her first movie and the teenager is the star of the show. John Travolta plays her mother and as strange and implausible as that sounds he is perfect and the performance brings both laughter and smiles your face. Christopher Walkin plays her dad and it is hard to imagine anyone else doing such justice to the part. The rest of the cast includes a stunning performance by the hugely talented Queen Latifah and the remarkable Michelle Pfeiffer.
This is a good movie, you can take your mother, your girlfriend or your five year old to and all would have a great time.