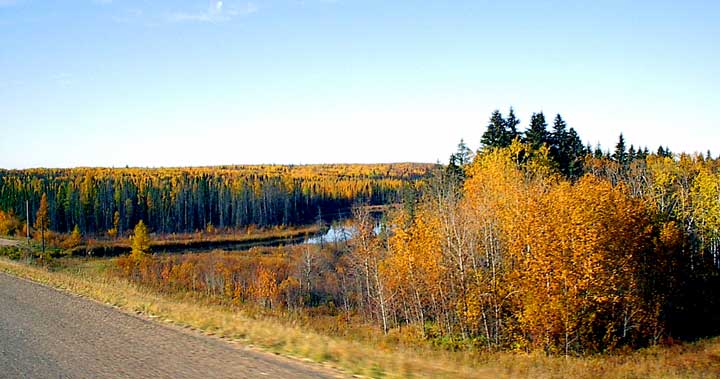 Images by Timothy and Judy Shire
Saskatchewan Autumn
FTLComm - Tisdale - Monday, October 6, 2003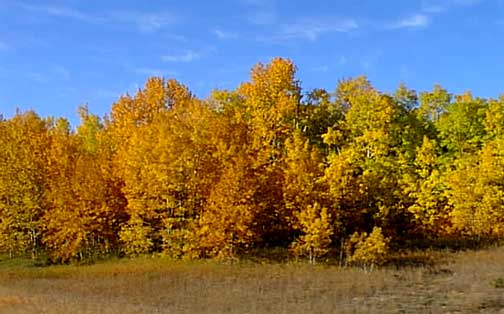 Saturday morning we set off for Regina. The sky had only the occasional wisp of cirrus cloud and the country side seemed to be vibrating with colour.

The fields and bush South of Tisdale was the most spectacular we saw. Scenes like this one (right) were lit up with the morning sun. This scene is near Sylvania.

The glory of the brilliant colour and the rising temperature certainly perked up our spirits on this three hour journey. We saw many squadrons of geese lazily drifting East and West as they seem to enjoy the weather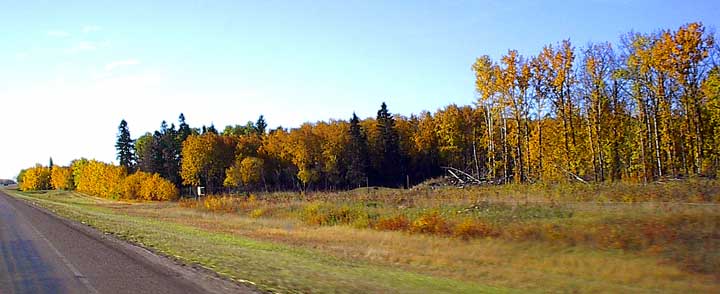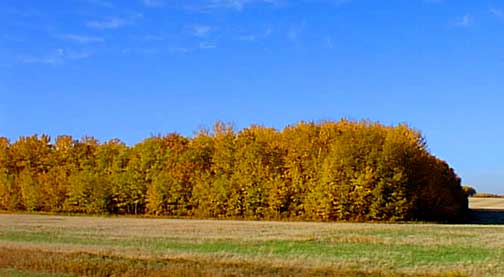 and the season with us.

The picture at the top of the page is from the top of the Barrier River valley where the ever green trees provide contrast and set off the Technicolor trees around them.

The road, it is hard to call it a highway, from #35 to Naicam is getting some resurfacing or something is being done to it, its hard to say at this point if its a good thing or not as the road is now mostly gravel.

However, about mid way across to Naicam I was startled to see a bird that is common in the Yukon and the West Coast but I have rarely seen one here on the prairies. The bald eagle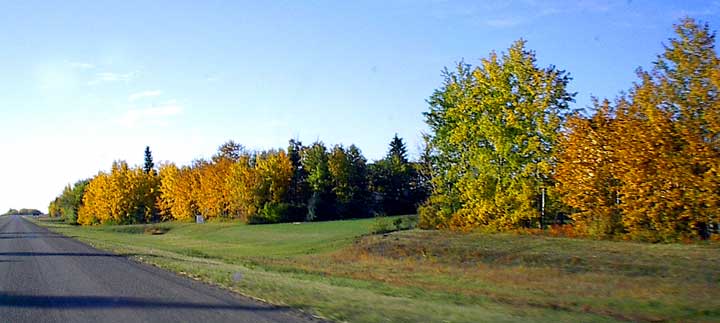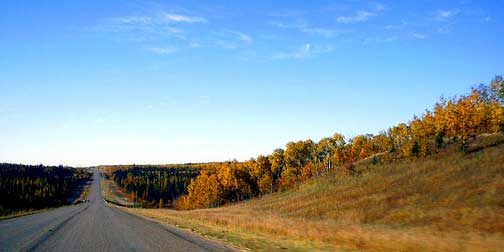 is indeed native to this part of the world and there one was sitting on a tree then hopping off and flapping over to another as we drove by displaying the white head and tail.

It was in the early fall in 1983 we were soaking up the sun over the Liard River South and East of Watson Lake. Just as the trees in Saskatchewan are in colour now the forest of the Tintina Trench was patches of colour. It was a Sunday afternoon and Judy, who was not a enthusiastic flier was giving me airman ship instructions as we leveled the 172 off at 5,000 feet. We were looking down at the River below and the colour when I discovered we were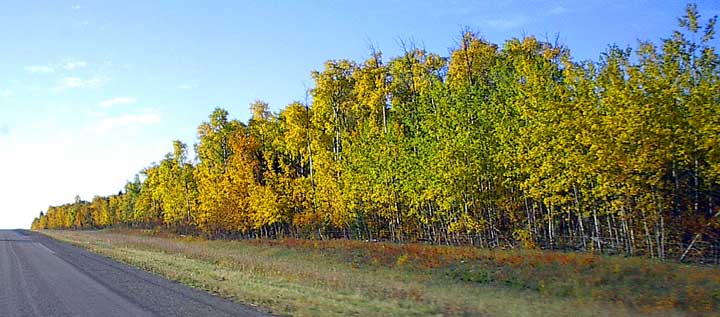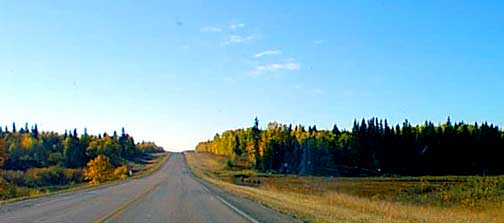 not alone. Drifting along at eye level to us was a bald eagle. Now a 172 throttled back as we were at that time loafs along nicely at well under a hundred miles an hour but that usually means that if you spot some bird in the air with you there is a serious danger of a collision and though it would be fatal to a bird it would be equally fatal to occupants of a light plane. The moment I spotted the eagle I was ready to snap into an evasive maneuver but just as suddenly realised that this would not be necessary. Eagles are big and this one had ridden a thermal up to this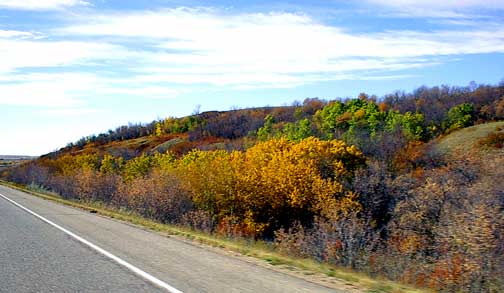 altitude or higher and was soaring and the angle we encountered this bird was not a collision course but a parallel one and for a few seconds we drifted by one another close enough that I could see it turn its head and look us over, probably checking to see our call numbers.

Between Watson and Raymore I saw the second eagle of the day. This one was not in the smartly dressed American symbol of freedom and liberty but was a motley pattern of white, beige and brown. But being more than twice the size of the typical buteo hawk of the prairies clearly it was an eagle. Because of its colour I assumed it was a juvenile golden eagle which we would sometime see in Southeast Saskatchewan but a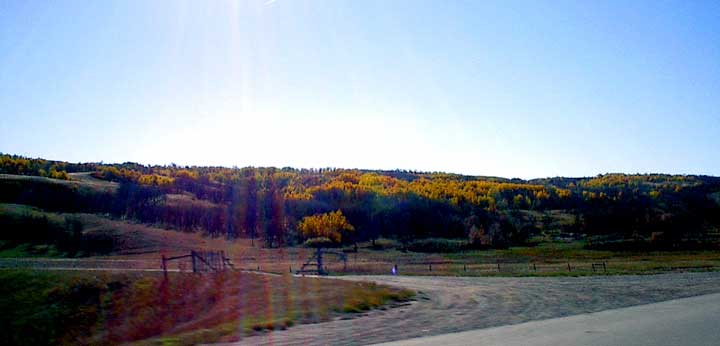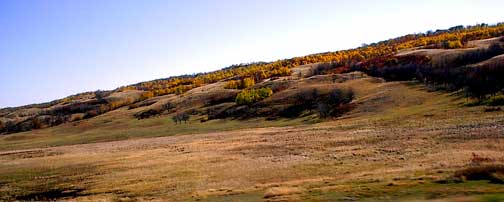 bird expert on CBC today said it was most likely a young bald eagle.

The bald eagle is sacred to the people of the West coast and an important part of the Potlatch are eagle feathers and down which had enormous power. While working in Bella Bella bald eagles were as common as crows and ravens in Tisdale and just as noisy. The habit of giving a piercing screech is a common sound in West Coast communities and one afternoon a bald eagle made a pass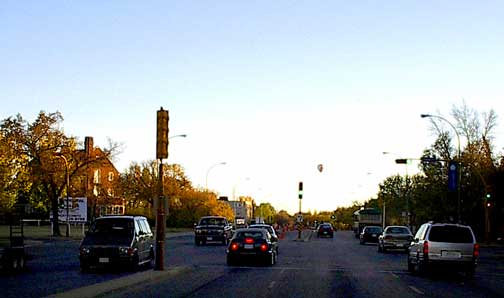 at eye level through the playground during a recess. An ordinary thing for the kids but for me absolutely breath taking.

The Qu'Appelle valley South of Southey is less than breath taking this year as it looks really dry.

Regina is coloured up like the rest of the province. The picture above is a block from the General Hospital at about 5:45 and this scene (right) is the intersection of College and Broad with a hot air balloon hovering over the South part of the Queen city. About three quarters of an hour later the picture below records the end of Saturday.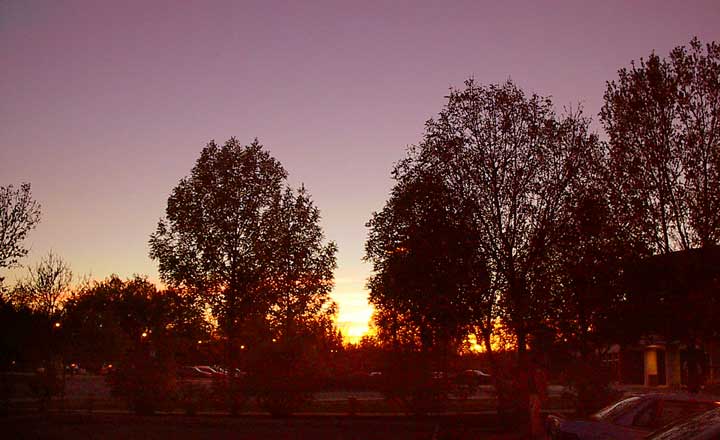 ---
Return to Ensign - Return to Saskatchewan News
This page is a story posted on Ensign and/or Saskatchewan News, both of which are daily web sites offering a variety of material from scenic images, political commentary, information and news. These publications are the work of Faster Than Light Communications . If you would like to comment on this story or you wish to contact the editor of these sites please send us email.
Editor : Timothy W. Shire
Faster Than Light Communication
Box 1776, Tisdale, Saskatchewan, Canada, S0E 1T0
306 873 2004