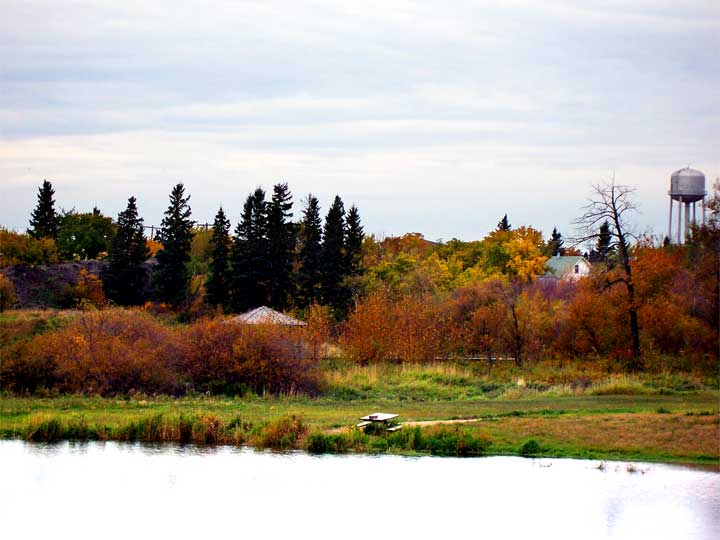 Fall in Tisdale
FTLComm - Tisdale - Tuesday, September 26, 2006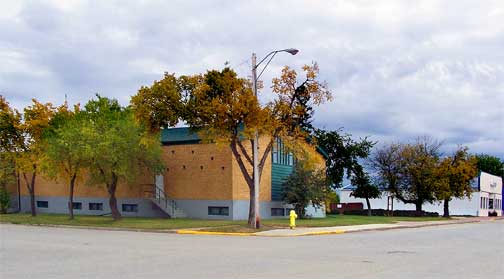 This week we can expect sun cloud, cloud sun and just a touch of rain now and then, we are in typical September fall weather. On Monday I drove around and thought that if I didn't take some pictures of the colour it would soon be gone as many trees have already put all of their summer glory on the ground.
There are two things about fall weather that make it near and dear to the hearts of Saskatchewan people and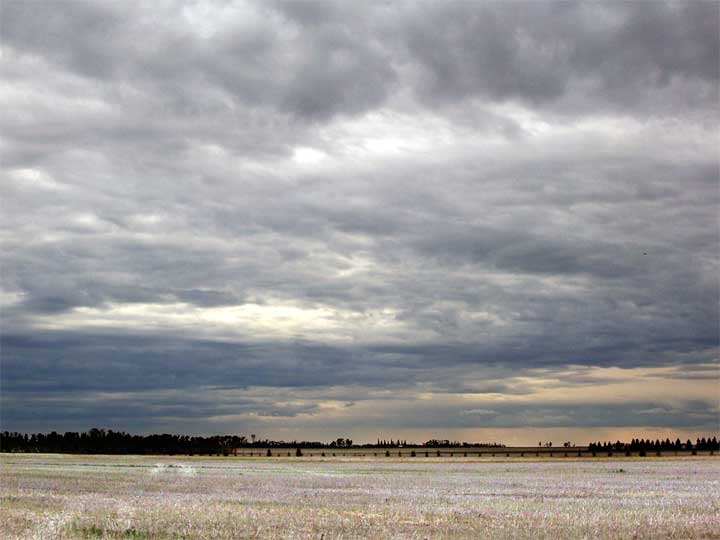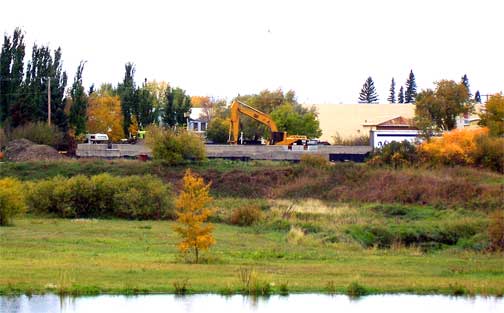 colourful trees is not on the short list. The number one thing that makes fall great is the absence of bugs, that has a negative side because without the bugs the song birds of summer head south without notice. The second thing that most people enjoy is the variety of weather experiences. From now until mid november anything can happen from snow storms to sweltering heat, drizzle to dust blowing, fall is the time for it all.
This picture (above right) shows the construction that is dragging along as the new water treatment plant is slowly evolving.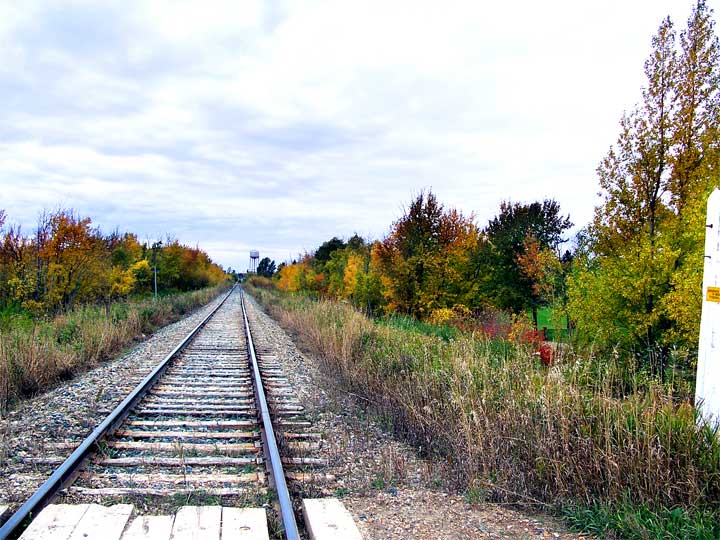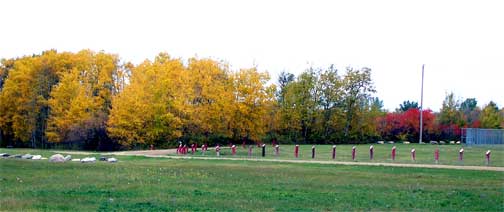 I have never understood the association with love and spring. As I look at these scenes this looks as romantic as scenery can get.
For those people who crave order and neatness fall is time of frustration with the leaves, the dying grass the neat freaks get into closets basements and garages rooting around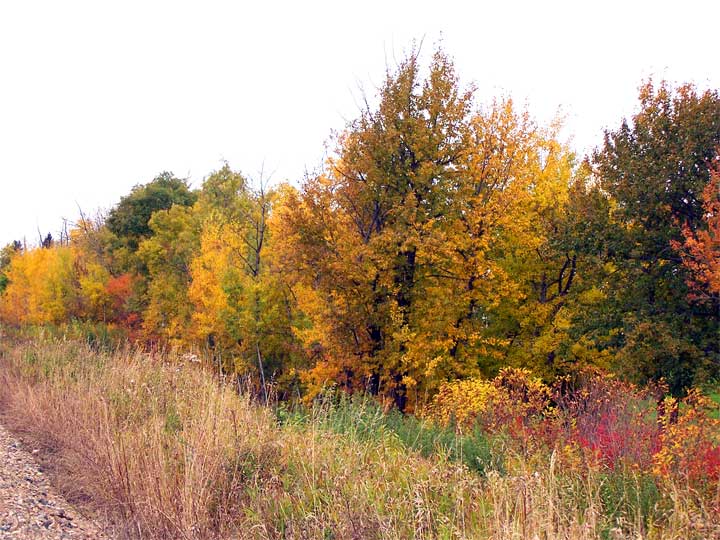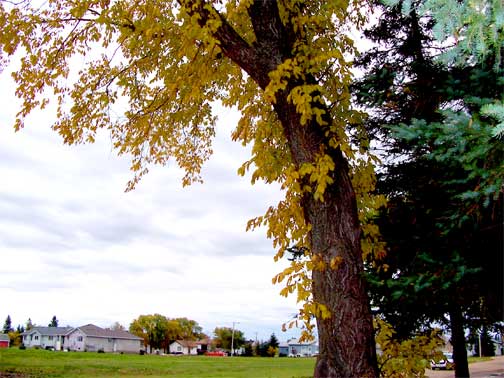 generally making a nuisance of themselves.
Speaking of rooting around the folks at St. Matthew's Anglican church are busy setting up their fall sale which begins at 9:00 Thursday morning and continues until noon Saturday.
There was a reasonable crowd out Sunday for the last stock car race of the year and the benefit for the two couples injured in that crash near Wakaw. Despite the cool weather there was money raised.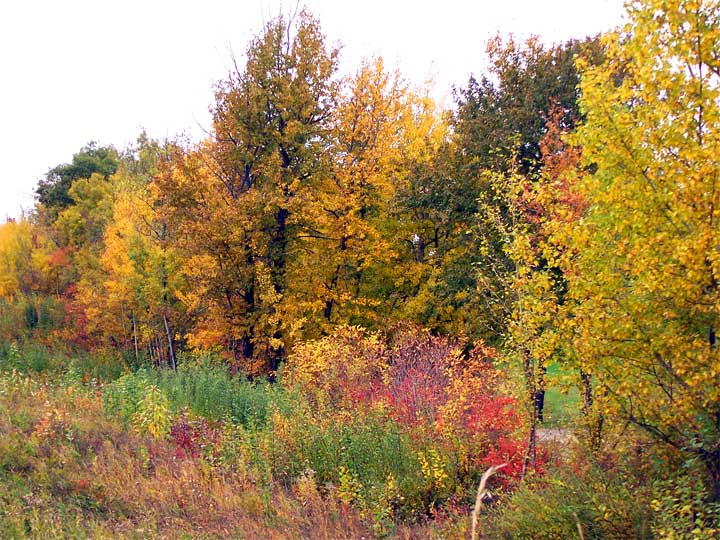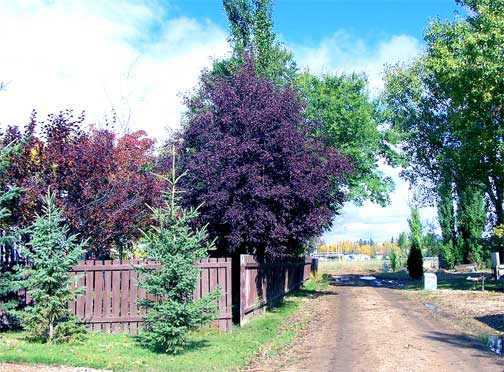 Construction still hustles along in the fall weather of Tisdale with a house underway, the triplex about to begin, the Farm Credit building closed in and rumours of work proceeding on Robin's Donuts one of the longest construction projects in some time.
The Trojans have their first league game at Beardy's on Thursday night and the season opener will be here Saturday night at 8:00. Tisdale has a good looking team this year and just picked up a new goalie so get out your red "t" shirt and get down to the RECPlex at 8:00 Saturday night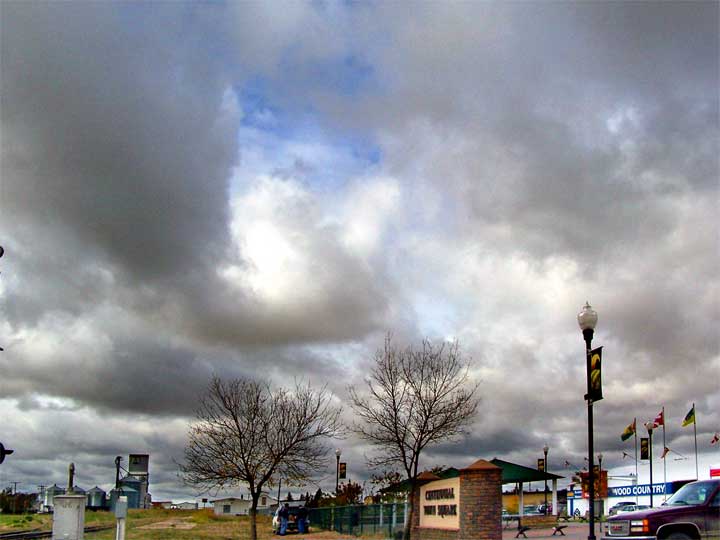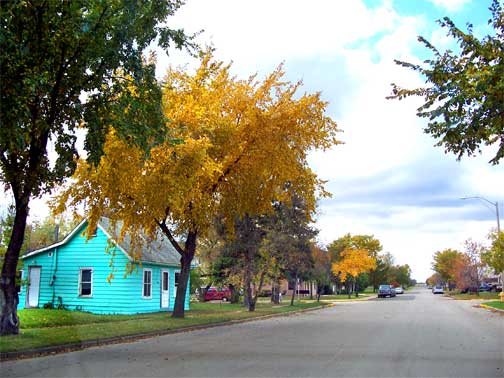 With all these leaves and darkening skies keep your eyes on the notice boards around town because the fall supper season is about to begin. For those of you worried about being banned as a model in Spain . . . no, wait, that doesn't include anyone I know.
My wife made pumpkin pie last weekend as she is preparing for Thanksgiving. Before you know people will be talking about the "holiday season" but let's deal with the pumpkin pie first.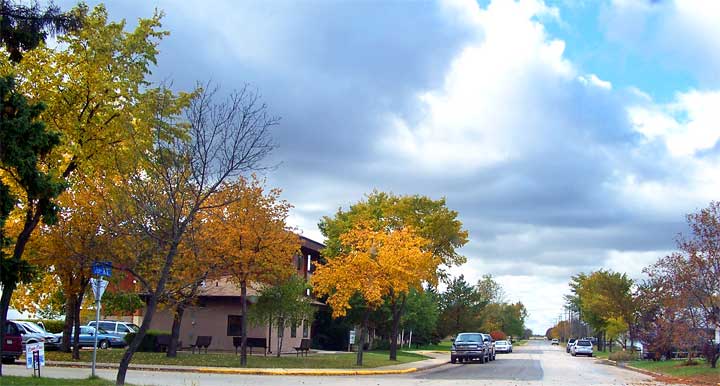 ---
Return to Ensign
This page is a story posted on Ensign and/or Saskatchewan News, both of which are daily web sites offering a variety of material from scenic images, political commentary, information and news. These publications are the work of Faster Than Light Communications . If you would like to comment on this story or you wish to contact the editor of these sites please send us email.
Editor : Timothy W. Shire
Faster Than Light Communication
Box 1776, Tisdale, Saskatchewan, Canada, S0E 1T0
306 873 2004