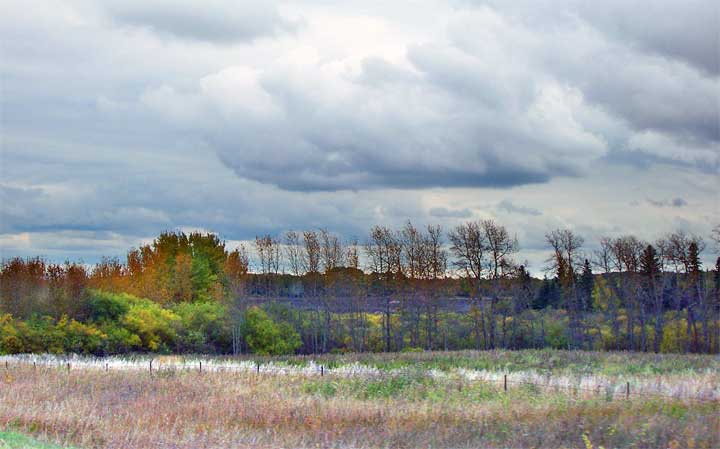 Orange trees, lead sky
FTLComm - Bjorkdale - Sunday, September 24, 2006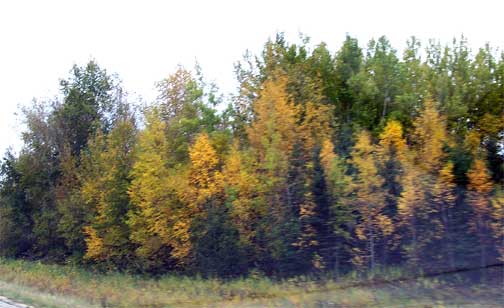 Saturday afternoon we set out on trip over to Porcupine Plain and that takes you through the valley around Bjorkdale. Though Bjorkdale is pretty impressive the other seasons of the year it is fall that must be its time to glow.(below)
In a mixed forest as is found in this part of the parkland the green leafy trees take on various hues of orange and brown while the spruce and pine remain their serious dark green. In Saturday's dull overcast skies this created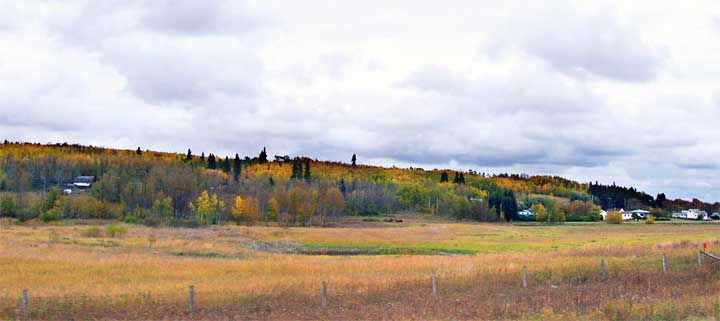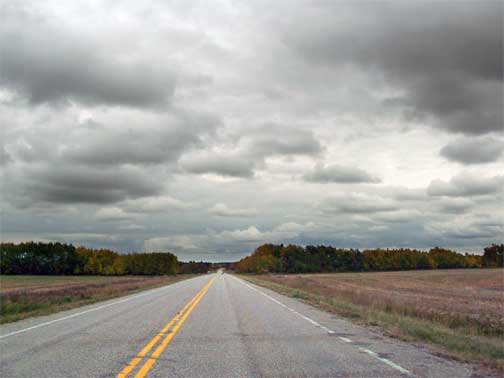 Quite a contrast as the clouds with only about a thousand foot ceiling hung about discussing the possibility of more rain. As it turned out we did not get any rain Saturday that came gently on Sunday, actually several times on Sunday.
The heavy rains from a week ago have filled the soil with more than enough water so even a modest amount of rain produces ample surface water.
There were no signs we saw of flooding around Porcupine Plain where they had received close to ten inches of rain.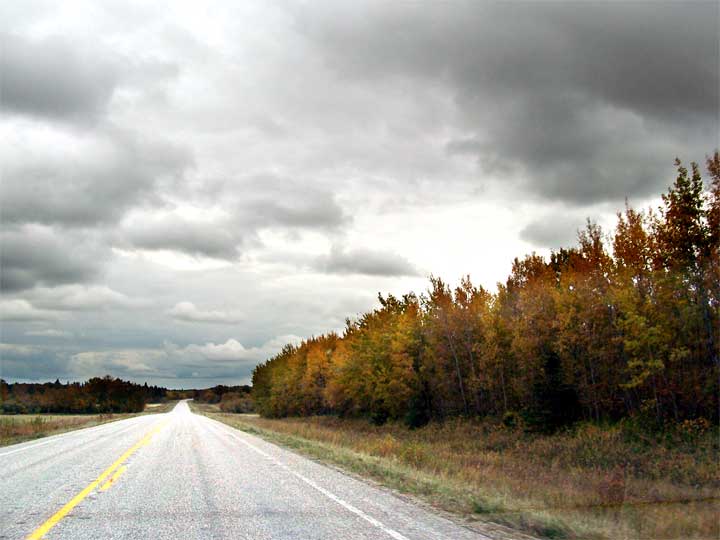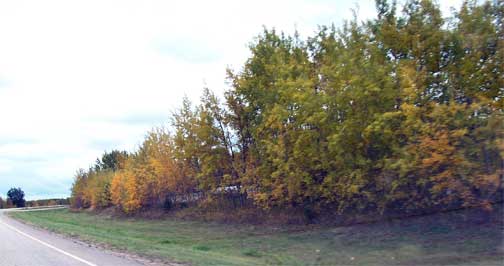 but talking to a Weekes farmer who got just over five inches of rain the results were not good. The little Shand Creek has been constantly being give increased drainage responsibilities. One example was the huge thirteen foot culvert that was ripped out last spring near Porcupine Plain was replaced by four ten foot diameter culverts the results of this and other drainage enhancements has been devastating downstream.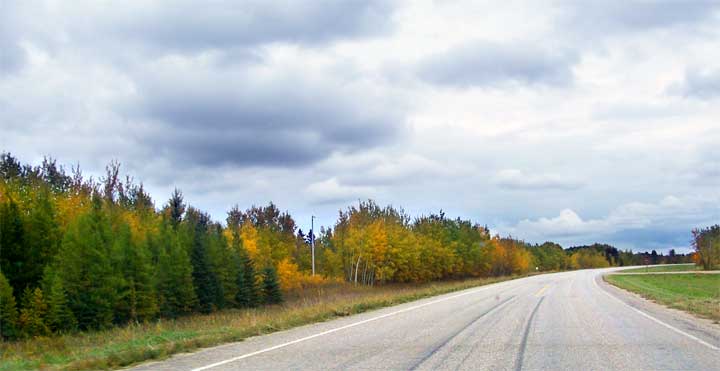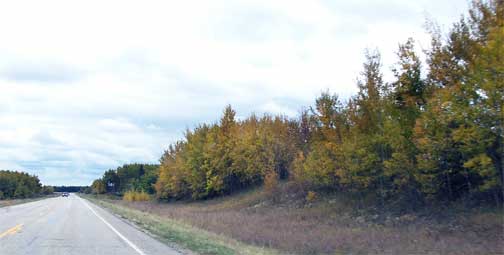 The Weekes farmer we talked to had been under a lot of pressure in the spring to a crop in the field and seeds less than one third of what would normally have been planted. One of those fields was sixty-five acres of Canola that because of wet conditions they put in the ground using a high floatation broadcast seeder. Well the heavy rain the Porcupine Plain area caused flooding near Weekes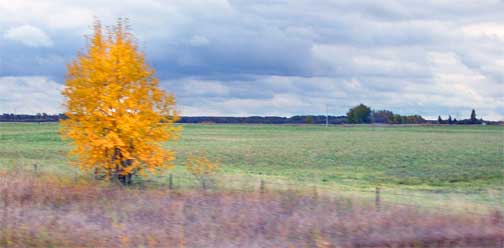 and that Canola crop was laying in swath and was completely washed away by the flooding.
We noticed many farmers working in their fields Saturday and the word is that farmers in this part of the province are putting more than usual amounts of fall wheat and rye in to get around the problem of wet spring conditions. The predictions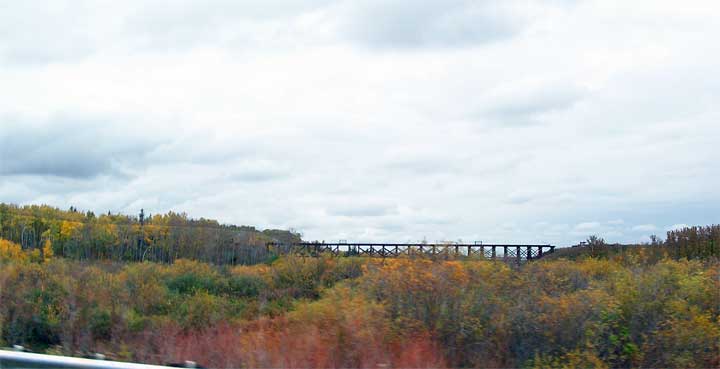 are currently calling for higher than normal amounts of snow this winter and once again a very wet and perhaps late spring for 2007.
The sky below was seen looking west across the flat land east of Tisdale with three layers of cloud hustling overhead.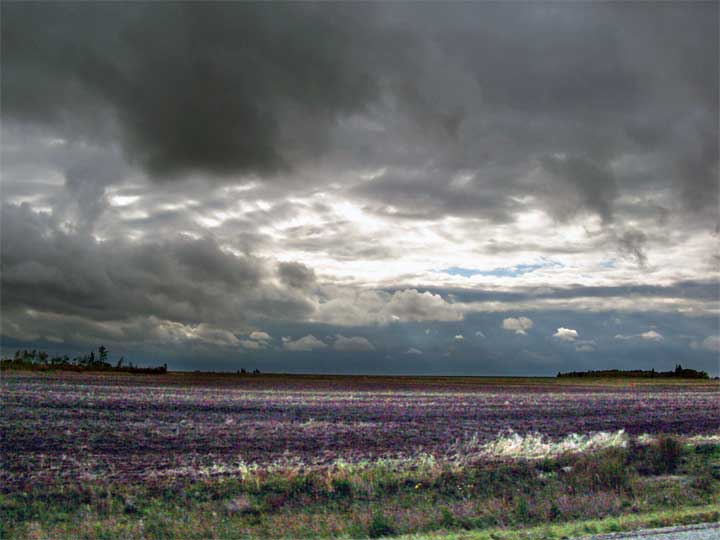 ---
Return to Ensign
This page is a story posted on Ensign and/or Saskatchewan News, both of which are daily web sites offering a variety of material from scenic images, political commentary, information and news. These publications are the work of Faster Than Light Communications . If you would like to comment on this story or you wish to contact the editor of these sites please send us email.
Editor : Timothy W. Shire
Faster Than Light Communication
Box 1776, Tisdale, Saskatchewan, Canada, S0E 1T0
306 873 2004