The Spectacle of Autumn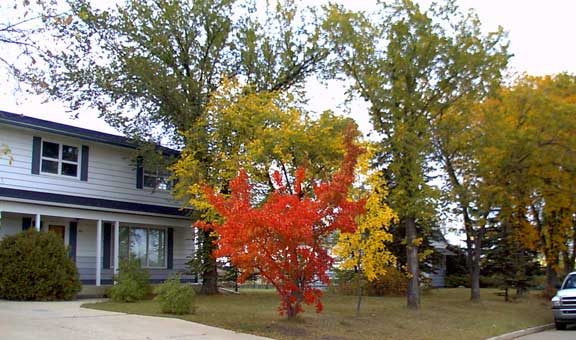 FTLComm - Tisdale - September 23, 2000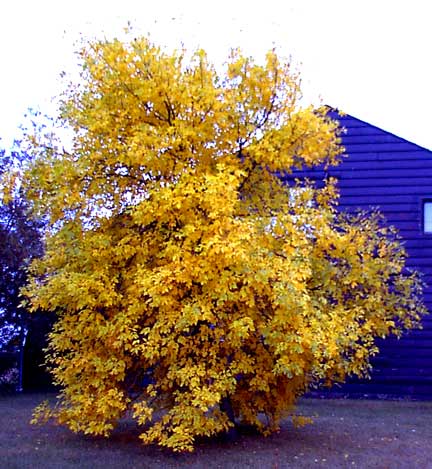 Though one can hardly ascribe human characteristics it is fun to visualise the trees as their own sort of Olympians viaing to be selected as the best.

So in the spirit of the Olympics I am presenting you with this year's star trees.

At the top of the page is a brilliant red tree that spent the season training and even its neighbours deny all the accusations about fertiliser supplements and GMO augmentation. So this is our gold medalist in the outstanding tree category.

This year's silver medal goes to this mighty yellow tree that has kept a few green leaves but has made a fine finish.

The Bronze medalist is seen below right, it had a severe handicap having lost most of its top in a wind a few seasons back and experts thought its chances for competition in the tree Olympics were over. But this little tree showed it could come back from an injury and go on to claim the third best show of this season.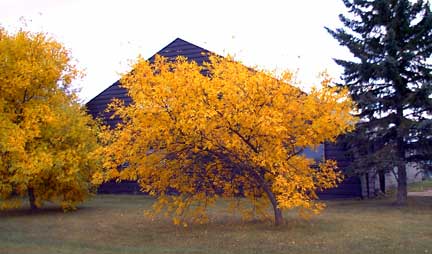 Of course no competition would be complete with sufficient "also-rans" to make the winning worth while. The scrawny tree below came in fifth this year and that was a personal best out showing a field of thousands and despite its meager and thin branches it has done its best to be in contention right to the finish.

The reason the tree Olympics is so low key is the failure to attack big name sponsors to commit to backing both individual and team entrants. We are hoping to see pruning companies and insecticide companies pitch
in and support the competition next season.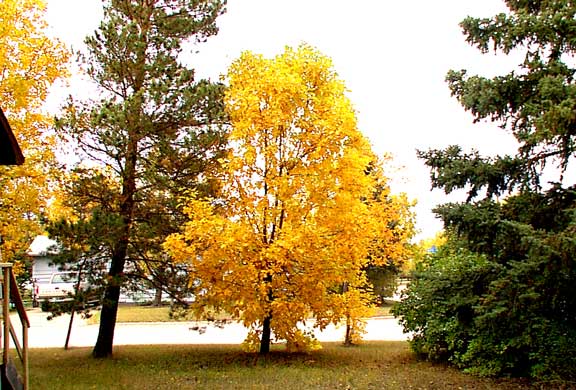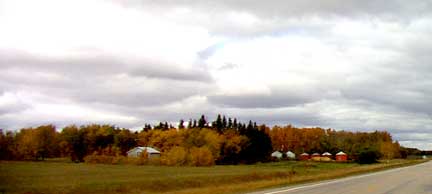 Well that was our individual competition but for team competitions this farm near Sylvania simply blew all the competing groups away. The evergreens formed a solid backing for this years batch of yellow and orange with even the smaller shrubs getting in the act. I think we could say they all gave 110%.

But what pushed this yard over the edge and beyond all other team competitions was the use of wheat. If you look closely in front of the red bins on the right is a neat pile of wheat to finish off this entrant's remarkable show.

So there you have it, Ensign's update on the 2000 tree Olympics