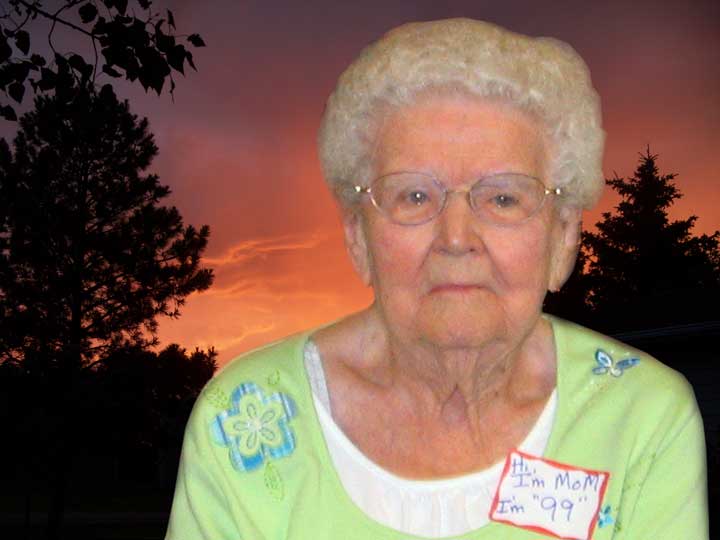 Louise Eckart of Harvey North Dakota celebrating her 99th birthday July 5th 2009.
Eckart family celebrates a 99th birthday
---
FTLComm - Harvey, North Dakota - Wednesday, July 22, 2009 , images by: Judy and Timothy Shire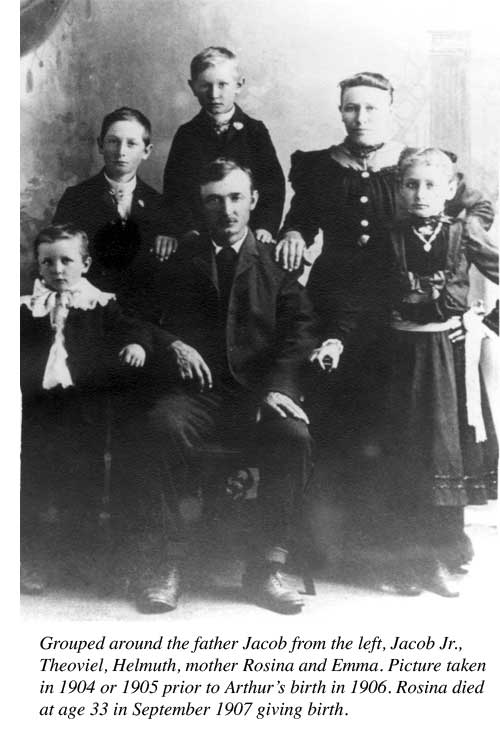 The Eckarts came to the Piapot area of Saskatchewan near Maple Creek in 1912. Jacob stayed only briefly and then returned to the Martin / Harvey area of North Dakota. Helmuth and his family spent two years in Canada and returned to Martin where he opened a meat market which he and his family operated for the rest of his life. Theoviel, the eldest son and his wife Annie (Bender) raised their three sons; Eugene, Melvin and Albert and their daughter Ella (Christie) on their Piapot farm.
Jacob was born at Kessel in 1869, near Odessa in what is now the Ukraine. His family had migrated their from Germany. At age 14 or 15 he and his family left Russia in 1884. In 1897 Jacob and his wife Rosina (Neuharth) with their children Theoviel, Helmuth just creeping at the time and daughter Emma went by wagon train from Menna, South Dakota to Martin, North Dakota where in the subsequent years they had Jacob Jr., Arthur and four other children who did not survive, then in September 20th, 1907 Rosina died giving birth to her twelfth baby.
Jacob went on to have seven more children with his second wife Sophia (Gall, Madstadt) before he died in 1954.
The youngest son of his first family was Arthur born in 1906 who married Louise Jarosch and died in 1977. Their family is seen below in a picture taken perhaps in the 70s. One of their children has since died, the eldest daughter Venice.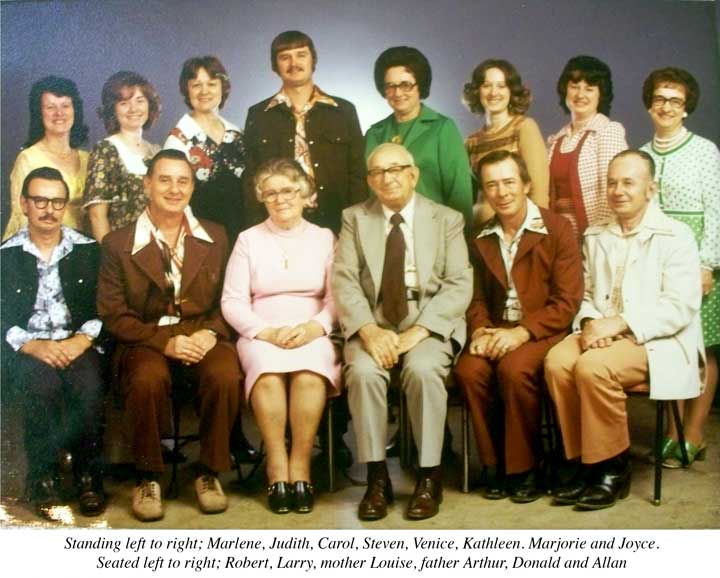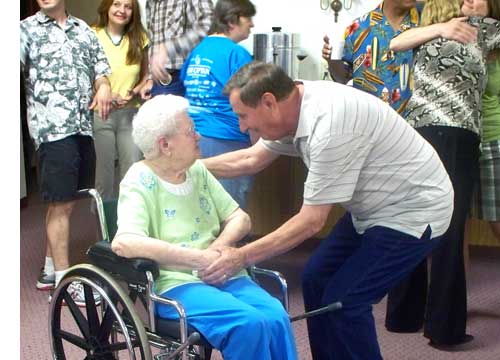 Though confined to a wheel chair after being injured in a fall Louise is now 99 years old and her family thought it appropriate to celebrate her life and invited the family to join in. Louise lived on her own up to when she was 94 and now lives in the St. Aloisius Long Term Care facility in Harvey. It was a delight to see the joy and excitement she experienced as her family came to greet her on July 5th (son Larry with her right). She is cheerful and alert and went from table to table making sure she knew who all had come to her party. Louise below with her surviving children. (One son Robert, was not able to attend this event)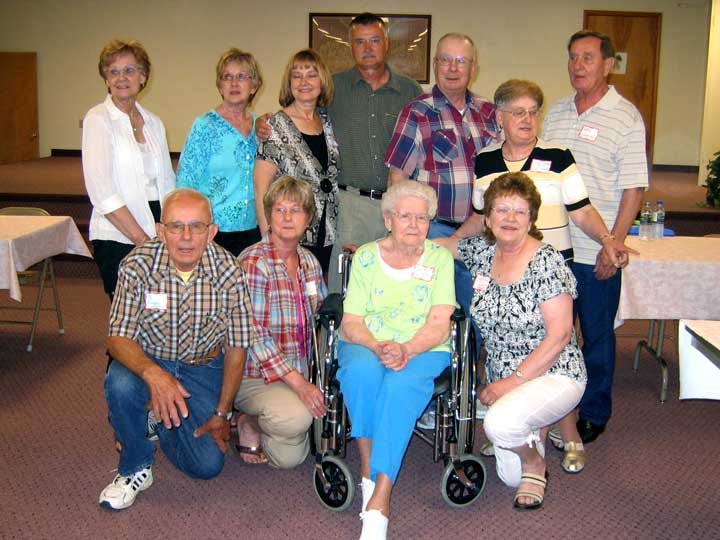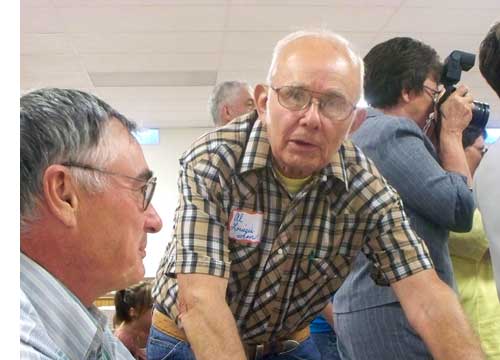 Most of the Eckarts live in or a short distance from their North Dakota roots. The exception of course are the issue of Theoviel who are all in Canada. Theoviel's second son Melvin's son Harvey of Maple Creek (left of picture) is seen here visiting with Arthur's eldest son Allan.
Harvey is the father of the only two sons to carry the name Eckart in Canada.
Being the eldest son, all of Theoviel's four children are now dead. The person who took these pictures, Judy (Shire), is the daughter of Theoviel's youngest son Albert.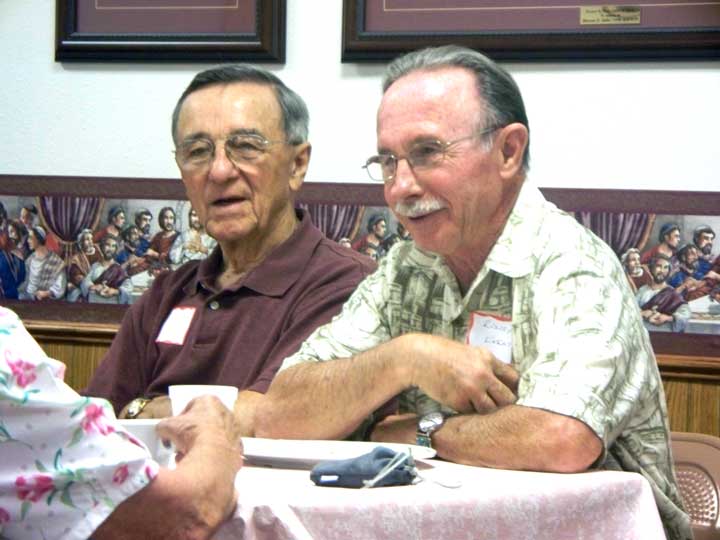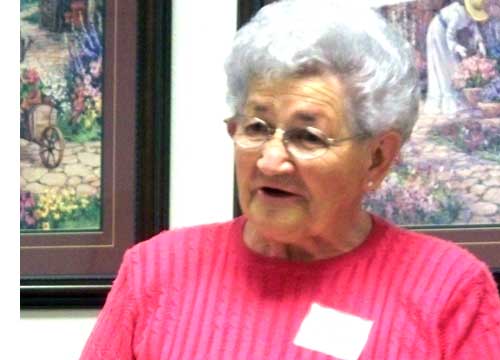 The two remaining sons of Jacob Jr., Elmer and Rodney are seen above.
Four of Helmuth's remaining family were in Harvey to celebrate Aunt Louise's birthday. Mary Ann is seen here (right). The eldest daughter of the six members of this family, Alice (Wade) had just died June 25th.
Below we have a four generation picture with Louise and her son Steve, his son Eric and her two great grand children Ethan and Tyler.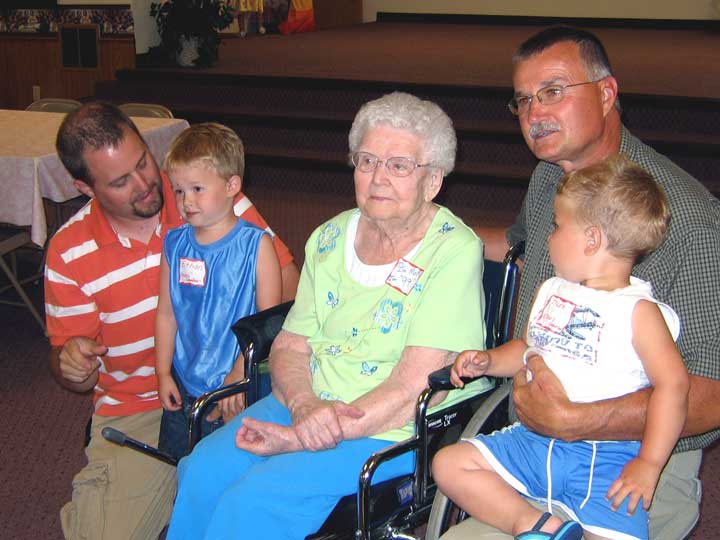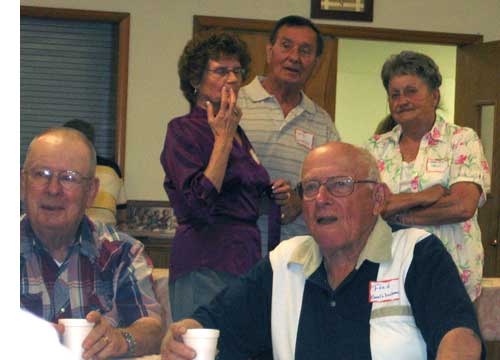 As mentioned most of the family including Louise's daughters and their families are close enough to maintain contact with each other through the years. It was interesting to note that they make effective use of the Internet and that is one of the reasons for putting this page together.
Louise was pleased to visit (below) with Don Christie of Maple Creek the eldest son of Theoviel's only daughter Ella. Don and his wife Bev have kept in touch with the family and organised this trip to join in the celebration.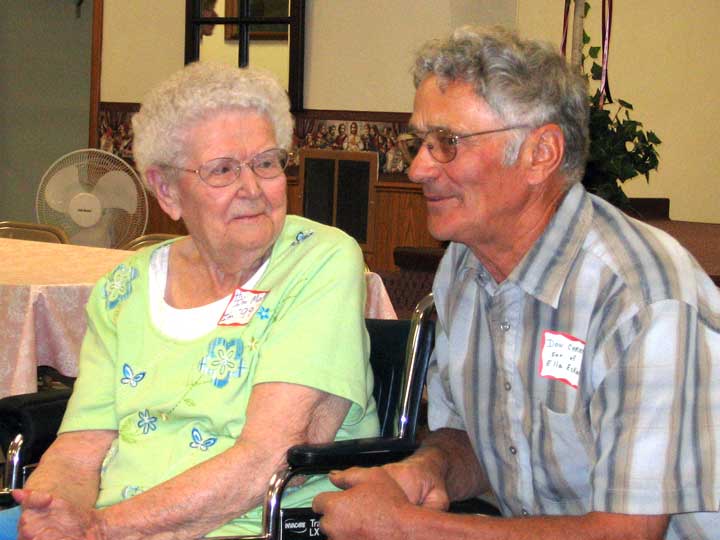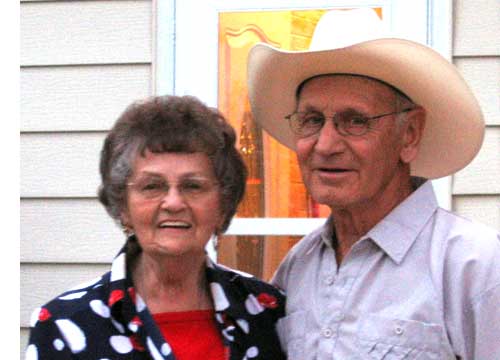 Helmuth's son Richard (right) still lives on the farm though he and his wife Joyce, a former teacher, are retired. Their farm is only a couple of miles from the farmstead where Jacob raised his family and is now buried. This couple are passionate about their attachment to the beautiful hilly countryside where they live and enjoy every single day.
Below is the house that was the home of Jacob Jr. family during his life and is located at the end of main street in the village of Martin. Helmuth and his family lived above the meat market and grocery business.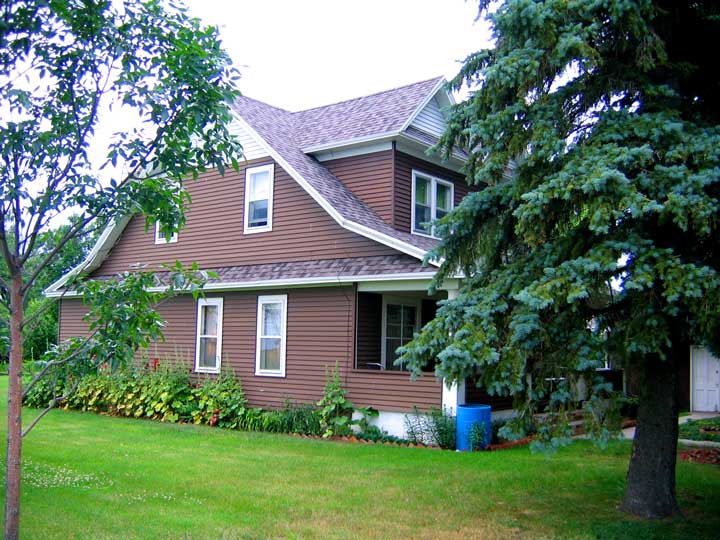 ---
Return to Ensign
This page is a story posted on Ensign, a daily web site offering a variety of material from scenic images, political commentary, information and news. This publication is the work of Faster Than Light Communications . If you would like to comment on this story or you wish to contact the editor of this sites please send us email.
Editor : Timothy W. Shire
Faster Than Light Communication
Box 1776, Tisdale, Saskatchewan, Canada, S0E 1T0
306 873 2004