The New Camera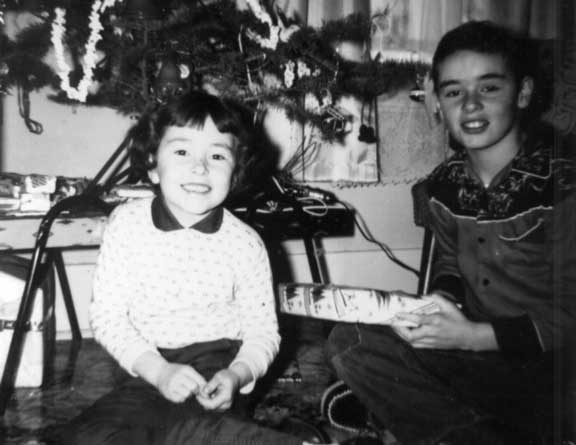 FTLComm - Langbank - January 6, 2001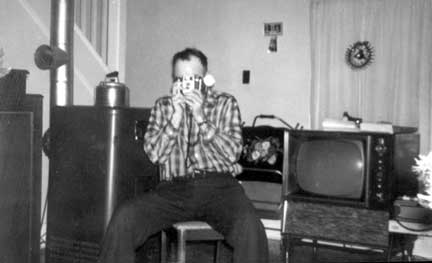 Christmas 1961, my folks bought me a Kodak 127 camera with a neat little AG1 called the "StarFlash". The picture above was the sixth picture on my first roll of film. I was very happy with the camera it was clear to me at the time that this was a tool that would record and shape my view of the world. One of my first pictures was that of E.G, Marshall the television performer who was my idol of the time and I was definitely going to be a lawyer.

That same Christmas Carlyle Square Dance club gave Dad a 620 version of the camera I
had and the picture above right, was the third picture I took with my new camera of my dad taking a picture of us. Our little living room in Langbank had a space heater and our cherished television that we bought in Moosomin.

With that first roll of film, it

was important to put on it the things that were important at the time and that first morning I went out and took a picture of the United Church in Langbank and together with the pictures of my family and E. G. Marshall I had recorded the important things in my life. Well mostly.

The late fifties had seen the rise of very popular community activity across Western North America and we had become involved in square dancing. In about fifty-eight my parents had gone to one or two and it was decided this was for them and a club was formed in our little village and Dad got some records and our little high-fi cabinet and all would be hauled into the hall for a dance. It wasn't long until the high-fi was replaced with a Califone with a detachable speaker and father had an Astatic J38 mike in his hand directing the action. By the time these pictures were taken he and his reputation as a caller had spread far beyond our community as he was the regular caller for about five clubs which meant at least five nights a week he was off to some community to hold a dance.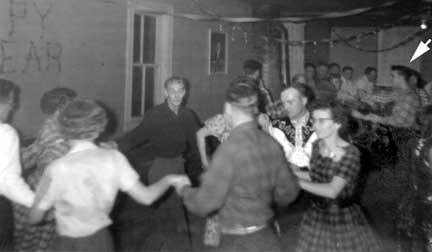 This picture was taken New Years Eve of 1961 as my Mom snapped a picture of the action from the stage in Langbank's old hall that was atop the Co-op store. Harold Cox is looking directly at the camera and the arrow points to me.

Square dancing had an enormous appeal, it got people out to an event that did not involve alcohol and the whole family could be involved. As you can see the folks in the picture had got right into the activity with suitable costumes and this Americanised version of Scot and French folk dancing was
a great thing that gave everyone a chance to participate and enjoy each other's company. The strict nature of the etiquette involved was perhaps one of the main features of square dancing. There were a lot of rules that made it simple, everyone could know how to behave and a good time was assured by everyone attending.

The picture below shows my father on the old stage in the Langbank hall. At this point he was a mature and experienced square dance caller who was more in demand than he could handle as he would go to Regina, Saskatoon, Minot to be a guest caller. The equipment is interesting in this picture. It has his Newcombe 56 PA turntable system, a 636 Electro-voice microphone and a Phillips reel to reel tape recorder. Behind him is a home build speaker that was one of the many systems he tried out to provide the sort of sound that would handle the confusing kinds of places he would have to provide sound that was not only loud enough, but was clea,r so that the dancers could understand his vocal commands.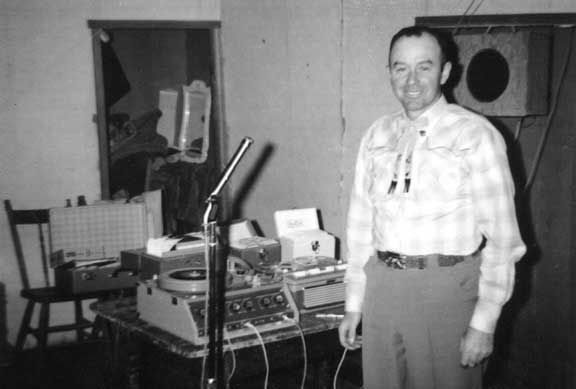 The tape recorder was perhaps the most important part of the system, because that was what he used to perfected both his voice, but also was able to measure his style and presentation. He taped the parts of the dance that he needed so that he could do better.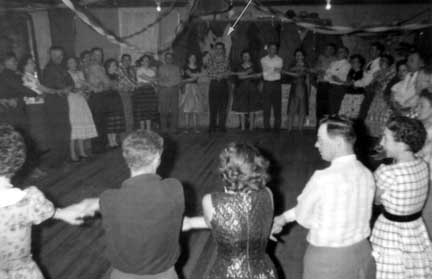 Mom was on stage when midnight came to be with Dad and she snapped this picture of the whole of the community as they sang Aude Lang Syn. The little arrow points to her eldest son at the back of the hall.

This funny old hall was the scene of some the most interesting times in my life. It was here that the town met for meetings, the John Deere Show, Graduation, wedding celebrations and the most interesting of all, this village had only about eighty people in it and most families of that time had the main meal of the day at 12:00. On several occasions we would arrive home for dinner only
to find a note directing us to the hall. The women of the community had called up each other that morning and instead of prepared a meal just for their family they had all brought their dishes to the hall and we had a pot luck dinner. These were not planned ahead of time but just happened. In such a small place this could be done and like so many things of the day the spirits of good will and sharing made these the "best of times."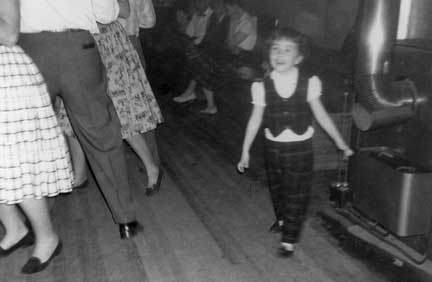 Then and ever since, this little girl was the star of every party she attended. A little motor mouth who could tell a joke at three and break everyone's heart when ever she chose. This is my little sister Linda, who only a few days earlier had reached the grand age of five. Pictures of her birthday party are on my first roll of film.

Here she is heading around the dance floor with the smile that was a permanent fixture on her face, as she passes by the oil fired space heater that warmed the hall for each event.

The winter of 1961 - 62 was
an average sort of winter for that era, temperatures were low and there was lots of snow as can be seen in the picture of our driveway taken a few days after the ones above.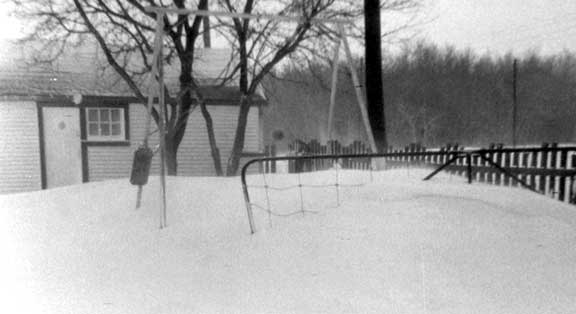 My new camera was to share my life clicking away, recording the events and places of my life as this was my last year at home, I was seventeen and would go off to college in Regina the coming fall.

I had first come climbed the steps to Langbank school the first day of grade three and only one year away had gone to school here until graduation. During those years the two room brick building had served us until they moved the little school into the yard when I was in grade nine. Then in grade ten we tried to use the small one room school house as our grade ten classroom, but it was simply to crowded in both buildings and a black board was installed in the Co-op hall (in the pictures above) and for that year we went to school there. The following year a new modern school was built at the East end of the school yard and the two buildings in this picture were used for primary and elementary classes.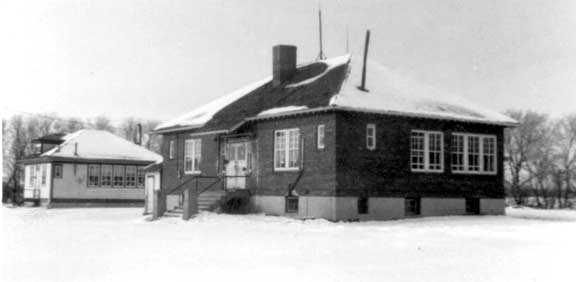 Timothy W. Shire