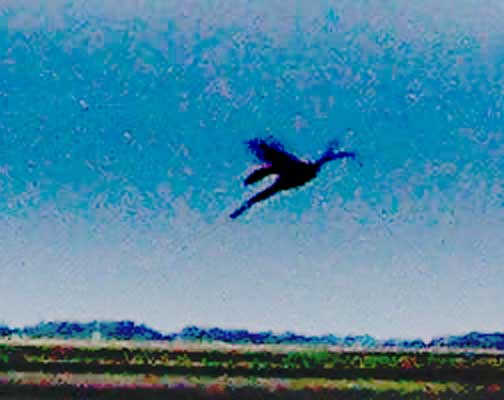 On Sunday I shot this picture looking west at the threatening sky of the morning. At the time I did not see any movement and when I came to look at the images later in the afternoon I was surprised to see a bird ascending from the field.
There just isn't much detail available in this image to determine what we see here and it looked to me a lot like just another dinosaur picture. The artists versions of pterodactylus a sort of Jurassic period flying reptile.
Clearly, this past decade there has been so much speculation and consideration by those who study dinosaurs as they have looked at fossil evidence that shows such a strong link between present day birds and the who family of animals that we refer to as dinosaurs.
I am fairly certain my picturre is not of a real dinosaur, but much more likely to be of a grreat blue heron, or similar crane, with very long legs trailing behind. However, if you have any ideas as to what I have a bad picture of, send them along.