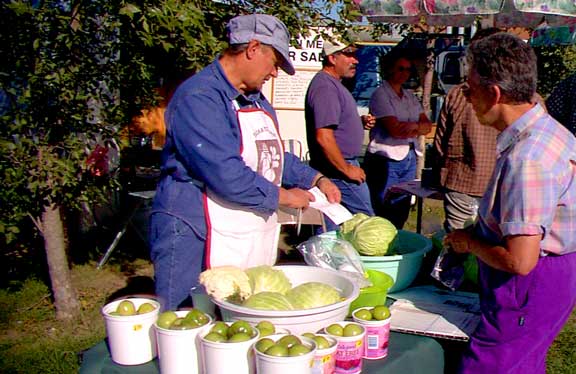 At The Market Today
FTLComm - Tisdale - Tuesday, September 10, 2002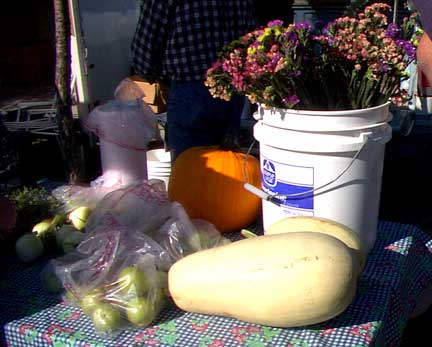 The low angle of the morning sun tells us that it will soon be fall and the farmers market today had many of the products we associate with early fall as the first pumpkins, vegetable marrows and melons are offered for sale.

Clearly since our last visit to the market things have been growing with the potatoes developing, corn on the cob, cranberries and big cabbage. Definitely there was lots to choose from today and the shoppers were stopping by in a steady flow as they check out their purchases and take a moment to visit.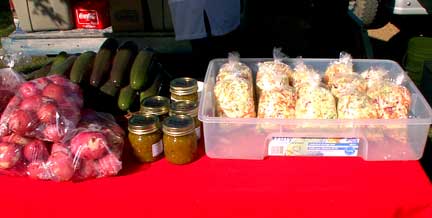 The lady told me that these cucumbers were the smaller ones. At her stall one could select relish and already chopped coleslaw.

On my last visit I suggested that some one have coffee ready and they went a step further to my delight. The bison meat stall had bison "smokes" on a bun for $2.00 and it was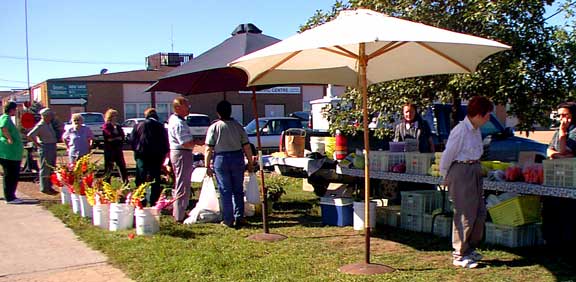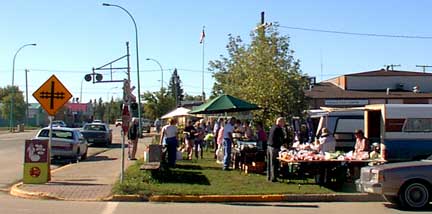 the best smoky absolutely fabulous. Bison meat is so low in fat it makes a perfect smoky.

The weather could not be better and as shoppers made their purchases and chatted with each other there was the lilt of cheer and laughter in the air.

I talked to a hockey parent who told me that this year's Trojan team will have only one local player which was a disappointment to many of us and as the season three of the five veterans returning this year are off with injuries as one was hurt in a junior camp and another is suffering from "mono."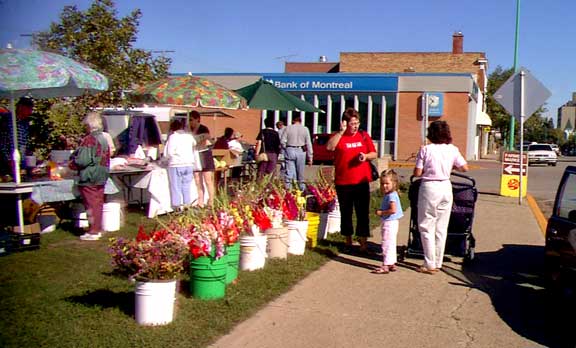 ---
Retrun to Ensign - Return to Saskatchewan News
This page is a story posted on Ensign and/or Saskatchewan News, both of which are daily web sites offering a variety of material from scenic images, political commentary, information and news. These publications are the work of Faster Than Light Communications . If you would like to comment on this story or you wish to contact the editor of these sites please send us email.
Editor : Timothy W. Shire
Faster Than Light Communication
Box 1776, Tisdale, Saskatchewan, Canada, S0E 1T0
306 873 2004