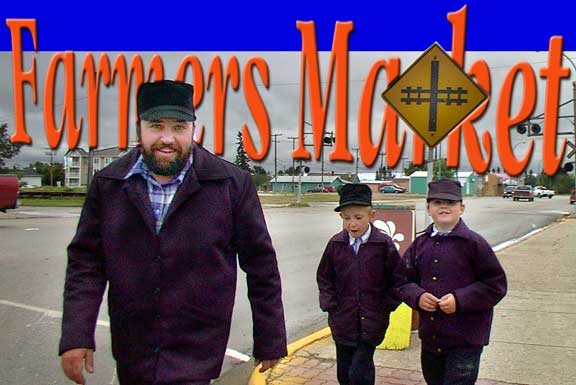 FTLComm - Tisdale - July 18, 2000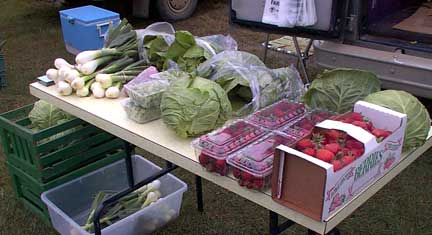 Tuesday is farmers market in Tisdale and today only two farm booths were up and operating this morning at 0900. But what was missing in quantity was well made up for in outstanding quality. The products for sale to day were just simply outstanding, I was truly amazed at the size and superb selection available.

The first table is from Rudy's Truck farm in Carrot River where he and his wife have dedicate large amounts of land to growing vegetables with acres of onions and thousands of cabbage just coming ready for market. Their strawberry were hard to walk away from and you will note that they have both monster ones and outstanding flavour rich ones seen here in the plastic containers. This farm has an active u-pick program so you can go out and get your strawberries from them on your own.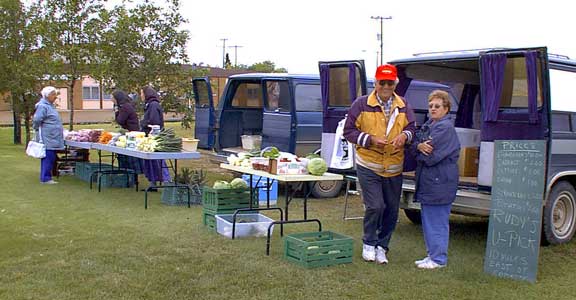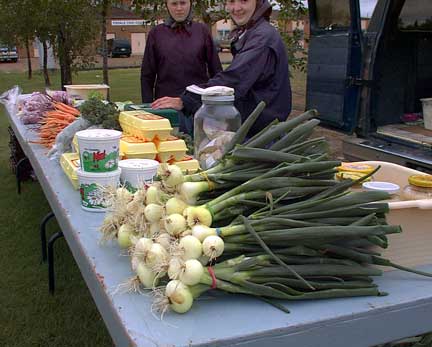 The Star City Hutterite colony have long established themselves as one of the best producers of vegetables and fruits in the area as they have booths at Tisdale and Melfort farmers markets through out the summer and fall offering amazing quality in everything from staples like carrots and beets to honey, eggs and a stack of baked goods including rolls bread and buckwheat for pancakes and making porridge.

The products from both of these booths are of such remarkably high quality that they seriously threaten what we find in the produce departments of the town's grocery stores and the prices are more then competitive.

This morning standing shivering in the ten degree morning air we discussed the problems of getting marketable produce this year with having been so cold. Rudy said that though some people talked of having to scrape some ice off of things yesterday morning, they reported no frost damage in their fields. However Rudy said they he had heard that potato and tomato plants were blackened from Monday's low temperatures in the Hudson Bay area.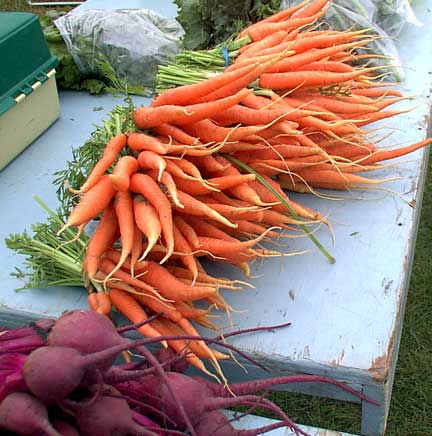 Those crops that handle low temperatures easily seem to be thriving this year as can be seen by the beets, onions, and carrots on both tables. However, Rudy explained that the low temperatures have been really hard on those plants that need heat to mature.

He told me that they are worried about the thousand tomato plants they have in the field and that only those covered in the plastic hoop enclosures seem to be developing at an appropriate rate but even they are retarded compared with development in other years.

Rudy said that he has a lot of peppers under cultivation and they have grown less than an inch in the past month. Whereas the cabbage are simply big and beautiful

I asked him about bugs and he said that this was a good year for them with few problems. He did note that early in the year one of his fields is right beside a Canola crop and some of the insects that have bothered Canola can over the fence to cause some problems with the vegetables but he was able to handle the problem and since then things are looking good.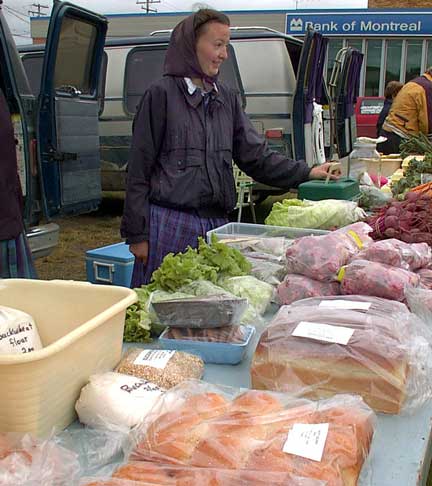 The charming young women from the Star City colony discussed Buck wheat with me and had recipes available for making buckwheat pancakes and how to use buckwheat in soups and making porridge. One explained to me that buckwheat is in a sort of shell and needs to be taken from that to be used and when I asked about what does it look like growing in the fields she explained that she was not a farmer and laughed.

It is clear that from both booths that this is a a good year for a wide range of products and you would do well to be on your toes and get down to the market early next Tuesday as you will find both bargains and superior nutritious foods right their ready to pick up.

The Star City Colony booth had the added feature of a wide range of prepared products that are just wonderful in quality and prepared to perfection.

I am not alone in this assessment for my interview was cut short as the customers started to swarm in snapping up the first rate merchandise right before my eyes. The skies may be overcast and the temperature low but the hot deals are right here at the farmers market this morning.