I live in Nipawin, just a block down Centre St. I can share a few pictures that my mom took from the viewpoint of her condo patio. This was taken just moments after the blast, just as the flames were engulfing the former Sueno's Cafe. My mom said that the first sign that the gym (Bodies by Choice) was on fire was the black plastic pipes on the roof venting off smoke.
Correction to your news story: the Royal Bank is not in the vicinity... it's down a block (across the street from Richardson's Home Hardware). The brick building on the corner that was just adjacent to the explosion is not a Royal Bank. It used to be the Bank of Commerce (long before the name was shortened to CIBC), but they left years ago. Now that building is a travel agency and a realty office. With its thickened walls, it looks surprisingly intact, although I've heard rumors that its roof is no longer structural.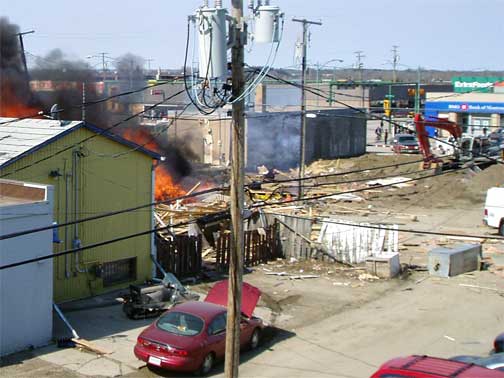 The exposion caused BJ's sausage and meats to "vanish". My mom said she watched the building disappear like it was made of matchsticks. The owner had just smelled something strange, and was leaving by the back door when the blast occured. He was thrown several yards and landed with a broken leg, amazingly lucky for him considering how it could have been much worse. The blast apparently flipped debris all over the street - you can see some of his roof on top of the gym roof in the pictures.
The restaurant (closed and listed for sale for over a year, but still with residents living in the upper floor) went up in minutes. It was an old building, and my mom said it went up like "dry paper" and was consumed in a matter of minutes.
The gym took only a few minutes longer to ignite. My mom thinks the roof caught first, and then the black plastic pipes caught fire and drew the fire down into the building. It is not flattened like the others, but it has been consumed by flames.
People have told me that the True Value has an unsafe roof now. They say the blast lifted the building nearly a foot, and when it dropped back the rafters in the roof broke. (It's a flat roof, so I don't understand the structure... I'm just reporting unsubstantiated talk now.) More rumors indicate that a business across the street (This & That General Store), located just north of the BMO had its roof damaged too from the blast, as well as windows. This new store was advertizing a grand opening celebration on the radio...