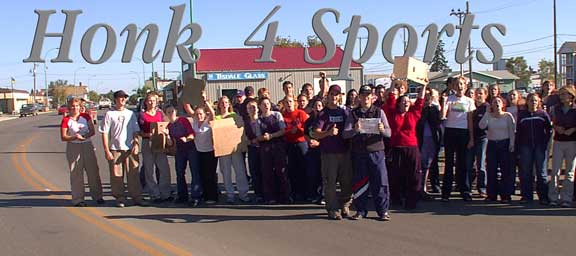 FTLComm - Tisdale - September 15, 2000
High school does not last forever, in fact those few short years one which you hope to base your life are each precious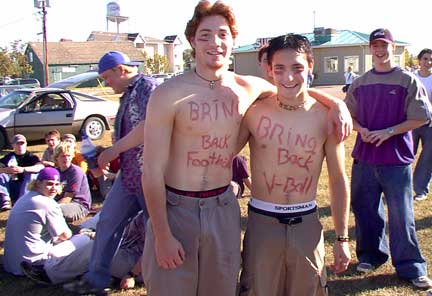 and a work dispute between your teachers and the province is simply unacceptable. Tisdale students are among the most well mannered pleasant young people you would ever hope to meet, I can say that with confidence having spent almost all my life teaching and being a principal of students throughout Western Canada. These are good kids and they are not happy.

Certainly the element of school life that most students know is so fundamentally important to them is their extra curricular activities. Studies of all kinds have shown that the single most important predictor of success in life for a young person is to have been
involved in team sports. Students do not see their football, volleyball and soccer as some thing extra it is their life and they are not pleased with this one year out of the their three years in school being robbed from them.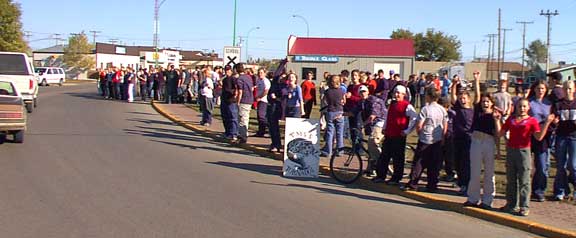 This morning the student body of Tisdale Middle and Secondary School marched out of their building crossed the parking lot and set up camp along main street in Tisdale, highway #35 where there is a semi every thirty seconds. Chanting and waving signs they encourage the motorist to show their solidarity with them in getting their school year back on track.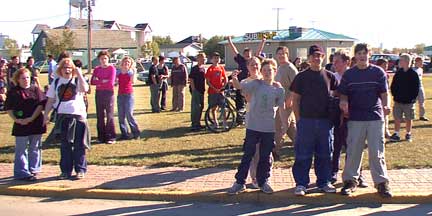 I asked them who organised this demonstration and it was clear that maybe it was this person or that but everyone had a different answer and I must assume that this was a widely held feeling and was pretty much spontaneous. Keeping in mind that this is Tisdale where good manners and proper behaviour are a matter of civic pride yet these young people are determined to be heard and their feelings known.

"How will this affect your football season?" I ask a
football player.

"Oh, I think its cooked" he said "even if they get this thing settled, the season is so short, we've had it for this year."

Tisdale's football team was on the field in June informally and every Wednesday night all summer the faithful met and worked out on the old field in front of our house now with the time to play at hand they had one game this season.

I tried to find some soccer players and a young woman came up to me, very stern and very serious and said, "Its not just sports. I am in a tight spot and need help after school with a subject, with out extra help I just can't make it. No tutor will help me because they were all once teachers and do not want to undermine the teachers and I really need this course to graduate.

"You are a senior right" I asked her and she nodded. "What subject is the problem?"

"Chem 30" , she said and there was no doubt about how she felt.

"Chem 30 sucks" I said.

"Chem 30 sucks" she said.

I left her in search of my favourite team, the girls soccer players. I asked three younger girls perhaps in grade ten and they shock their heads and meekly said, "You know its not just about sports. We need help with subjects, some are really hard and we just can't get the help we need to get through the stuff. We depended on after school stuff with the teachers and they can't help us now...."

Finally I was able to find a soccer player. "You are on the soccer team right?"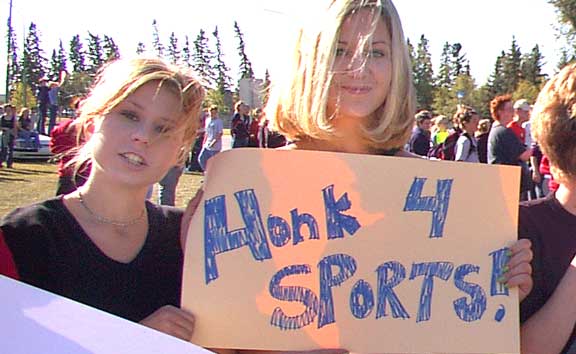 "I was" she said

"Well what happened with the team." I asked her.

"We had one practice but even if this gets fixed it will be too late to get our team ready and play this year." Clearly she was not happy. After years of working on girls soccer in Tisdale the team came to the league final last year and lost to Hudson Bay but they had really played great games and knew 2000 was their year.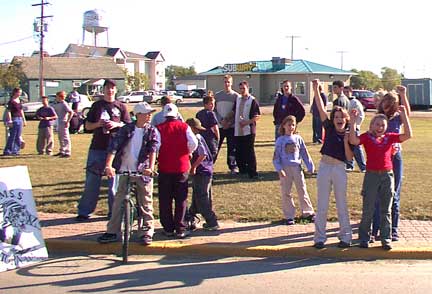 Student cars were pulling up, traffic was working their way past the protesters, one old guy in a motor home with grim face refused to move around them and grimily pushed toward the students. They moved out of his way, a police car came and students began setting up lawn chairs.

"How long are you going to stay here?"

"We are here for the day" replied a little girl.

As I stood among them hearing them chant and wave their signs, a truck pulled up loaded with teenagers in the back, colourful paper with their signs on them. I heard myself saying "Man its like the sixties, ban the bomb"
A tall teenage girl heard my comment and smiled as I told her that I graduated from high school in 1962, those were the days.

She could see that I was remembering protests of decades ago and she said, "it has been ages since we have had a demonstration here."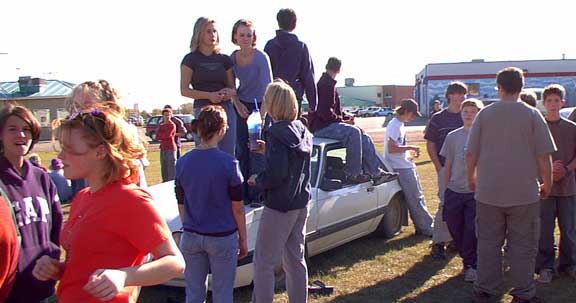 Timothy W. Shire