With low yields in the past two years only four years after Tisdale became the home community to five inland terminals the whole world of grain handling has been undergoing some pretty drastic changes. Each of the grain companies have had to reduce their staff in most cases by 70% and farmers have found it a major head ache trying to garner the best deal they can in tough times for marketing their grain, pulse and oil seed crops.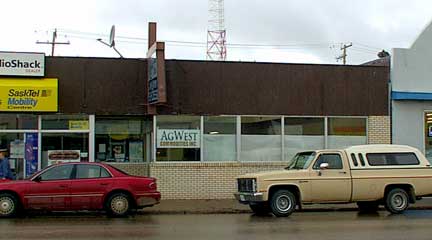 This week AgWest has begun the process of establishing a whole new way for farmers to market their crops and for grain companies to buy the production.

The farmer who chooses to become an AgWest customer will come to this new company for its grain buyers to act as their agent. The product will be tested and graded in AgWest's on site lab and then AgWest's customer service representative will combine that farmer's production with others or offer it separately to the grain companies acting as their agent.

Ultimately AgWest hopes to see itself acting as the front desk for the grain terminals not only in the Tisdale area but where ever farmers produce crops and where grain companies can take deliveries. Kim Althouse the President and CEO explained that the whole process should produce savings for the farmer who is relieved of the time and effort that goes into deciding upon the best deal for his production to be sold and in turn the service should produce a dramatic saving to the grain terminal companies as they can concentrate their efforts on developing efficient means of handling the production and reduce their costs now spent on marketing.

Kim Althouse has spent all of his career in the business first with the Saskatchewan Wheat Pool and he was the first manager of the Louis Dreyfus terminal here in Tisdale. With his staff of experienced professionals he is certain that AgWest is the kind of service that will improve that margin both for the producer and the grain handling companies.

If you want to drop in and discuss this new concept the new offices in downtown Tisdale are open for business and AgWest's phone is 873 4417, their fax is 873 2399.

We at Ensign and Saskatchewan News would like to wish this new business the best of luck and welcome them to this community.