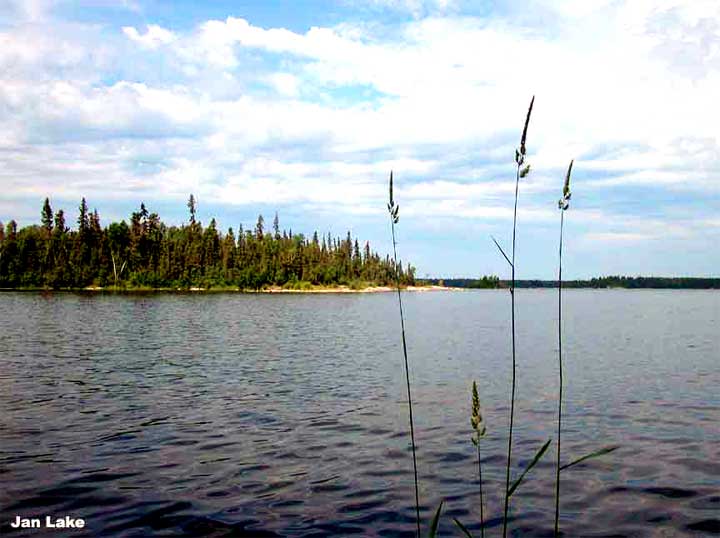 The Greenwater Report for August 4, 2004
August 1st, 2004: Sorry about not sending out a report last Sunday. We were at Jan Lake and I just plain got lazy.
It hasnít been a bad weekend, so far - mostly sunny, around 20° and gentle winds. We did get a brief but heavy rain yesterday that left a tenth of an inch in the gauge. According to my reckoning, we got a total of 5.6 inches in July.

We went to Jan with the motor home on Friday and Saturday, via Humboldt, Saskatoon and Prince Albert. That sure is a long road, especially at 90 kmh. We get 8 miles per gallon at 100 kmh, but can stretch it to almost 10 at 90 kmh; with gas around 90 cents, I can slow down. That saves about seven dollars per hundred kilometers. (By the way, we gassed up at Melfort last Thursday ó twice, in fact. Gas was 74.9¢ compared to 81.9¢ to 85.9¢ elsewhere so between the car and the motorhome, we saved about $15!)

We had a very nice site, with both water and power. We just drove in, parked and put out our canopy ó no leveling required. To me, thatís a good site. A bit of shade helps, too.

We went out fishing Sunday for a couple of hours. Sandy caught two nice little pickerels; the rest of us caught our usual quota ó weeds. We went out again later in the afternoon, and the story was about the same ó this time Sandy caught one little pickerel, the rest of us were skunked. We found the Nature Trail much more interesting than the fishing!
Next day, I went out with them but didnít even take my fishing gear along. Doreen gave me her rod to hold while she messed about with her tackle box, and darned if I didnít catch a fish! I immediately gave her back the rod, and she brought in a little jack and let it go. Whose fish was it, anyway?
The temperature got up into the thirties Saturday and Sunday, with lots of sun and few clouds. With no air conditioning, it was nice to have a cool evening breeze come up and cool down the motor home before bedtime!
Jan is a big, complicated lake, with lots of inlets and islands. Blaine has been coming here for twenty years so knows his way around, but I wouldnít want to venture out too far by myself. We did all our fishing in what they call the Bay, close to the camps. We entered the main part of the lake once, but the waves were too big for comfort so we returned to the Bay. There are lots of dangerous reefs; many of them are marked with buoys but there are lots that are not marked. Itís a lake to be cautious on.
Jan drains into the Deschambault River, which leads past First Narrows and Second Narrows, to Pelican Lake and eventually to the Churchill River system. I suppose one could boat from here to Hudson Bay with a few portages.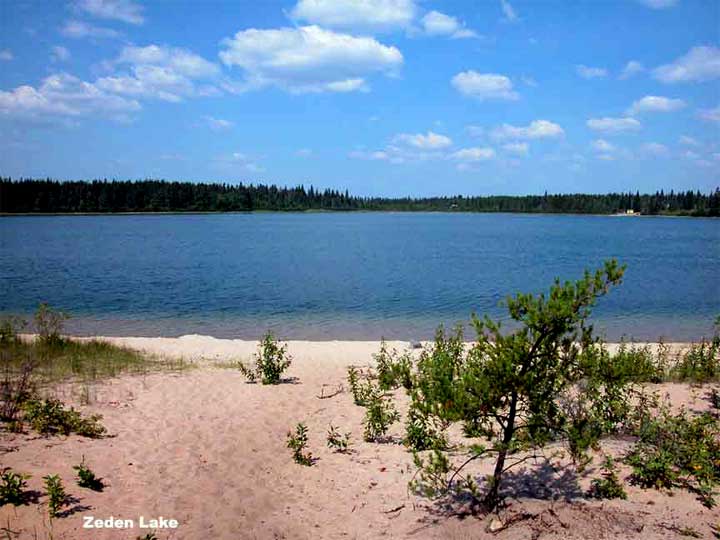 They tell me the lake is about eighteen inches lower than normal; it has been coming up gradually over the past few years. I was surprised, because rivers like the Torch, White Gull, etc. are running full and fast and look as if they would bring a lake up to normal in no time. The higher the water level, the less problem with reefs.
On our way home, we spent a night at the Melfort Campground, went to Humboldt and back next day, then spent Thursday night at the Tisdale Campground. Both were very nice, quiet campgrounds. The reason we stayed at Tisdale Thursday night was that I had to judge photography and art at the Connaught Fair on Friday, always a pleasant chore. Next Wednesday, I do the same at Golburn Fair.
Where have all the berries gone? Saskatoons are non-existent, just a few tiny, dried-up things; pincherries are few and far between, there are no apples on our crabapple tree, and our cranberries look malformed. A few weeks ago I said it looked like a good saskatoon crop, but now thereís nothing. Too cold? Too wet at the wrong time? What are the bears going to say about this?
Doreen & Jerry Crawford
Box 1000, Porcupine Plain, SK, S0E 1H0
telephone (306) 278-2249
fax (306) 278-3423
http://www.greenwaterreport.com/
---
Retrun to Ensign - Return to Saskatchewan News
This page is a story posted on Ensign and/or Saskatchewan News, both of which are daily web sites offering a variety of material from scenic images, political commentary, information and news. These publications are the work of Faster Than Light Communications . If you would like to comment on this story or you wish to contact the editor of these sites please send us email.
Editor : Timothy W. Shire
Faster Than Light Communication
Box 1776, Tisdale, Saskatchewan, Canada, S0E 1T0
306 873 2004