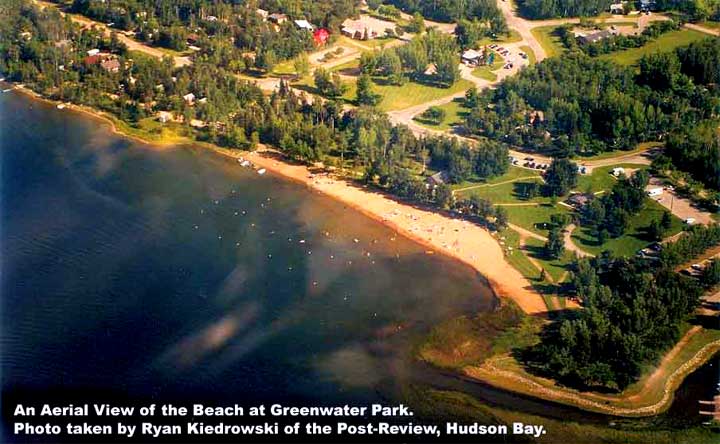 The Greenwater Report for August 16, 2004
August 15th, 2004: We were promised hot, sunny weather for the whole weekend, but it didnít work out. Today we didnít get over 18°, saw very little sun, and it was quite windy for the first part of the day. Yesterday was better, but with a thunderstorm about suppertime. Not much water, but lots of noise.
I was surprised at the styles of new housing in Airdrie ó almost all two-storey and on very small lots, with little lawn or yard to look after. Colours seem to be back; although there were long lines of townhouses all drab grays or browns, the separate houses were all colours, including red, and lots in Victorian colour schemes. Very refreshing! One development included a paved back lane, and the garages were on the lane instead of in the front of the house. What a novel concept!
The hay crop looks like a good one out west; likely the first good one they have had for a lot of years. Grain crops look good, too. We saw a couple of fields that looked as if they had been combined - likely fall crops - but mostly harvest is not going to be general for a couple of weeks at least.
With all our travelling about, our boat just sits tied up to the dock. Anyone want to buy a real good pontoon boat?
An answer to the puzzle of how to keep an inflated worm from deflating - Bonnie Classen says just dab on a little Crazy Glue!
Joan Eyolfson Cadham in a recent column wrote about the short life span of coloured photos, and the possibility that digital images may not be as permanent as we think. Itís true, a properly processed black-and-white image on acid-free paper should last indefinitely. Itís also true that coloured prints fade with time. Few professional photographers would even use colour until well into the Ď70s, having been burned in the early days of colour, in the Ď50s. As far as I know, digital images do not decompose, though the technology of the medium they are stored on can become obsolete. I read an opinion by one techie that though present-day CD players will be (indeed, already are!) replaced by other technology, it is unlikely that CD technology will totally disappear from the scene. After all, we can still find equipment to play old 78 records, or even the cylinders from a hundred years ago.
I have a printer that claims a life expectancy for its images in excess of a hundred years; Shannon Rokochy of Backyard Studio in Foam Lake has the same printer, and I expect most photographers using digital technology will have one.
The bottom line? Re-photograph your valued colour photos and store them on CD. If they have already faded and turned blue, convert the copy to black-and-white and boost the contrast - itís not hard to do. You will have done all you can to preserve your images for posterity.
There was an interesting meeting at the Park Hall yesterday. You have likely heard that cottage leases were heading for a substantial hike - well, the invoices finally came out and they were anywhere from slightly less than last year to 60% and more up. Our own was up 50%. There must have been well over a hundred irate cottage owners at the meeting, and two sadly unprepared and uninformed bureaucrats trying to sell the increases. Their fancy Power-Point presentation was booed down before it was half done, and the rest of the meeting was taken up by some very well spoken criticisms of the governmentís ham-fisted way of breaking its promises. The upshot was a demand for a meeting with someone with knowledge and authority. Cottage owners passed a motion that they would pay only an amount equal to last yearís until the matter is resolved.
We went to a retirement party for Alex Dunlop last night. There were well over a hundred people there, most of them connected with the park system in one way or another, but lots of friends from around here, too. There was a wonderful meal catered by Hella McDonald of Archerwill, a brief programme of presentations and replies, and lots of quality visiting. Alex came here as Park Superintendent in 1987 and has been here ever since. He and Brenda have built a new house on the hill south of the Park. We wish them a long and happy retirement.
Frank Tasker, a friend from ten years ago, was there. Also, Ken Kelly, who was Park Superintendent before Alex, and Marty Halpape, a CO here in the early Ď80s and now superintendent of Kenosee Provincial Park. Good to see them all!
Ryan Kiedrowski, a reporter with the Hudson Bay Post-Review, flew over the lake early this month and took some very interesting photos of the beach.
I notice that Cynthia Warsylewicz got a hole-in-one at the golf course recently. There was another that hasnít shown up in the papers - George Errington of Medicine Hat (formerly of Nipawin) got one on August 4th on hole #11. It was witnessed by his son, Major John Errington, commanding officer of Alpha Company, 3rd Battalion, PPCLI. Another local boy who made good!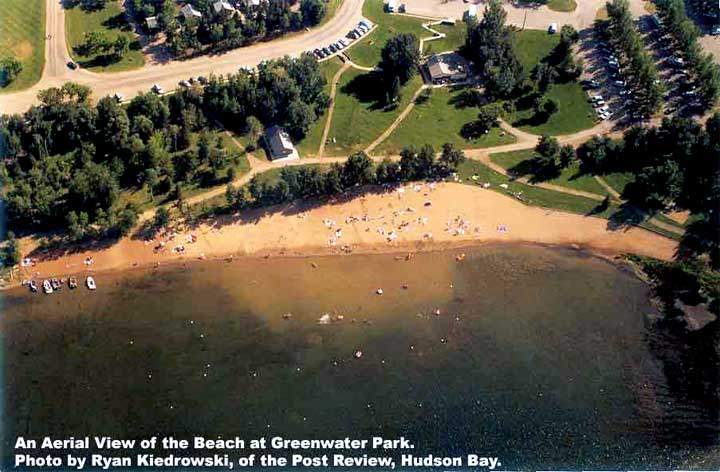 Doreen & Jerry Crawford
Box 1000, Porcupine Plain, SK, S0E 1H0
telephone (306) 278-2249
fax (306) 278-3423
http://www.greenwaterreport.com/
---
Retrun to Ensign - Return to Saskatchewan News
This page is a story posted on Ensign and/or Saskatchewan News, both of which are daily web sites offering a variety of material from scenic images, political commentary, information and news. These publications are the work of Faster Than Light Communications . If you would like to comment on this story or you wish to contact the editor of these sites please send us email.
Editor : Timothy W. Shire
Faster Than Light Communication
Box 1776, Tisdale, Saskatchewan, Canada, S0E 1T0
306 873 2004