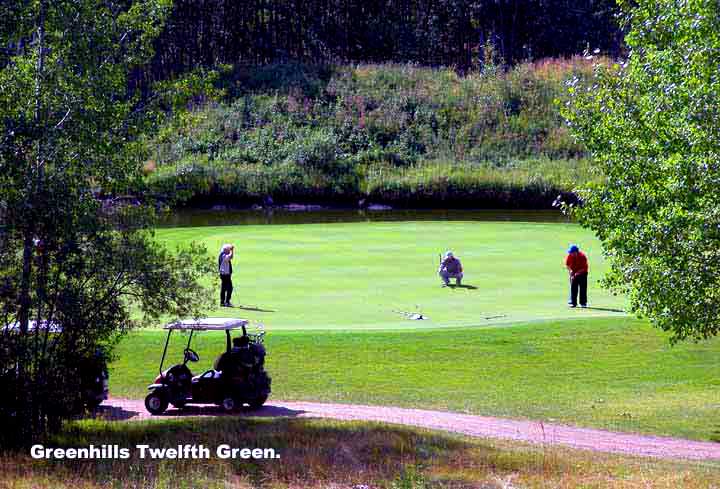 The Greenwater Report for August 30, 2004
August 29th, 2004: Overcast and drizzling this morning, though not cold - about 12°, with a wind. There was a fifth of an inch in the gauge, which according to my reckoning adds up to two and one third inches in August. It drizzled off and on all day, with a couple of times when the sun almost shone.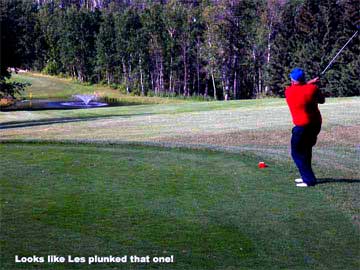 It rained all day Monday and most of the night, and by Tuesday morning there was close to two inches in the gauge. The temperature stayed around ten degrees day and night; hardly what one could call typical August weather! The sun finally came out Thursday afternoon and though the temperature didnít get up that high it was quite pleasant. Friday and Saturday were nice, too, with lots of sunshine. I finally managed to get out to the golf course and take a bunch of pictures.

Signs of fall: the purple-stemmed asters and goldenrod are the most noticeable wildflowers. The cranberries on our tame bushes are turning bright red and will soon be ready for picking. Chokecherry and pincherry leaves are starting to turn, though in general the forest is lush and green, more like June than late August.
There are two families of deer commonly seen around the core area and the golf course - a doe and twins, and a doe and triplets. We saw the triplets on the road to the golf course Friday, and were surprised to see spots still visible on the young. I remarked that it was late for the fawns still to have spots; Les Carpenter said everything else is late so why should the deer be different?
We saw the twins by the entry gate, and thought one of the twins was noticeably smaller than the other, and didnít move as freely. Weíll be surprised if it survives the winter.
Dave Bergh has decorated the Chelan Bar with four large wall murals, scenes of the Greenwater area and of wildlife. Excellent paintings, and worth a look. Unfortunately, they are low on the wall and wonít be visible when the place is crowded. Molly said she is having an open house soon, to show off Daveís work and that of some other artists. Watch for the ads! (Iíve heard the Chelan Bar is a great place to go for meals. We are going to try it, real soon!)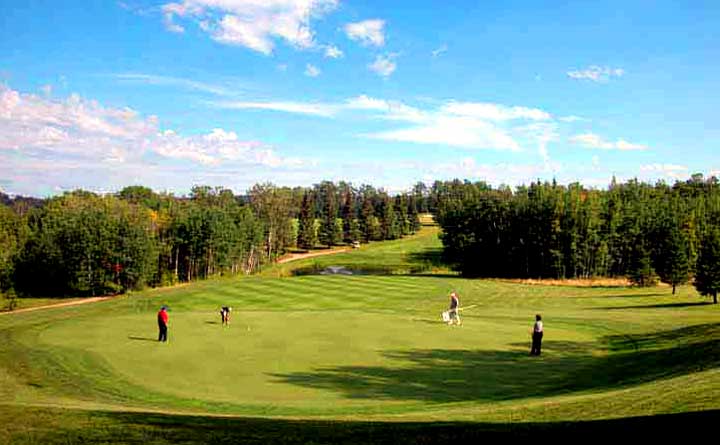 We went to Foam Lake again on Tuesday to visit our friendly masseuse, Mary Ann. This time we both got ironed out. I wonder how many people realise the value of a business like Mary Annís to a community? We went there early enough to have lunch at the Bakery, to buy some gifts at the Golden Ocean Giftware, and we made small purchases at the drug store and the Co-op. Not big money by any means, but money that, but for Mary Ann, would have been spent elsewhere. We know of other people near us who visit Mary Ann more or less regularly, and presume she draws a lot of people from many miles away since she is always booked up for two weeks in advance. Think about it!
On our way home, we stopped at The Old House in Kuroki for a sweet and coffee and a visit with Bernice and Julia. As I mentioned earlier, they are no longer open for lunch; they open at one and have been offering High Tea (by appointment) until three. They are open evenings until eight, but reservations are recommended for supper. The best High Tea I have enjoyed was in a little town in southern Iowa that Jenny took us to; we went to one at the Empress Hotel in Victoria once but were disappointed. Now we have to get down to Kuroki and see how it compares - Iíll bet it will be the best!
An ambulance came roaring into the Park yesterday, with its lights flashing and sirens screaming. I learned this morning that Lloyd Lisitza suffered a fall at his cottage and is in hospital in Saskatoon. We wish him well.
Jim tells me a motorcycle club is forming in Almi Campground - four of the summer residents have those little electric bikes that Discovery Ford sells. Iím told they will run seven to ten miles on a charge, which would make them ideal for scooting around the Park. Bonnie Classen demonstrated one for us in the showroom at Discovery - perfectly quiet, and travels at a pretty good pace, too! Jim spoke of the little three- and four-wheel scooters many seniors use. He has recommended them to some friends who have difficulty walking, but they are afraid their friends will tease them. What a silly reason for giving up oneís mobility!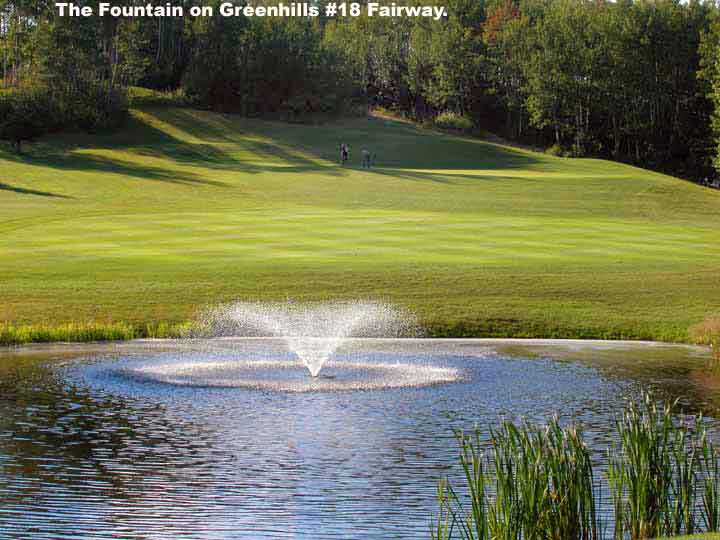 Doreen & Jerry Crawford
Box 1000, Porcupine Plain, SK, S0E 1H0
telephone (306) 278-2249
fax (306) 278-3423
http://www.greenwaterreport.com/
---
Retrun to Ensign - Return to Saskatchewan News
This page is a story posted on Ensign and/or Saskatchewan News, both of which are daily web sites offering a variety of material from scenic images, political commentary, information and news. These publications are the work of Faster Than Light Communications . If you would like to comment on this story or you wish to contact the editor of these sites please send us email.
Editor : Timothy W. Shire
Faster Than Light Communication
Box 1776, Tisdale, Saskatchewan, Canada, S0E 1T0
306 873 2004