The Greenwater Report for July 6, 2004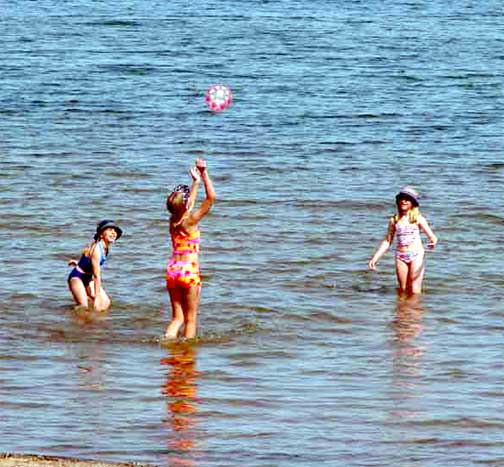 July 4th, 2004: July 4th - the day when the whole American nation celebrates my fatherís birthday! Intermittent sun and cloud, and it only got up to about 18°, but we canít complain.

Canada Day was beautiful - sunny, breezy, and not too hot. There were lots of people around and Doreenís garage sale was busy fifteen minutes before they opened. It stayed busy up to eleven oíclock, then was pretty quiet until after lunch. Jenny and Laurie had come out to help with the sale; the girls worked and I visited. A nice arrangement!

I finally met Luke, our new neighbour from across the street. Eight months old, as solid as a rock, and non-stop grins! He sat on my knee while his Grandma checked out the sale.

They tell me fishing has been very good lately for all three species - pickerel, perch and jack. At the same time, they tell me not to mention it, so if anyone asks, you didnít hear it from me. Upon being told that fishing was best in early morning and late evening, a visitor went fishing when it suited him - in the middle of the afternoon. It took him two hours to limit out.
I walked past the park entry gate on Thursday and caught up with two young ladies looking at something on the south side of the road. I couldnít see anything until they pointed it out - a fawn, still as could be. Then we spotted another, and another. I believe I have heard of triplets in deer, but have also seen several families of deer congregating on our lawn at the old place. Will have to ask around and see if anyone knows if they are triplets.
When I caught up to the young ladies, I was carrying an axe, putting up some garage sale signs. I couldnít help wondering if they were nervous as I followed them out of the Cove parking lot. They didnít show any signs of distress, though, and we had quite a pleasant conversation.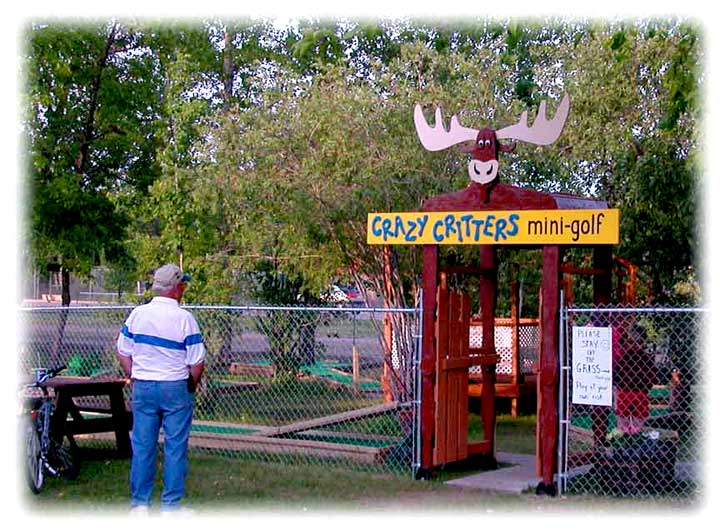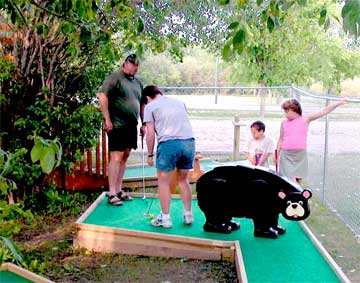 The Crazy Critters Mini-Golf is open at the Park Store, and doing a good business from the looks of it. Each hole is decorated with an animal or bird carving; most are fairly small but one, a bear, is almost life-sized. As usual with anything Jim & Rose tackle, it is well done and artistic. Rose is having a customer appreciation day next Saturday, the 10th with free drinks and hot dogs. They will also hold the Grand Opening of the Crazy Critters Mini-Golf that day. Watch for ads and posters.

About 8:30 Friday morning, there was a dead deer in the highway ditch by the Tower Road, and perched on it was a turkey vulture, just sitting there and looking around. Four hours later, it was still there, and I couldnít see any damage to the deer. I speculate that it was dining on a more tender and less visible spot, and climbed on top to rest and digest.

We saw our first bear of the year Friday, too - it galloped across the road in front of us with that awkward-looking gait that gets it where it wants to go quite quickly. Likely a two- or three-year-old. Then, on the way home from Hudson Bay last night, we stopped to admire one nosing at something not twenty feet from the road. We backed up and studied it for quite a while, and it wasnít alarmed. I suspect it was a last yearís cub.
The roadside grasses are suddenly dangerously high. It is a real problem at the junction of highways 38 and 23, where, coming from the south, one canít see a low vehicle coming from the west until one is right out onto the highway.
We got almost an inch of rain Friday and Friday night. Kelvington got quite a downpour, and just north of Perigord there was water lying in the fields. A man from north of Weekes told me they got over four inches, and Hugh Nerlien said he had heard several comparable reports from that area. The Red Deer River, Etomami River and Shand Creek were all running fast yesterday.
To those of you who read the Report on the Internet: you can contact me (and everyone else) by clicking on the ďEnter my ForumĒ button on the home page. I look forward to hearing from you. Be kind!
Doreen & Jerry Crawford
Box 100, Chelan, SK S0E 0N0
telephone (306) 278-2249
fax (306) 278-3423
http://www.greenwaterreport.com/
---
Retrun to Ensign - Return to Saskatchewan News
This page is a story posted on Ensign and/or Saskatchewan News, both of which are daily web sites offering a variety of material from scenic images, political commentary, information and news. These publications are the work of Faster Than Light Communications . If you would like to comment on this story or you wish to contact the editor of these sites please send us email.
Editor : Timothy W. Shire
Faster Than Light Communication
Box 1776, Tisdale, Saskatchewan, Canada, S0E 1T0
306 873 2004