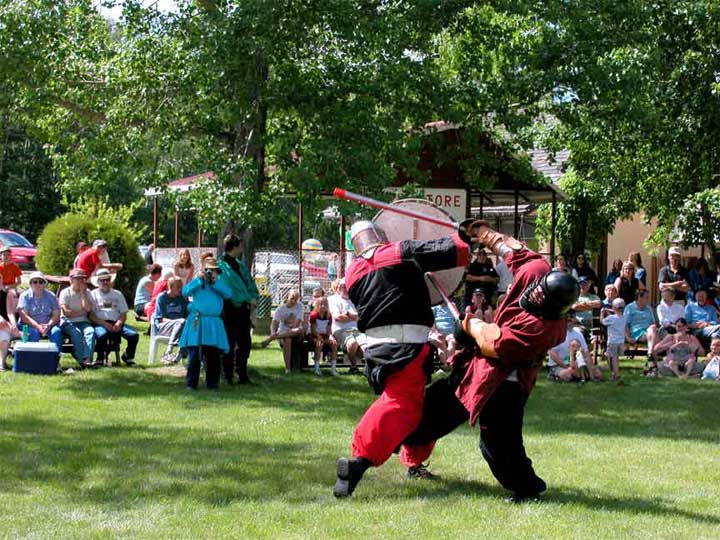 The Greenwater Report for July 14, 2004
July 11th, 2004: Well, the weatherman had been promising a hot weekend, but it didnít materialise. We canít complain, though - it didnít snow, though it did just about everything else, and we were able to spend lots of time outdoors.
We had a bunch of family visiting this weekend, so we put the muscle to work and put out the dock, then launched the boat. We spent a couple of hours fishing on Saturday, and some of them tried again on Sunday, but no luck.
We went for a little motorhome jaunt last week. We had planned to have lunch at The Old House in Kuroki, but it didnít open until 1PM. So, we ate at the Fishing Lake Lodge. There, we chatted a bit with Ed Gudmundson and Len Fewster, from Wynyard. After lunch, we dropped in on Forrest, Hilda and Wade Pederson, also from Wynyard, and Alf, Sheila and Jay Cochlan, from Saskatoon, all old friends.
We planned to visit the museum in Foam Lake but it was closed, so we went to Kelliher. There we called on Al and Barb Bolton. They took us on a tour of the town, then we coffeed and visited well into the night. We stayed at the campground there overnight, and had some more coffee with the Boltons in the morning.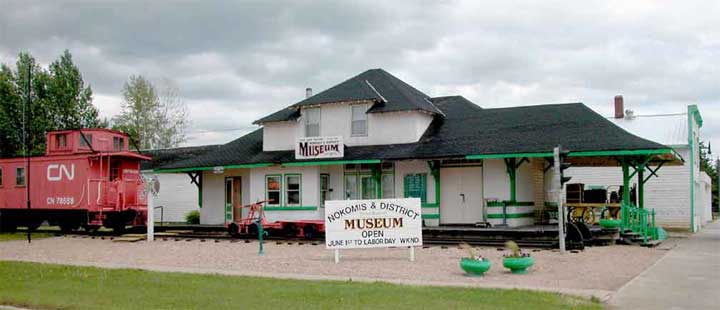 Then we went to Wickerís Garage for a visit with Stan and Loreen Wicker and some more coffee. Stan and I went to school together in the late forties and I think he is the only one left that I used to party with, in the bad old days.

We drove up Highway #15, dropping in at all the towns that were familiar to me fifty years ago, but found they arenít any more. Raymore still had a lively-looking business section but the rest were pretty quiet. Raymore had a museum too, but it was closed. In most of these places, a lack of manpower means they can only open limited days and hours, and invariably we miss them.

Last year, I got a letter from Jean Halldorson (nee Kidd) suggesting that the museum in Nokomis (her home town) is one of the best in Saskatchewan. Well, we stopped there on our jaunt, and we have to agree with her. What an ambitious project for a small (less than 500) town!

They took the CNR station and moved it up against the former lumberyard building, at the corner of Queen and 3rd. The station houses the usual artifacts, but the runway of the lumberyard has been turned into small-town Saskatchewan in miniature, with stores, offices, schools, churches, blacksmith shops and all the rest. Upstairs, there is a doctorís office, a dentistís office, and a printing shop.

Outside are some old implements including a steam engine, and in the office of the lumber yard is a wildlife center. You open the door and there is a great big bison looking at you!

They laid down some track in front of the building and have an old wooden caboose (the kind I remember) and a railway handcar on display.

To top it off, they have two of the pleasantest girls running the place! Put the Nokomis Museum on your must-see list, and budget lots of time!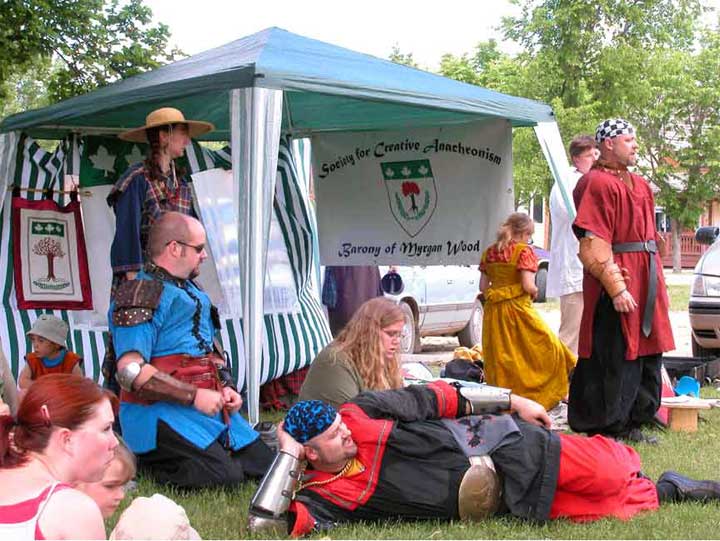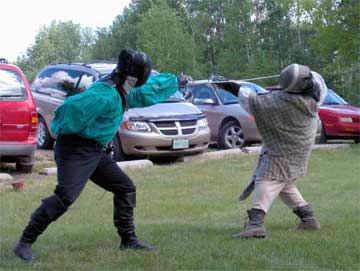 Yesterday, we went to an interesting exhibition of medieval times. It was put on by the Society for Creative Anachronism, Barony of Myrgan Wood and featured fencing and armored hand-to-hand combat techniques.

It was held by the Park Store, and drew a considerable audience.

Damon Steadman starred as one of the combatants, and Jessica Steadman acted as announcer, explaining what was happening, what rules the combatants had to adhere to, etc. A lot of fun!

Connie Schmidt has been operating the Beach Café this season, and is doing an outstanding job of it. We have been down there a couple of times for meals recently, and were very pleased with both the quality of the meals and the prices. We hope it works out well for her; a well-run Park business is a terrific drawing card!
Doreen & Jerry Crawford
Box 100, Chelan, SK S0E 0N0
telephone (306) 278-2249
fax (306) 278-3423
http://www.greenwaterreport.com/
---
Retrun to Ensign - Return to Saskatchewan News
This page is a story posted on Ensign and/or Saskatchewan News, both of which are daily web sites offering a variety of material from scenic images, political commentary, information and news. These publications are the work of Faster Than Light Communications . If you would like to comment on this story or you wish to contact the editor of these sites please send us email.
Editor : Timothy W. Shire
Faster Than Light Communication
Box 1776, Tisdale, Saskatchewan, Canada, S0E 1T0
306 873 2004