The Greenwater Report for June 25, 2004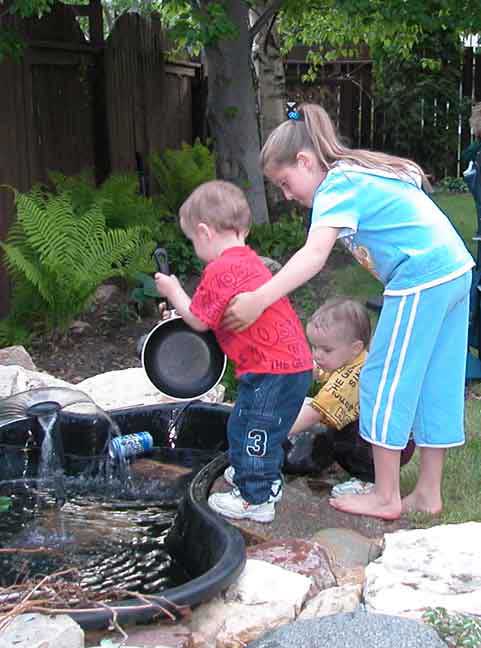 June 20th, 2004: We just got back from Saskatoon, where we attended a grad party for our granddaughter, Laura. It was a blast! Lots of visiting with Lauraís aunts and uncles and cousins from Dafoe, and with friends from Humboldt. Drank a little, ate a lot, and had a ball watching the little Blyth kids playing in the fountain, and waiting for them to fall in (they never did!). About eleven, we left to go to our hotel room, and a block party just two doors down started setting off some fireworks. We stood out in the middle of the road and watched for about fifteen minutes. What a way to end the evening!

We ran into a lot of rain squalls on the way home; some of the white streaks in the sky looked as if someone might be getting hail, but we didnít encounter any. There might be a tenth in the gauge at home.

Snow! On Thursday morning, the radio talked about snow being reported in Hudson Bay, then about 8:30, it snowed here for awhile. It melted as soon as it touched the ground, of course, and the temperature didnít get below +2°, but it was still snow! We had a couple of nights when the temperature got pretty low, but Friday the sun came out and the temperature came up. Happiness is not having to wear a jacket and boots to go outside!

Most of the deer now have their lovely warm brown color, almost red. There seem to be lots of them around. Our grandson, Aaron, went to Yorkton last Saturday and actually saw a fawn being born. It was in an open area only about a hundred yards from the highway. Quite a thrill!
Frank Duhaime reported seeing deer, elk, moose and bear on one drive through the Park.
It looks like the saskatoons have set well, so should be a good crop. Canít tell yet about the other berries.
I watched about twenty minutes of the Leadersí Debate on Tuesday; didnít get a single answer and got sick of trying to pick anything out of two or three voices talking at once. What a farce! I would have got more out of the Monday debate, in French.
We are constantly being exhorted to vote as we please, but vote! As if it is a moral lapse not to exercise oneís franchise. I canít see the point in people who have no interest, no knowledge of the issues, or of the parties or candidates, voting just because they feel they should. Just as bad is voting a certain way for no other reason than that their parents voted that way before them. What a cop-out! If you donít have a well-thought-out opinion, stay home!
The creek is running! They (the R.M., I think) blew some beaver dams south and east of the Park; with the rain that should keep the creek running for a couple of weeks. Merv saw some suckers swimming upstream; I understand the Park has tried to fence them off, but Frank didnít think it would be too successful. The problem with them going up the creek now is that they are likely to get trapped there.
Some say the lake is up by three inches; others say itís more like six inches. George says you can motor in and out of the Marina with no problem, now. Looks like I might have to put the pontoon boat in the water - that means wrestling with that honking great dock again. George said pickerel fishing is good right now, so maybe Doreen will get an itch to try her hand.
Doreen & Jerry Crawford
Box 100, Chelan, SK S0E 0N0
telephone (306) 278-2249
fax (306) 278-3423
http://www.greenwaterreport.com/
---
Retrun to Ensign - Return to Saskatchewan News
This page is a story posted on Ensign and/or Saskatchewan News, both of which are daily web sites offering a variety of material from scenic images, political commentary, information and news. These publications are the work of Faster Than Light Communications . If you would like to comment on this story or you wish to contact the editor of these sites please send us email.
Editor : Timothy W. Shire
Faster Than Light Communication
Box 1776, Tisdale, Saskatchewan, Canada, S0E 1T0
306 873 2004