The Greenwater Report for June 29, 2004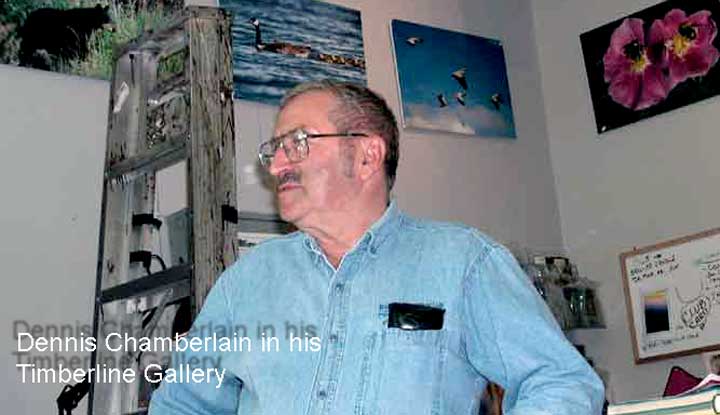 We also visited the Intarsia gallery of Mr. & Mrs. Wilf Litzenberger, just about a block from the Timberline Gallery. For those not familiar with it, intarsia is art made up of pieces of different kinds (and therefore, colours) of wood, polished and glued together to form a picture. The Litzenbergers were also very friendly and hospitable, not hesitating to show us how the work is done, and the tools they work with. Another recommended visit.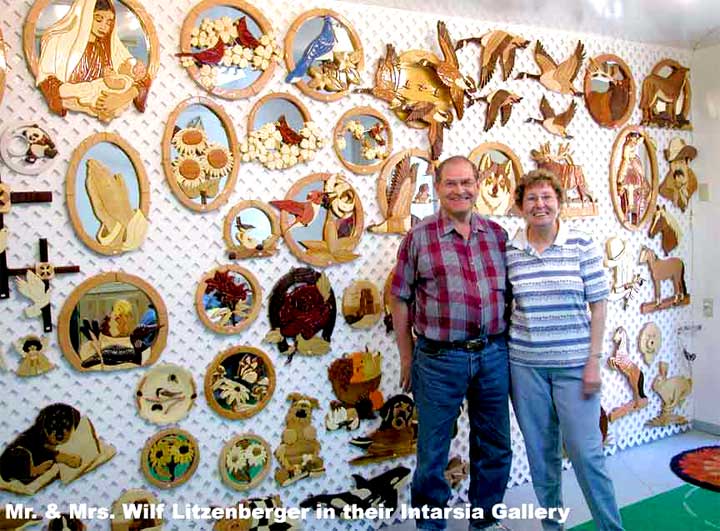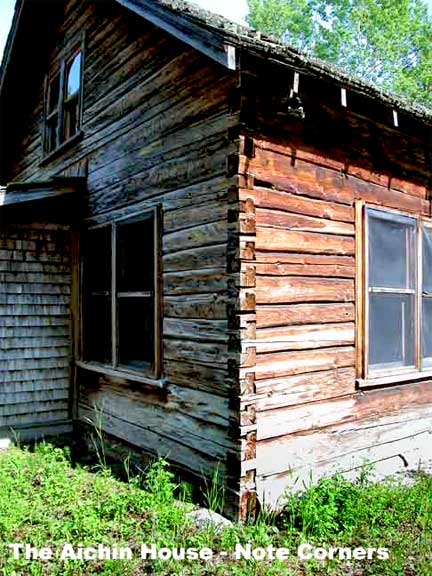 Then we went on a little hike to a heritage farmyard just a little way south of the townsite. It was a good trail in, and only about a half-mile walk. There were buildings there that we never did discover a purpose for, but most interesting was the house. It was built in 1938 of squared logs (sawn) with the most interesting interlocking corner detail, something I have never seen before. It was obviously built by a man who knew his business, and is as straight and square today as it was when first built. I doubt if the walls were ever covered, and they have weathered to a beautiful warm brown, with no sign of rot.

In between trips to Tisdale, Regina, Hudson Bay, and Candle Lake, we have been bustling about getting ready for Doreen's July 1st garage sale. It will obviously spread out into the yard, the garage just isn't big enough! Where do we accumulate all that stuff? Several other people are contributing articles, but I suspect we had enough of our own to stock it.

We watched five or six pelicans bobbing around at the mouth of the marina, then another batch of six joined them. Mel says they are feasting on suckers that are trying to get upstream to spawn. Several people have mentioned seeing suckers in the creek.

There was going to be an attempt to dredge the channel into the marina last week, but I understand it was called off when they found the backhoe they planned to use was not suitable. I don't know if another attempt will be made or not, but will keep you posted.
Doreen & Jerry Crawford
Box 100, Chelan, SK S0E 0N0
telephone (306) 278-2249
fax (306) 278-3423
http://www.greenwaterreport.com/
---
Retrun to Ensign - Return to Saskatchewan News
This page is a story posted on Ensign and/or Saskatchewan News, both of which are daily web sites offering a variety of material from scenic images, political commentary, information and news. These publications are the work of Faster Than Light Communications . If you would like to comment on this story or you wish to contact the editor of these sites please send us email.
Editor : Timothy W. Shire
Faster Than Light Communication
Box 1776, Tisdale, Saskatchewan, Canada, S0E 1T0
306 873 2004