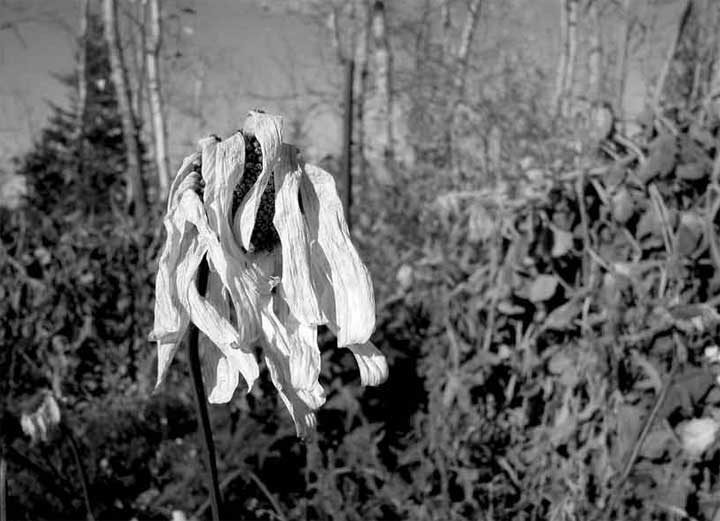 The Greenwater Report for October 5, 2004
Oct 3rd, 2004: A cold and windy day, overcast at first but clearing later on. We went to the Golf Course for coffee and a tournament was just starting. People (not very many!) were standing around in parkas, waiting to tee off. Must be nice to be so dedicated! There is a cartoon poster at the clubhouse of a dedicated golfer, hanging onto the flag with one hand, feet streaming out in the wind, trying to putt with his other hand. Very apt for today!
When I went to Grimsonís on Monday, their East Quarter, by Nupp Lake, was completely covered by geese. Awhile later some hunters asked permission to hunt there, but I understand no geese showed up and none have been seen there since. Not so dumb! On our way to Saskatoon on Wednesday we saw a good-sized slough that was completely covered by white geese; just a narrow strip of open water visible at one side. I donít think we saw a single field where geese were in the swath.
Crops appear quite good, though quality is down a bit. Between here and Saskatoon there was very little crop still standing, a few fields that were finished, and an awful lot laying in swath.
We went to Saskatoon so I could have some minor surgery done; it was quick & easy - it was the shopping afterwards that was painful! About four on Thursday afternoon, a terrible wind came up, the air filled with dust, then with snow. Our first blizzard of the season! I phoned Bryan Grimson; he said they got it about the same time, so harvesting is stopped again. On our way home Friday, the only combines we saw working were north of Watson. Between Archerwill and Highway #38, there was snow in the south ditches!
I phoned Bryan again this morning and he thinks they will be ready to combine again tomorrow.
I got an e-mail from Bruce Squires, telling me the man in the statue at Elfros Park is Scott Stephanson of Elfros. The sculptor needed a strong, Icelandic looking face and felt that Scottís was perfect for the job. Thanks, Bruce!
As anyone who sees my report on the Internet knows, the fall colour out at the Golf Course was fantastic last weekend. When we got home Friday night, the trees were almost stripped of their leaves. It must have been that terrible wind on Thursday. What a change ó that must be the shortest display of fall colour in history!
I learned today that the famous Perigord Fall Supper will be on October 31st. Canít miss that one!
Another generation rises! Our grandson, Alan Grimson, and partner Amy Swinburnson had a baby girl this evening. Since Bryan was on an implement talking to Jill on his cell phone, he couldnít get the babyís name or birth weight, but mother and child (and, presumably, father) are all doing well. Our very first great grandchild! Welcome to this world! And congratulations to Amy and Alan! And to Laurie and Bryan, and to Dan and Joyce - itís their first great as well.
Our grandson, Scott, was due home from China last night. However, he got to the Changsha airport and going through the hoops it was pointed out that he lacked an important document, which meant he has been illegally in China for the past year! Since it was a Chinese holiday weekend, he was unable to get to any officials to plead his case, so had to sit tight until tomorrow. If he canít get it cleared up by the 9th he will have to sacrifice his tickets and be out $1,600! However, Louise tells us the principal of the school at which he taught for the past year is going to come down to Changsha and help him get it cleared up. It is to be hoped, we will be able to visit with him before long.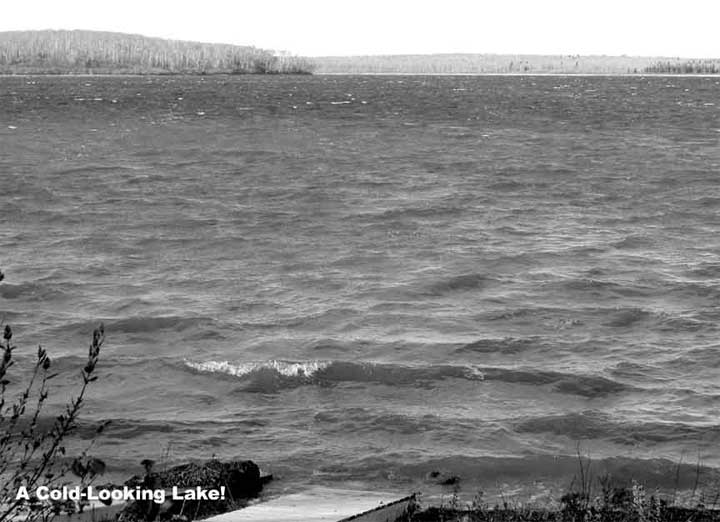 Doreen & Jerry Crawford
Box 1000, Porcupine Plain, SK, S0E 1H0
telephone (306) 278-2249
fax (306) 278-3423
http://www.greenwaterreport.com/
---
Retrun to Ensign - Return to Saskatchewan News
This page is a story posted on Ensign and/or Saskatchewan News, both of which are daily web sites offering a variety of material from scenic images, political commentary, information and news. These publications are the work of Faster Than Light Communications . If you would like to comment on this story or you wish to contact the editor of these sites please send us email.
Editor : Timothy W. Shire
Faster Than Light Communication
Box 1776, Tisdale, Saskatchewan, Canada, S0E 1T0
306 873 2004