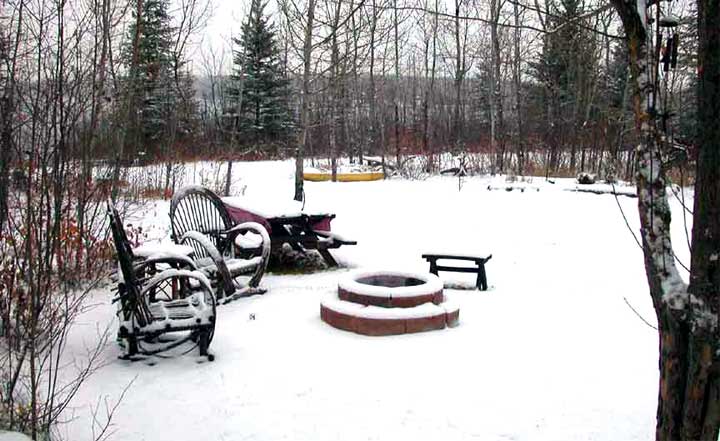 October 19, 2004
The Greenwater Report for October 25, 2004
October 24th, 2004: The sun peeked out a few times today, but it didnít stay out long. The temperature stays around that ó1° to +1° range and the snow is disappearing. I spent some time working on the batteries for the motor home and my hands got good and cold. How soft we get!
We went to Kelvington tonight and took in the Kelvington Hospital Blood Analysis Fundís pork supper and bucket raffle. We had an excellent supper, and I even won some neat prizes in the raffle, something that rarely happens. I understand the Kelvington Hospital staff put on the event with help from staff of Kelvindell Lodge and many other volunteers. The purpose is to raise money towards the purchase of a blood analysis machine. There must have been close to a hundred prizes to draw for, all donated, which means some people did an awful lot of work soliciting those donations. They tell me they served just over six hundred meals. Kudos to the hard-working crew!
It snowed all day Monday, sometimes very light, occasionally quite heavy but always snowing. Tuesday morning there was a blanket of two or three inches covering everything, then it snowed very lightly all day Tuesday, too. It would have been lovely if the overcast werenít so heavy. Walking was quite easy on Monday as the snow was light and fluffy, and it didnít seem too icy in the car tracks, but by Tuesday it was very treacherous.
We went to Saskatoon on Thursday; from here to Naicam the roads were snow-packed and icy, but from Naicam on they were just wet. On the way back they were dry as a bone, so we got the car washed in Humboldt. Highway #349 was wet but not slushy, until we got to the end of pavement east of Archerwill. Then it was a sloppy mess. We might as well have saved our money!
We didnít notice any standing crops at all, and just a few fields of canola in swath. East of Naicam there were two fields that could have been swathed flax, and east of Archerwill several that we couldnít identify. Not much left out there, though, at least along the road to Saskatoon.
Despite all the doom and gloom being forecast for the remainder of this fallís crop, I can remember many Novembers that were beautiful months. I am betting that we will get rid of this snow and get enough dry days to allow the rest of the crop to be combined. Remember - you heard it from an expert! (But donít ask me to put any money on it!)
In the summer, one of my columns included a photo of three young girls playing classical music at a craft fair in Saskatoon. Last night, Penny Starsina told me she recognized those girls - they are neighbours of her daughter in Saskatoon, and their parents are teachers. She showed the girls their picture, and they were quite thrilled.
Doreen went to the Ladiesí Night Out sponsored by the Chase Place volunteers in Porcupine Plain last night. She reports a good, enthusiastic crowd, a wonderful meal, and marvelous entertainment.
Also last night was a wedding party for Colin and Jessie Puetz at Greenwater Hall. Unfortunately, we werenít able to make it, but offer our congratulations to Colin and Jessie.
I was having supper at the Sportsman last night with Laurie, Bryan and Jenny. A man came up and asked me if Bryan was the Grimson who kept me busy driving combine. Then he went on to say how nice it is to drive for sons and nephews who have the combine all greased up and the cab cleaned out all ready to go in the morning. I told him to keep talking - it was music to my ears, but Bryan told him he makes me grease the combine myself! Iíll bet Bryan figures I bribed the man to make those comments! I should have known who the man was, but I just canít put a name to him.
Doreen & Jerry Crawford
Box 1000, Porcupine Plain, SK, S0E 1H0
telephone (306) 278-2249
fax (306) 278-3423
http://www.greenwaterreport.com/
---
Retrun to Ensign - Return to Saskatchewan News
This page is a story posted on Ensign and/or Saskatchewan News, both of which are daily web sites offering a variety of material from scenic images, political commentary, information and news. These publications are the work of Faster Than Light Communications . If you would like to comment on this story or you wish to contact the editor of these sites please send us email.
Editor : Timothy W. Shire
Faster Than Light Communication
Box 1776, Tisdale, Saskatchewan, Canada, S0E 1T0
306 873 2004