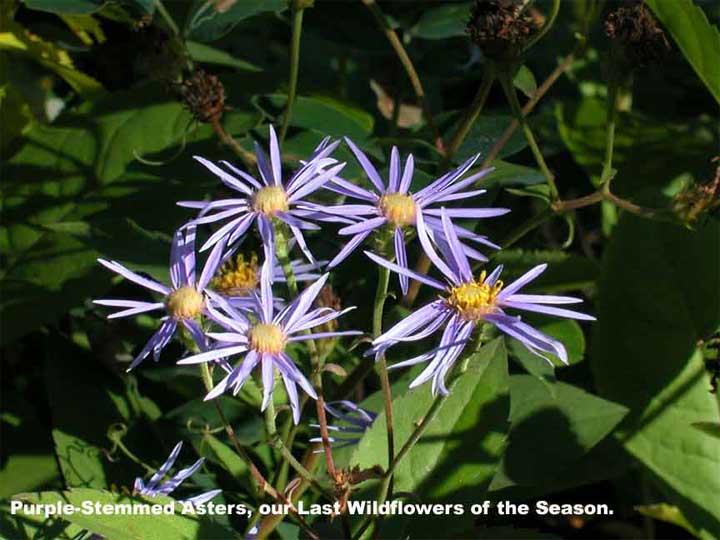 The Greenwater Report for September 21, 2004
September 19th, 2004: We just got home from Hudson Bay where we went to help Mike & Marg harvest their chokecherries and crabapples. The chokecherries didnít take long; there were few of them, they werenít very ripe, and not very juicy. We managed to put up a few pints of jelly - or syrup, depending on whether it sets or not. There were lots of crabs, though. We put up lots of jelly plus a bunch of apple juice.
Doreen took her extractor along, which is one wonderful invention. You put water in the bottom, berries or cherries in the top, and let it boil. The steam extracts the juice from the fruit and drains into a container. You donít have to worry about pits or stems or trimming, just wash the dust off.
It wasnít a happy weekend, though. Marg got a phone call Saturday night to say that her father had passed away. Marg left Sunday to be with her family at McGregor, MB; Mike and the boys will go down later in the week once the funeral is set.

We went to Melfort on Monday and were surprised to see swathing so far advanced. It was a pretty nice day once the clouds cleared, and lots of swathers were at work.

Are the leaves ever changing! We saw some tamarack trees that were yellow flames, but most had hardly lightened at all. The deciduous trees are a lighter green, and the underbrush is getting brighter and brighter. I will be surprised if we get our usual colorful fall, though - too many leaves are just turning dull brown, likely tinged with frost.

There were seventy-one Canada geese down on the beach on Tuesday, so they must be getting ready to head south. Somebody reported seeing a flock of white geese west of Archerwill, too.

Iím glad to hear the provincial premiers and Paul Martin came to an agreement on health care. If my arithmetic is right, $18 billion works out to around $600 for every man, woman and child in Canada, so about $600 million should come to Saskatchewan. That should be almost enough to finance another layer of bureaucracy - if itís not enough, they can always close another rural hospital or two. But then, maybe Iím cynical.
The annual Ducks Unlimited Banquet is going to be held on October 9th, the Saturday of Thanksgiving weekend, as usual. Since Fishermanís Cove is closed, it will be held in the Park Hall and the meal will be catered. Thatís a good-sized hall so there should be plenty of room.
We were in Tisdale on Friday, and I would guess more than half the crops have been swathed. Nothing by the highway has been combined, though Doreen did see a combine working farther north. It seems we either get a shower or a very heavy dew every day, and I hear reports of fields being too wet to support harvesting equipment.
Several semi-loads a day of big, beautiful spruce logs are coming through Tisdale from the north and turning east on Highway #3. I assume they are going to the plywood mill at Hudson Bay. A girl in Tisdale said she counted ten of the semis going through town in one day; that wouldnít keep the mill going all day so maybe there were more loads during the night. We hear rumors of the plywood mill being temporarily shut down because the bush is too wet for logging!
Fall supper time is here! There was one in Porcupine tonight, and another in Carrot River, but we didnít get to either one.
Doreen & Jerry Crawford
Box 1000, Porcupine Plain, SK, S0E 1H0
telephone (306) 278-2249
fax (306) 278-3423
http://www.greenwaterreport.com/
---
Retrun to Ensign - Return to Saskatchewan News
This page is a story posted on Ensign and/or Saskatchewan News, both of which are daily web sites offering a variety of material from scenic images, political commentary, information and news. These publications are the work of Faster Than Light Communications . If you would like to comment on this story or you wish to contact the editor of these sites please send us email.
Editor : Timothy W. Shire
Faster Than Light Communication
Box 1776, Tisdale, Saskatchewan, Canada, S0E 1T0
306 873 2004