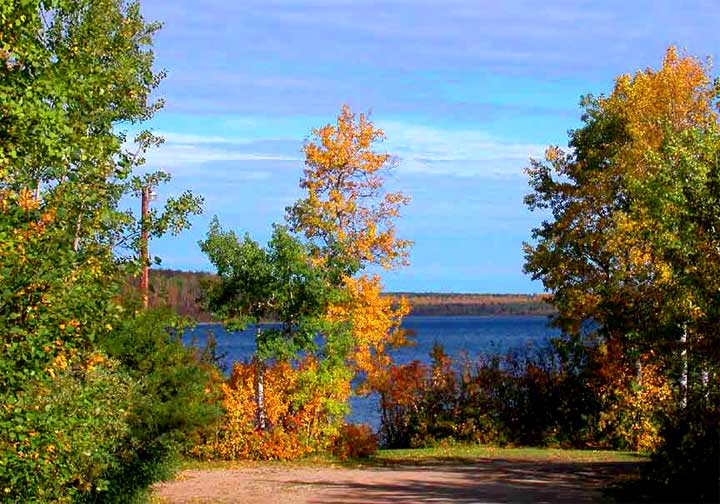 The Greenwater Report for September 27, 2004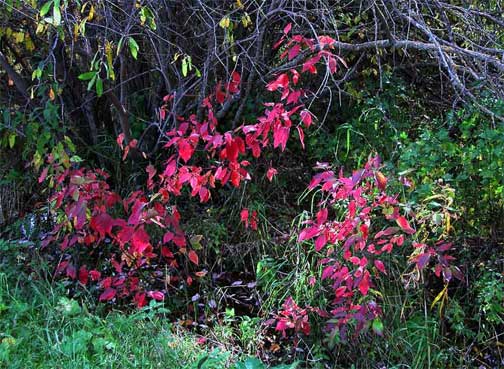 September 26th, 2004: Another in a string of great days - there wasnít even any dew on the deck this morning.

Sounds like Iíll be heading down to Grimsonís to drive combine today. They have two machines at work. Bryan had an accident with one the other day - picked up a cultivator shank in a field of peas and it really did a number on the rub bars.

Lakeview Farm Equipment seems to be pretty good at getting equipment back in the field in a hurry.

What glorious weather! Finally, one can drive down the road and see combines working. Someone said a month of this kind of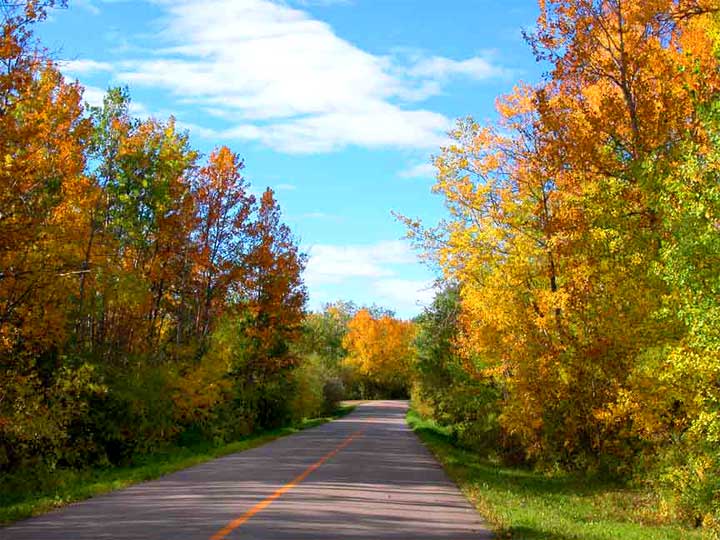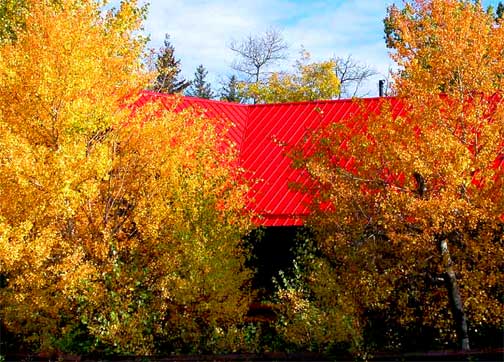 weather and the crop would be harvested. Seems to me a long warm and dry spell in October isnít unheard of. Trouble is, many of those beautiful swaths donít yield much grain!

When the Chelan post office was shut down at the end of July, people getting their mail there were given two choices: Bjorkdale or Porcupine Plain. We went through the process of changing our address to Porcupine Plain. Then we got a letter from Canada Post last week telling us that green boxes would be set up in Chelan and would we like to change back?

No, we chose not to go through the change of address process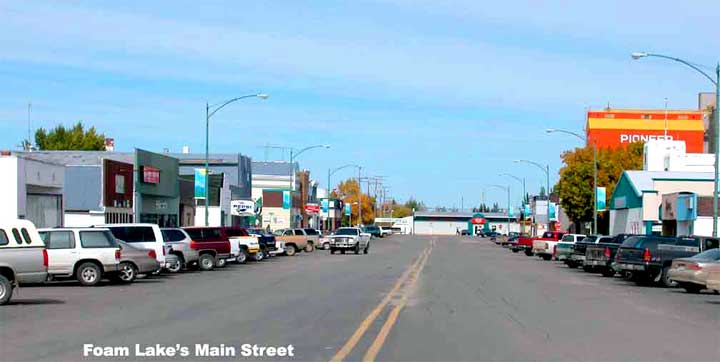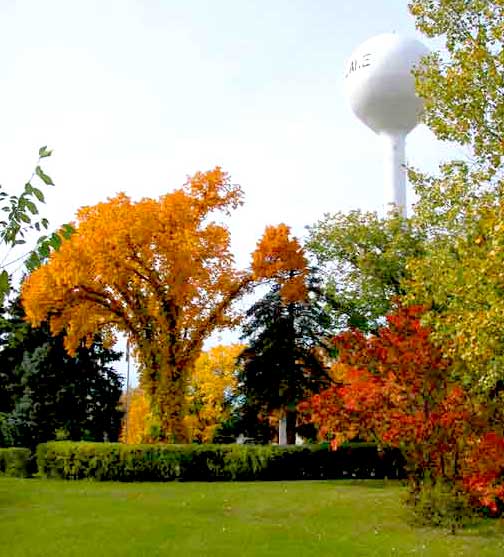 again. I suspect many would have the same response. Will Canada Post then decide there arenít enough people using the green boxes and pull them out again? Am I cynical?

That sure is one beautiful main street Foam Lake has. I paced it - ninety feet wide not counting sidewalks, room for angle parking and two lanes of traffic each way. Most towns would kill for a main street like that!

Morse has a main street that may be wider - they have a row of angle parking right in the middle of the street!

Elfros has a nice little park, with a very well-done sculpture of Icelandic pioneers and a three-panel display with historical notes on one side and murals on the other.

All the times I have been in and through Elfros, and I didnít even know it was there!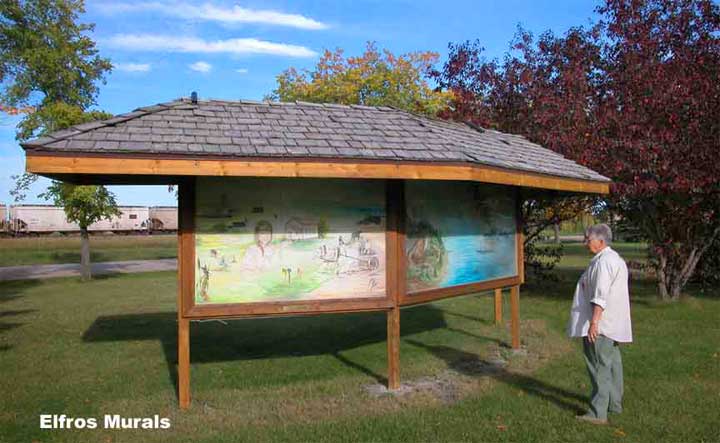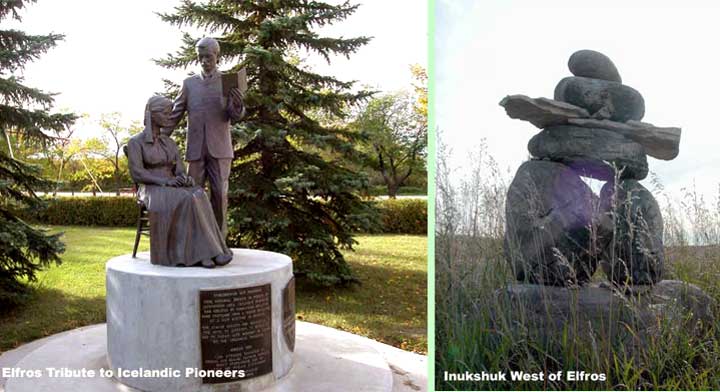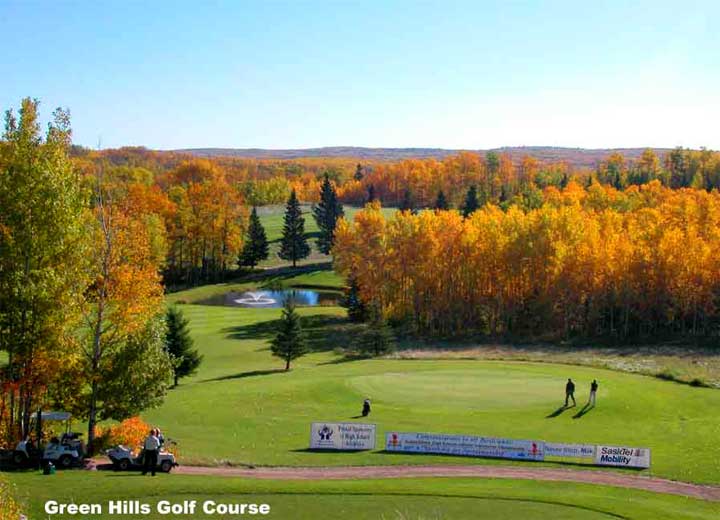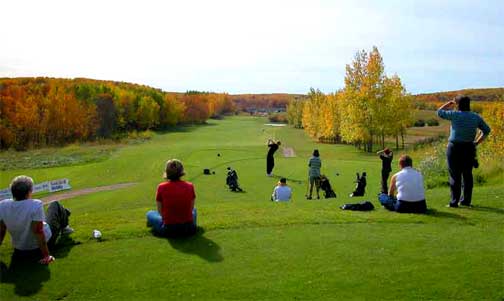 We went to the Golf Course for coffee on Friday morning, and the place was hopping. The Saskatchewan High Schools Athletic Association was holding their Provincial High School Championships and there were cars, vans and buses from all over the province. Some had come on Thursday for a practice round or two, and the competition was on Friday and Saturday. The Porcupine High School hosted a banquet on Friday night at the Park Hall, and the Golf Course served a buffet breakfast Saturday morning. Accommodation was tight with the Cove shut down, but they were able to get everyone under a roof for the night. Lawrence Schmidt told me we were on the list for billets, but they didnít have to use any.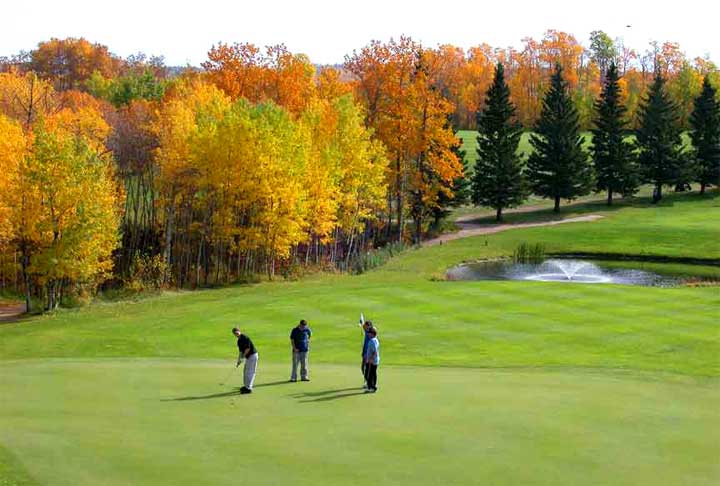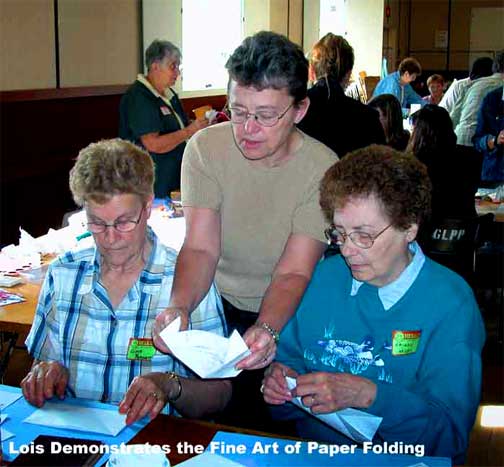 I have never seen the course looking so beautiful, with the grass lush green and the trees at their height of colour. I even heard some of the kids commenting on it! There was no wind at all and the sky was clear, perfect weather for shirtsleeve golfing. Saturday was a repeat of Friday, though it did cloud over in the late afternoon.

We got our coffee, sat out on the deck, and just basked in the beauty!

Lois Drobot held her First Annual Stampiní and Scrappiní workshop in the Park Hall on Saturday. Over forty people came to learn various tricks and hints for making greeting cards, scrapbooking and associated crafts. All women, and most of them young. Blaine and I dropped in in time to get invited for lunch, which was provided by Beta Iota, the local sorority. A very satisfactory event!
Doreen & Jerry Crawford
Box 1000, Porcupine Plain, SK, S0E 1H0
telephone (306) 278-2249
fax (306) 278-3423
http://www.greenwaterreport.com/
---
Retrun to Ensign - Return to Saskatchewan News
This page is a story posted on Ensign and/or Saskatchewan News, both of which are daily web sites offering a variety of material from scenic images, political commentary, information and news. These publications are the work of Faster Than Light Communications . If you would like to comment on this story or you wish to contact the editor of these sites please send us email.
Editor : Timothy W. Shire
Faster Than Light Communication
Box 1776, Tisdale, Saskatchewan, Canada, S0E 1T0
306 873 2004