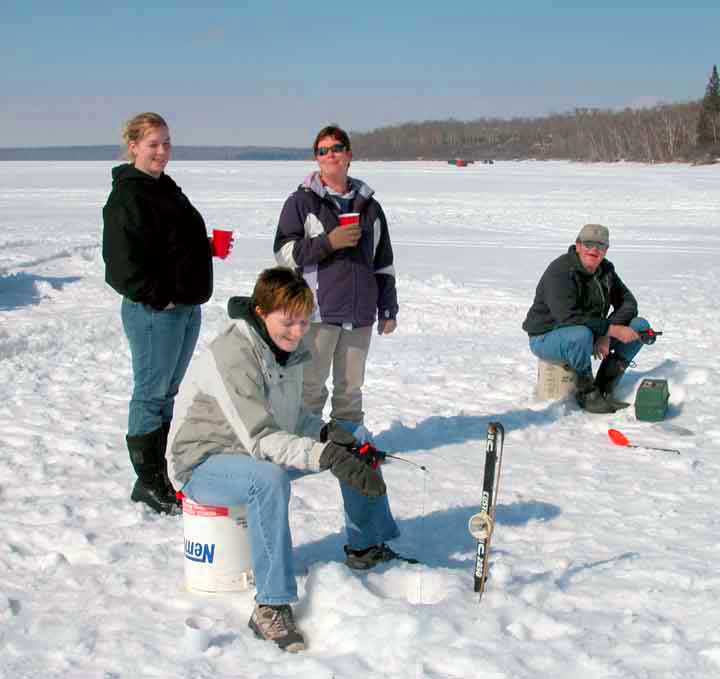 The Greenwater Report for April 1, 2005
March 27th, 2005: Itís a beautiful day, sunny and bright, a few degrees above freezing, and very little wind. Anywhere the dirt or gravel is showing, snow is melting like crazy.

I went out to the lake where they were holding the fishing derby, and managed not to get stuck. But the snow was getting very soft with a lot of water underneath it, especially on the side away from the shore. Every step broke through the crust and Iím glad I wore my barn boots. I watched one young man get stuck several times with a quad; he had to get off and push!

There werenít as many fishers as other years, but there must have been over a hundred. There were quite a few fish caught, and winner was Earl Schulte with a 3.7-pound jack. René Patenaude won second with a 3.3-pound jack, and Darren Sauer got third with a 1.6-pound jack. I watched Darren catch his - his line broke just as he got the fish to the hole but he dove in and brought it out!

Another fish that should have been eligible for a prize was a 1.1-pound perch, a good size any time.

Ice fishing is a real family activity - one family even had their dog, though it didnít appear to be fishing. Another little girl got bored with not catching anything so her rod & reel were lying on the ice while she made snow castles with a cup.

Road conditions during the past week have been worse than we have seen all winter. Not that weíve had all that much snow lately, but the wind has been moving it around. The highway gets warmed up in the sun and the snow sticks to it. Then, when it cools off a little, you have pure ice to contend with.

Remember me complaining about a round bale that I thought was too close to the highway? Well, itís gone, and I donít mean just rolled off to the side. Itís completely gone. Donít know if my complaint had anything to do with it, but I doubt it - somebody just realized it was a valuable item.

Our roads in the Park were plowed recently. They do a pretty good job of not piling too much snow in our driveways, but there is always some. I went out and checked it the next day and it was hard as a rock - the snow blower wouldnít even chip it. Not that it matters - itís all going to melt, any day now. Isnít it?

I see some ice-fishing huts being dragged off the lake. I believe they are all supposed to be removed by the end of March. What are all the fisherpersons going to do for the next month and a half? I hope their freezers are well-stocked!

We heard several crows yesterday, the first we have seen or heard this year. Letís see, how does it go? Seven snows after the first crow something happens, but I canít remember what. Then it gets more complicated because itís seven snows after the first crow that Frank sees, and if he happens to be somewhere else when he sees the first crow, it doesnít apply to us. At least, I donít think it does. Maybe weíll just get the slingshot out and forget about significance.

We saw several on the road to Porcupine so they seem to be back in force.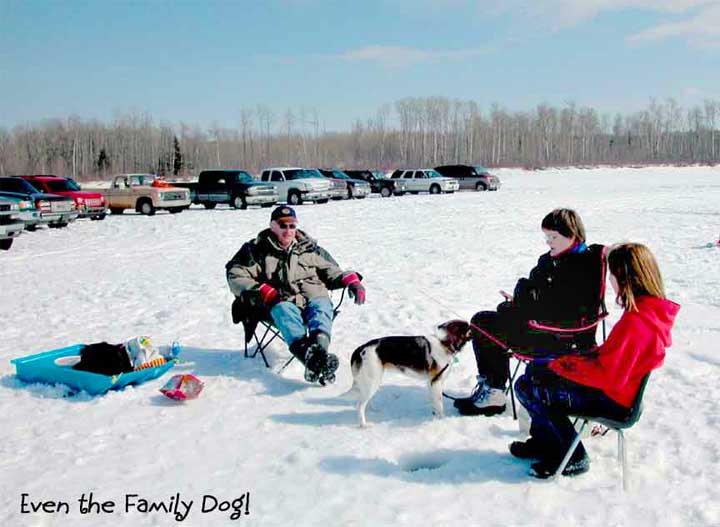 No sign of geese yet, though. Seems to me there are usually a few flying around about this time of year, likely scouting for the main flock. We always wonder what they live on until the ice breaks up, but I guess they can catch the odd ice worm, and live on their fat.

We had coffee with Colin over at the Cove yesterday. They have been doing some painting, and showed us the paint chips. They are going to get rid of that hospital white and have some warm, welcoming colors! Instead of Fishermanís Cove, they are going to call it The Greenwater Cove, which will automatically be shortened to The Cove.

By the way, if you want to contact Colin, the phone number at The Cove is the same as before: 278-2992.

Colin says they wonít be able to open the gas bar as early as he would like. They have to have some environmental inspections done, which must wait until the snow is gone. Then they have to purge one of the tanks as they plan to offer diesel fuel in place of premium gas. Colin says snowmobiles that need premium gas can use a fuel additive to accomplish the same thing, and likely cheaper.
Doreen & Jerry Crawford
Box 1000, Porcupine Plain, SK, S0E 1H0
telephone (306) 278-2249
fax (306) 278-3423
http://www.greenwaterreport.com/
---
Retrun to Ensign - Return to Saskatchewan News
This page is a story posted on Ensign and/or Saskatchewan News, both of which are daily web sites offering a variety of material from scenic images, political commentary, information and news. These publications are the work of Faster Than Light Communications . If you would like to comment on this story or you wish to contact the editor of these sites please send us email.
Editor : Timothy W. Shire
Faster Than Light Communication
Box 1776, Tisdale, Saskatchewan, Canada, S0E 1T0
306 873 2004