April 17th, 2005: Itís windy again, but it was +11° when I got up, and mostly sunny. It should be a nice day for sucker fishing - we drove down to the marina yesterday and there were several people in the creek. I watched Bill Tvait land a nice one; got a picture of it, too.

There is a very large open area at the south end of the lake, by our place, and I think I can see ice piled up at the east shore in Uskatik. That wind should put paid to the ice quickly.

We woke up Tuesday morning to find everything covered with several inches of fresh, wet snow. It continued to snow all morning, but didnít amount to much. By Wednesday, there wasnít much of it left. We would have been happier with a nice, warm rain, but nobody asked us

We went to Saskatoon on Thursday, after coffee. It had been quite windy all night and was bad during the day, but nothing like Thursday night and Friday - the temperature wasnít cold but that wind sure was. There were signs blown over and reports of damage from all over and on the way home we saw several buildings with the shingles in a real mess.

I had my second eye done on Friday; everything clicked off right on schedule and I was happier with the results than I was with the first eye, maybe because I wasnít expecting miracles this time. Now I have to wait about five weeks and then go to the optometrist for new glasses. My first eye has pretty good vision in the far reading range, but I need magnification for small type, and I have trouble reading signs when driving. In the meantime, I can get by with some granny glasses for reading smaller type, and Doreen can tell me what the signs say. She usually tells me where to go, anyway.

There was a lot of wind damage around here - several nice, big, healthy-looking spruce trees were down along the highway just south of the Park. I went down to Chickadee Hollow to take some pictures, and its roof suffered pretty badly. Marquettes had a big, 48-foot by 200-foot shed under construction; the walls were covered but not the roof. Francis Dubé said he drove by about eleven Friday morning and the building seemed to be weathering the storm, but by two in the afternoon it was laying on the ground. At Art Pelletierís place, a tin shed housing llama feed was picked up, turned around and deposited in a narrow space between the house and van, without touching either. The shed is a mess, though.





When we got home Friday evening our clocks were blinking, indicating a power interruption but otherwise everything seemed normal. Cynthia Warsylewicz told me, though, that power went out in Uskatik Friday morning, and by noon Saturday it still hadnít been restored to their place, in New Uskatik.

I have been fooling around making slide shows of my photographs, both recent digital photos and older, scanned slides and photos. I recently got a digital slide projector that makes my old one look sick, and now I have to justify it. I am putting on a slide show at the Wapiti Library in Porcupine Plain on April 27th at 2 PM and will have several short shows featuring photos from the Irricana Pioneer Fair, Elevators, mostly in Saskatchewan, the Crooked Bush over near Blaine Lake, my black and whites, and lots of others if I still have an audience. If youíre free, drop around and see what I do with my spare time.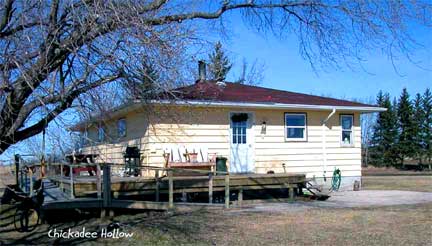 The coffee crowd met at Chickadee Hollow on Thursday morning. That is the bed-and-breakfast operated by Annette and Francis Dubé, just a bit south and east of Perigord. Big sign by the highway. We were very impressed! It is about a 1,200 square foot house with three bedrooms and very large living areas, set in a huge yard overlooking Little Nut Lake. It has been used for some family reunions that involved up to fifty people, using campers and trailers parked in the yard. It has been very popular with hunters, but more and more families are booking it in the summer, away from the city and phone and close to the Park - about a fifteen-minute drive. What a place for a family vacation!

Yesterday was a busy one - Doreen and Shirley Miller had a table at the Perigord Flea Market, so we packed up a bunch of stuff and went down there. There was a real crowd from opening at ten-thirty until about one, then it dropped off. We packed up about two-thirty. Doreen ran the table; I visited, had coffee, then lunch, then a nap. Life is tough!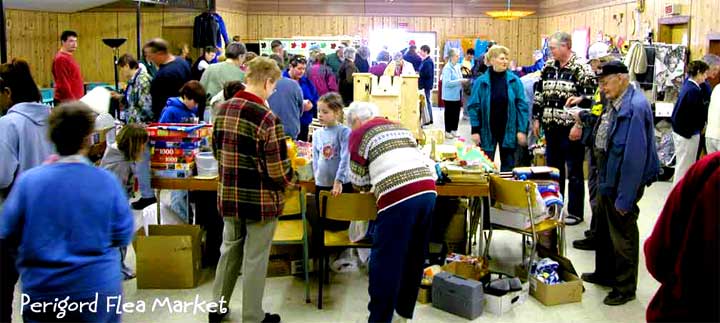 In the evening, Sheryl came over and we went to the hall for the Rocky Mountain Elk Foundationís Tenth Annual Banquet and Fundraiser. We had a fantastic meal, catered by Helmac Catering from Archerwill. Attendance was disappointing, due, no doubt, to too many other things going on in the area, but hopefully in was financially successful. My eyes were bothering me so I went home right after supper.