April 24th, 2005: Another beautiful day, though somewhat windy.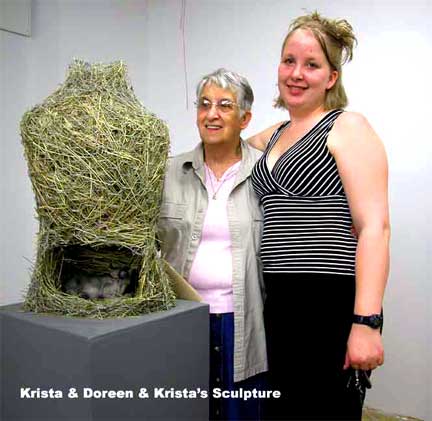 We left on Friday for Saskatoon, stayed there overnight and then to Medicine Hat. Our granddaughter, Krista Grimson, has just completed her degree course in Visual Communications at Medicine Hat College. This wasn't a graduation ceremony, but a wind-up wingding and display of the students' work. We were quite impressed by Krista's sculpture depicting the circle of life of cattle, grass and people. Krista still has to put in several months of work experience in Calgary before she graduates.

This morning, we were in the breakfast room at the motel and Don and Ann Schaerer came and visited. They lived in Wynyard until about thirty years ago, then moved to Medicine Hat, and have lived there ever since. Don still follows the Greenwater Report in the Wynyard Advance; he thinks I should start a column called the Wynyard Report, but I don't know enough people there any more.

Last week at the RMEF banquet, I overheard Jack Woulfe (outfitter) and Perry Wilson (conservation officer) talking. Perry asked Jack if the wind made a mess of the bush trails. Jack said, "Yah, they're a terrible mess - trees down all over the place. Say, isn't it about time for you guys to do a bear bait inspection?"

Our granddaughter, Sheryl Kopchuk, came to the banquet with us and we introduced her around. She is the new general manager at The Cove, so was fielding lots of questions. Pretty coy about what is actually being done inside - they have the windows papered over so you can't see from outside - and when asked she says, "Just wait and see!" I know she is planning to be open May 16th.

That bright strobe on the TV tower is causing lots of consternation, in fact there is a petition circulating asking them to replace the strobe with a steady red light at night. We haven't seen it in full dark but some say it is bright enough to cause problems for drivers.

We went to Hudson Bay last Tuesday to visit Mike, Marg and Danny. They took us for a drive around to see the damage caused by the Friday windstorm - lots of nice pine trees either broken off or uprooted, and of course lots of roof damage. The rivers are all running full and fast - it's nice to see.

There are crocuses by the thousands around Hudson Bay. Got a few pictures, and Doreen picked a few. They were huge, and somewhat pale. On the evening news, it was mentioned that crocuses were out in the Qu'Appelle Valley so wherever crocuses grow, they must have all popped at the same time. Pretty flowers!

That wind knocked down a big spruce on the peninsula, right beside a big sandbox. It didn't break off - it was uprooted, taking a big slab of dirt with it. It was a fair distance from the playground equipment, but just missed the swing by a hair. There wasn't much of a root system, it looked like a big root going north and another going south. If there was one going west it was either cut when they made the sandbox, or was broken when the tree went over.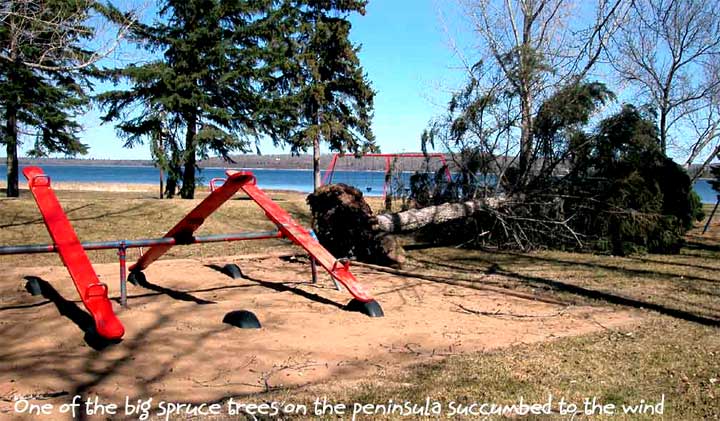 There was talk around the coffee table last week that the wind was so strong it blew the horns off Francis Dube's bull. Gullible as I am, I found that a little hard to swallow, but then the true story came to light last Wednesday. Apparently, the wind was so strong it blew the bull head-first into the side of the barn. Its horns penetrated the wall and stuck there. When Francis pulled the bull off the wall with his tractor, the horns remained stuck in the wall. As proof, Francis offers a bull with no horns, and a wall with two holes in it.

The ice went out of our side of the lake on Wednesday, the 20th - we actually watched it diminish until about 3 PM it was all gone. We drove out to the Church Camp and could see there was still some ice in the east end. We went back again on Thursday morning and there was still a bit, blown to the south end but it obviously wasn't going to last very long. It's safe to say the ice went out on April 21st. In 2000, it went out on April 20th and in 1998 on April 22nd; on the other hand, it didn't go out until Mar 24th in 1996. My records only go back to 1992.

On Thursday, the last day I saw it, the creek was still running but slowly. There was one car parked by the bridge, presumably someone fishing upstream, but I didn't see them. Our grandson, Aaron, and John Guest were out on Wednesday and caught all they wanted, but fishing is getting close to the end. The lake may have come up a little but it's still at least four feet below peak. After January's dredging job, boats should have no problem in the Marina.
Retrun to Ensign - Return to Saskatchewan News
This page is a story posted on Ensign and/or Saskatchewan News, both of which are daily web sites offering a variety of material from scenic images, political commentary, information and news. These publications are the work of Faster Than Light Communications . If you would like to comment on this story or you wish to contact the editor of these sites please send us email.
Editor : Timothy W. Shire
Faster Than Light Communication
Box 1776, Tisdale, Saskatchewan, Canada, S0E 1T0
306 873 2004