February 6th, 2005: It's a beautiful day! Cold, but sunny and calm.

We finally got a real snow - it came down most of Friday and Saturday, at times heavy enough that I was glad we weren't out on the highway. I blew out the driveways on Saturday, then again this morning. I am guessing we got pretty close to a foot of snow. It looks great!

I guess my cataract operation went well; at least everything seemed to happen on schedule and there wasn't much discomfort during the surgery. I had been led to believe, though, that miraculous results should be immediately evident, and in that I was disappointed. When I went back to the doctor after the operation, I complained that I couldn't see a flipping thing out of the eye he had operated on. He just remarked that if I had a knee replacement I wouldn't expect to go skipping out of the operating room. Tuesday was a little better, then on Wednesday I got fairly good vision in a range of 12" to 18" from the eye. I took the lens out of that side of my glasses and can now read in reasonable comfort.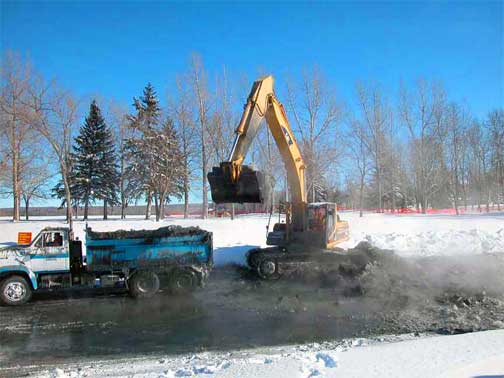 When we got home from Saskatoon Tuesday, there were signs warning people to stay away from the Marina, so I walked down to see what was happening. The entire marina, from almost at the traffic bridge to out on the lake, was fenced in with red snowfence, and there were two Caterpillar trackhoes, a 330 and a smaller 320 parked by the boathouse, with a bobcat, service truck and snowmobile. They all had the name "Silvertown Contracting" painted on them.

On Thursday, I got a couple of shots of the dredging operation. They were working on the west side of Norgrove Island, which surprised me - I thought they were just doing the entrance to the channel, but it appears they are doing the whole thing. One trackhoe was working, plus at least three trucks. They were using the smaller trackhoe, because the ice wouldn't support the bigger one. The ice is nearly three feet thick, but with some water and soft mud under it; they have already gone through several times. They expect to be done in a couple of weeks. I went down again today, and the bigger machine was working by the Tackle Box; the operator told me the smaller one was at the dump helping the trucks to unload.

Francis Kehrig wanted some fill, so asked the Park and was told that since the dirt comes from below the high-water mark it does not come under the jurisdiction of SERM. He would have to contact the Federal Fisheries & Oceans department. Francis thought long before he got anywhere with the Feds, the dredging operation would be finished, so he dropped the idea.

The temperature got up to +5° on Wednesday; in Tisdale, water was running in the streets. It wasn't enough to damage the snowmobile trails out here, but it did put a good glaze on the snow, and make the roads very icy for walking.

On Highway #38, a quarter mile south of the Cadet Camp Road, there is a hay bale in the east ditch, very close to the shoulder. A dozen times we have driven past it at night, and at first glance thought it was something coming onto the highway. It's especially bad now because there is a patch of snow on top of it. One of these days, a car meeting another vehicle about there is going to suddenly catch sight of it and pull into the opposing lane. How about it, Metro? Could you just push it farther from the road?

This is Day 3 of Jenny's snowmobile trek with Prairie Women on Snowmobiles Mission 2005. Today, they start out from Candle Lake and touch Smeaton, Nipawin, Tisdale, Star City, and spend the night in Melfort. Their run will finish at Foam Lake next Friday, and they will have covered 1,600 kms in eight days, from Biggar on the west to Candle Lake north, and Langenburg east. Quite a run! Our coffee group gets together twice a week at different houses, and we all throw a dollar in the pot. Originally it was to buy coffee and cookies, but early on we decided to donate it to Breast Cancer Research via Jenny. So far, we have raised well over $200!

Doreen phoned Daphne Wickstrom, the spokesperson for the group, at noon today. She said both weather and snow conditions were ideal, and they were having a ball! They go through Greenwater Wednesday afternoon, so I will have to try to get a picture or two.
Retrun to Ensign - Return to Saskatchewan News
This page is a story posted on Ensign and/or Saskatchewan News, both of which are daily web sites offering a variety of material from scenic images, political commentary, information and news. These publications are the work of Faster Than Light Communications . If you would like to comment on this story or you wish to contact the editor of these sites please send us email.
Editor : Timothy W. Shire
Faster Than Light Communication
Box 1776, Tisdale, Saskatchewan, Canada, S0E 1T0
306 873 2004