July 24th, 2005: A cool, overcast, and very windy day, but the sun did shine through some holes in the clouds in the afternoon.

Weíre back home again, and happy to be here, but are already looking forward to another little trip. Repair time first, though - the drain line on our gray water tank is broken so have to fix that. Amazing what a little glue and some rubber hose can do.

Then thereís the lawn to mow and flower beds to weed. Doreen came across a deal she couldnít refuse on some new perennials, so she put them in. I keep thinking our flowerbeds are full, but she always finds a spot for some more.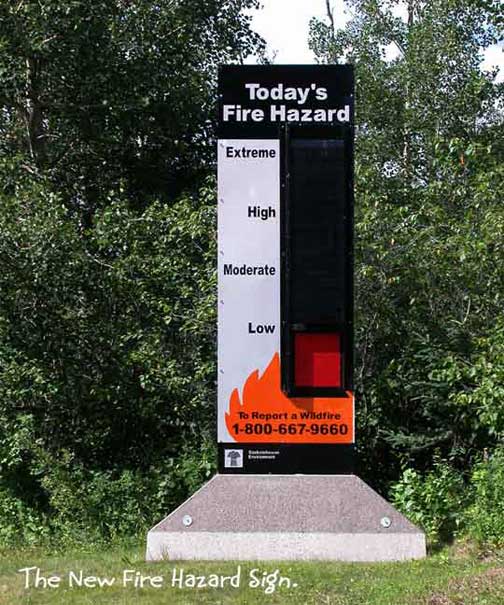 Crops look fantastic everywhere we have been; hay crops are being harvested and the swaths are so big I wonder if they have trouble feeding them into the balers. No shortage of feed this winter!

The Park looks better than I have ever seen it, lush and green and well manicured. I have no idea what attendance has been like this summer but there seems to be a fair number of people around. Thursday was a lovely day, and parking was at a premium on the road by the beach.

While we were away, Saskatchewan Express was here and I hear attendance was away up from other years. Good reports on the performance, too.

Since last fall, there has been some concrete work off the side of the road just east of the Park entry gate, and we didnít have a clue what it is. Well, we now know - it is for a new Fire Hazard sign. Not much of a factor right now but that could change in a few weeks.

I broke down and put out a couple of dock sections; I didnít even try to stay dry this time. While I was doing it a stiff, cold wind came up, just for about fifteen minutes, then it rained for another fifteen minutes. Why does that always happen when I am trying to put out the dock? The rain didnít matter because I was already wet. I canít remember the lake ever being as warm as it was today; just like a heated pool, and quite clear.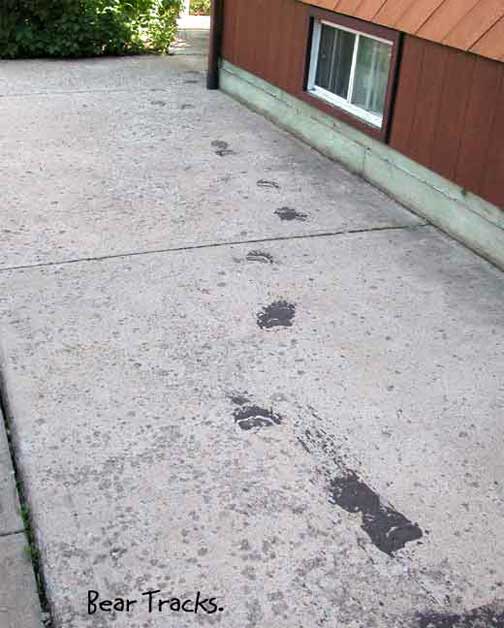 Fishing continues poor. I talked to Mel Tkachuk and Mel Rauckman and they just shook their heads. Fished all day and caught one little perch. Do you suppose they just want to discourage the other fishermen and keep all the fish to themselves?

Next day, we walked by Tkachukís house, and there was his boat, up on the trailer, hitched to his truck, and Mel sitting in the boat with his fishing rod. I opined that he wasnít about to catch many fish, and he agreed. I guess to an ardent fisherman, itís the fishing, not the fish!

We had a pleasant surprise last Thursday - Eunice and Bill Wright dropped by. Eunice worked for us in our early years in Wynyard, dropped out to raise her family, then worked at the plant for another fifteen years or so. In the evening she came back with her daughter and son-in-law, Kim and Dave Misfeldt, and their daughter. We had a lovely visit.

Dolores Basset stopped to chat the other day. She and Bruce are back as Campground Hosts. This is their fifth year.

Shirley Miller painted her deck last week. When she quit for the night, she didnít put the lid on the paint can tightly enough. During the night, a bear got to snooping around on the deck, upset the paint can, then walked through the spilled paint down the walk and around to the front of the house, even leaving tracks on the lawn. Where the paint can landed was an awful mess, so Shirley spread it around with the roller, but now everyone is telling her she canít paint over the bear tracks - she has to preserve them for posterity!

Lots of stuff going on this weekend. The Cove had their first Red-Eye volleyball tournament, which we didnít enter. We did go to the Farmersí Market yesterday for lunch, and afterwards browsed the cars and trucks on display - it was Show Ďní Shine day. I like the old ones, from the twenties and thirties. They really had class!
Rose at the Park Store had a special day yesterday; free drinks and doughnuts, a demonstration of Celtic games and medieval fighting techniques, and a fashion show. She had a terrific crowd for it. There was a lot more going on too that I didnít even try to keep up with.
Retrun to Ensign - Return to Saskatchewan News
This page is a story posted on Ensign and/or Saskatchewan News, both of which are daily web sites offering a variety of material from scenic images, political commentary, information and news. These publications are the work of Faster Than Light Communications . If you would like to comment on this story or you wish to contact the editor of these sites please send us email.
Editor : Timothy W. Shire
Faster Than Light Communication
Box 1776, Tisdale, Saskatchewan, Canada, S0E 1T0
306 873 2004