June 12th, 2005: Another lovely day; warm, sunny, gentle winds, almost a carbon copy of yesterday.

We went to Saskatoon on Monday, then on to Airdrie on Tuesday. It started to rain and blow before we got to Rosetown and didnít quit all the way. Blaine said they got over three inches overnight. The news was full of urgent messages for residents south of Calgary where they were really battling floods, but up north of Calgary, the moisture was welcome. I was told that prior to this rain, they hadnít had an inch all spring, and almost no snow last winter. I was surprised at how far advanced some of the crops were.

Our grandniece was graduating w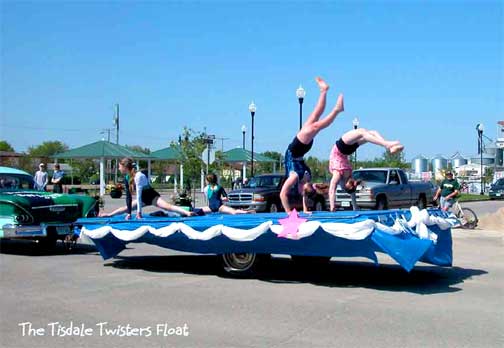 ith a degree in fine arts; we didnít go to the exercises, but did get together with her and her family out at Sandyís place. They are from Prince George, so we donít see them all that often. Doreen had made a memory book for her nephew for his fiftieth birthday. She put months of work into it and it was a real masterpiece. She had to see his face when she gave it to him, and she wasnít disappointed.

Then we raced back to Saskatoon on Thursday, and to Tisdale on Friday, where we spent the afternoon at our old store, trying to sort out the junk from the assets. Mike, Marg and Jenny came to help and we got a lot done.

Back to Tisdale on Saturday and this time we had Aaron and some of his friends, and Lloyd and his cube van to help. Nancy Duns also spent a lot of time helping us. We hauled a lot of stuff to Greenwater and Kelvington for storage.

People who knew us in our Tisdale days would remember Donna and Donny Hage - Donna worked for us for years, and now has her own framing business in Lanigan. They bought quite a bit of our framing equipment and as a bonus we had a very enjoyable reunion.

That day started when I awoke about six, and we didnít get to bed until about one AM. I am too old for that kind of foolishness! There was a break when the parade went past. I went out and watched, and took a few pictures, but I donít even know what it was in aid of!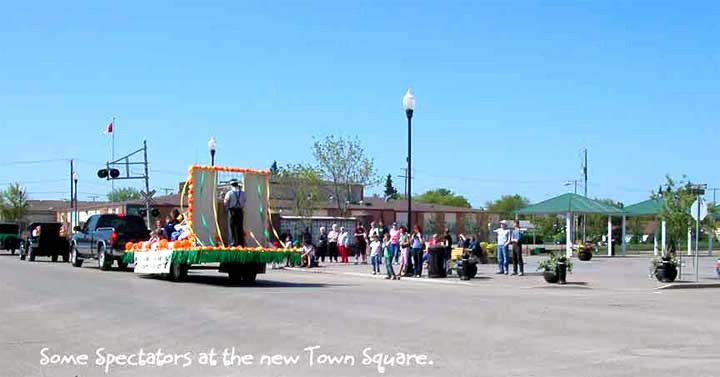 This morning, we slept in and didnít go to Tisdale until after lunch. We worked until six, got a lot of stuff out, then went for supper to Mr. Ribs.

They are building new sidewalks all along that street, out of paving blocks. They have a very attractive waving pattern. Mayor Rollie Zimmer was in front of the store on Friday, cutting blocks and fitting them. I asked him what a poor guy was supposed to do when he came out of the beer parlor and tried to walk down the sidewalk - he thought instead of staggering all over the place, he might be able to walk a straight line.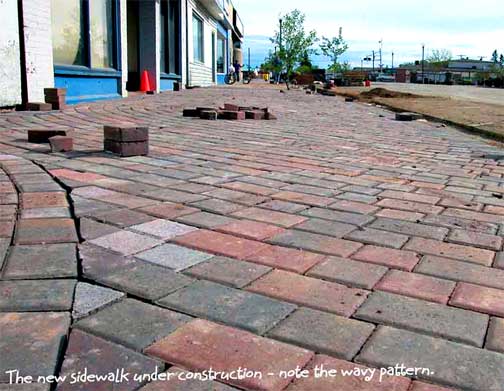 We were sitting around on Saturday, having a beer and resting. I made a remark that got a chuckle, and Marg said: ďThat Grandpa! You never know whatís going to come out of his mouth!Ē and quick as a flash, Danny came back with: ďYeah, bad words or teeth!Ē

So that has been our week, and are we ever tired! We havenít talked to anyone around Greenwater for what seems like ages so donít know what is going on. Tomorrow morning, we are going for coffee, rain or shine, and see if anyone still remembers us.

Next Sunday is Fathersí Day, kind of a non-event around our place. Connie says there will be a smorg at the Beach Café; I phoned Sheryl at the Cove and she says they will have a smorg as well. It will be another of those days when one can go back and forth from one place to the other and never stop eating all day!
Retrun to Ensign - Return to Saskatchewan News
This page is a story posted on Ensign and/or Saskatchewan News, both of which are daily web sites offering a variety of material from scenic images, political commentary, information and news. These publications are the work of Faster Than Light Communications . If you would like to comment on this story or you wish to contact the editor of these sites please send us email.
Editor : Timothy W. Shire
Faster Than Light Communication
Box 1776, Tisdale, Saskatchewan, Canada, S0E 1T0
306 873 2004