February 13th, 2005: Another pleasant day - temperatures around zero, very little wind, and some sunshine. Snowmobilers abound, but not the noisy ones, and it looks like a lot of activity out by the ice fishing huts. I gather the fishing hasn't been too good but that doesn't seem to deter the fishermen - I think they just enjoy being out there.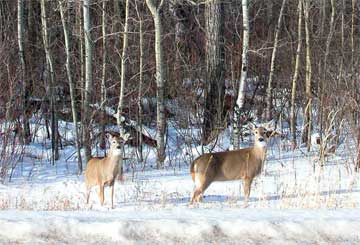 Coming down the hill just south of the Park recently, we had to stop and let two deer cross the highway. There were two more waiting to cross and they just stood there looking at us, so I grabbed the chance to get a photo of them. Not too often that they will hang around once your car stops!

Bill Gudjonson called to say he had been out on the lake on his snowmobile and ran into a lot of water. I can remember a time years ago when there was a flood in front of our place, enough that snowmobiles were getting bogged down. If that happened on a cold day when one was farther from shore, a machine could freeze in before one could get help to get it out. Snowmobilers, take note!

Last Tuesday, the Prairie Women on Snowmobiles ended up in Wadena, so we went down (Our Jenny was one of the core riders). We were in time to see them parade down the main street (Highway #35) escorted by a police car with lights flashing. There was a banquet for them in Wadena's beautiful new Legion Hall, a very impressive building. We were entertained by the Dixielanders, an accomplished jazz band made up of a dozen musicians from Kelvington, Wadena, and points around (One was from Saskatoon!). The meal was fantastic! There were numerous presentations, and each core rider made a brief speech. A very pleasant evening, with lots of visiting with people we hadn't seen for many years.

Next day, they stopped briefly at Greenwater then carried on to Porcupine Plain, where they had lunch at the Chase Place Arena. We managed to get in on that, too.

Their ride ended up at Foam Lake on Friday. There was a wind-up banquet there. Cathy was down for a visit so we all went down. They have a lovely great hall, likely about the same size as Wadena's and not much older. Again we had a wonderful meal and were entertained by Canada's top juggler, Robin Chestnut, and a young band called the Zuchkans. There was a live auction, a Power Point presentation of pictures taken during the ride, and brief addresses by the core riders. High point of the evening was when they announced the total raised by this ride, which was just slightly under $130,000!

I walked down to the Marina to check on the progress of the dredging operation Thursday - there wasn't a piece of equipment in sight. They must have finished up Wednesday. The grader had scraped the ice ruts off the road (left by the trucks hauling the dredgings to the dump) and vehicles are allowed into the Marina parking lot again. The boat launch, of course, is fenced off.

At coffee Thursday, Merv was telling a story about a man who lived near Nobleville, in the horse and sleigh days. He was on his way home one night and dropped his pocket watch; it fell off the sleigh into a rut and he couldn't find it. He went back next day, but more sleighs had been over the road, and no sign of the watch. Come spring, though, he was travelling the same trail and spotted his watch, still in the rut, and wonder of wonders, it was still running! Not possible, of course, as the old pocket watches had to be wound every day, but he finally figured out that the watch had landed and got pushed into the snow of the rut in such a way that each sleigh runner that passed over it slid over the winding stem, thus keeping it wound!

Merv and Shirley have an unusual visitor to their bird feeder - a white headed grosbeak. It is a female evening grosbeak with a white head. Merv had a photo of it, but from quite a distance.
Retrun to Ensign - Return to Saskatchewan News
This page is a story posted on Ensign and/or Saskatchewan News, both of which are daily web sites offering a variety of material from scenic images, political commentary, information and news. These publications are the work of Faster Than Light Communications . If you would like to comment on this story or you wish to contact the editor of these sites please send us email.
Editor : Timothy W. Shire
Faster Than Light Communication
Box 1776, Tisdale, Saskatchewan, Canada, S0E 1T0
306 873 2004