March 20th, 2005: The first day of Spring! Temperatures during the week were as low as ó26° and as high as ó1°. Today was a very nice day except for a strong, cold wind. We were in Saskatoon; the moving snow was sticking to the highway resulting in some seriously icy patches, especially near the city. The worst patch, though, was the first five miles north of Kelvington where we were actually plowing snow in places!

After last weekís fresh snow, I went for a walk to the east. In the new snow, there was a set of animal tracks that suddenly ended. Where they ended, the snow was beaten down and there were some feathery marks in the snow around it. What made the animal tracks I havenít a clue, but Iíll bet the feathery marks were from an owlís wings!
.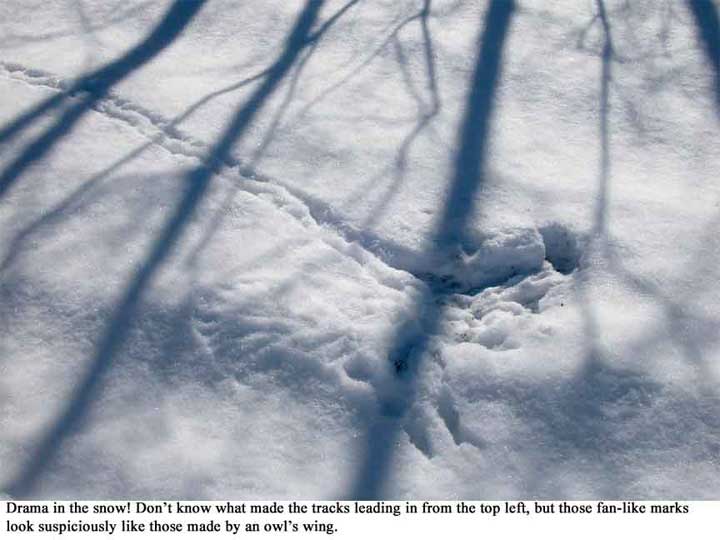 When we drove into the park last Sunday, there were two deer browsing around near the tennis court. I stopped the car, and they didnít move. I got my camera out, opened the window, and took a few pictures. One never stopped browsing; the other posed for me very prettily!

On Monday, we went to Perigord for their rummage sale, and had lunch there. They are having another April 25th, May 16th, and June 20th, and there is a flea market on April 16th. We hardly ever buy fleas or rummage but we sure do enjoy their lunches!

From there, we drove to Little Manitou Lake where we celebrated our anniversary with two days and nights in their spa and pool. That pool is very interesting - more highly mineralized than any water I have been in, even more than Big Quill Lake. I bobbed around like a cork; my head and feet floated and my butt sank, acting as ballast so I didnít tip over. I found I could put my head back and completely relax. In fact, I suspect I could quite safely have a nap. Doreen, on the other hand, tended to roll over on her stomach and itís hard to breathe with your face in the salty water.

One piece of literature we read said that the lake has no inflow or outflow; it is fed with mineral springs and the surplus is taken away through subterranean passages; therefore the level never goes up or down. Later in the same tract, though, it mentioned the lake level going down in the thirties. At the entrance to the Spa, there is a big sign that tells how the lake was formed; according to it, the high mineral content is a result of the lake never being flushed, and having had twelve thousand years of evaporation. Take your pick. Despite its high mineral content, it seems to freeze over pretty solid; a waitress told us they snowmobile all over it, but it breaks up earlier in the spring than other water bodies.

The resort had its heyday in the twenties and early thirties, and almost disappeared in the sixties. Now it seems to be doing okay again.

Construction of the TV tower is finished; at least, I could see a long, thin antenna sticking up from the top of it the other day. I phoned the CBC and was told the physical construction is finished; they are putting up some antenna pieces, still have to run transmission lines and calibrate everything. Next week it will be inspected and once approved, they can get it back up and running. So, look for improved signal around the end of the month. (Iím still looking for a light on it!)

All week there have been vehicles at the Cove; the new owner, Colin Mackie, and his crew have been working like beavers. Colin phoned us on Thursday evening to invite us over for coffee, and we had a good visit. He has some magnificent plans for the Cove, but is pretty close-mouthed about the specifics. I know he plans a lot more entertainment, and a big fireplace has been mentioned, but thatís about all. Since it became known that the Cove is going to be back in operation this summer, they have been getting lots of requests for reservations. If you have plans for the summer that require accommodation, better give them a call quickly. Their phone number is the same as before, 278-2992.

Congratulations to Porcupineís Colette Bourgonje on winning a silver medal at the Disabled Nordic Skiing World Championships in Fort Kent, Maine. Her medal was in the womenís 2.5 kilometre sit-ski short distance race.

Laurel Steiestol phoned on Friday; she had a white-headed grosbeak at her feeder and it sounds just like the one that visited around here. Laurel lives about six miles east of here. Those little turkeys sure travel!
Retrun to Ensign - Return to Saskatchewan News
This page is a story posted on Ensign and/or Saskatchewan News, both of which are daily web sites offering a variety of material from scenic images, political commentary, information and news. These publications are the work of Faster Than Light Communications . If you would like to comment on this story or you wish to contact the editor of these sites please send us email.
Editor : Timothy W. Shire
Faster Than Light Communication
Box 1776, Tisdale, Saskatchewan, Canada, S0E 1T0
306 873 2004