October 30th, 2005: It started out as a gray, dull day, as it has been for three days, but warm - we haven't had frost since Wednesday night. The first part of the week was sunny but just a tad cooler. Pretty nice weather for this time of year, and it looks good for Hallowe'en though that is a non-event around here.


After lunch, the sun came out so I went for a walk down to the Marina. I counted nine geese on the main beach, and another thirteen flew up from the peninsula. They sure look big. A wildlife artist once told me that there are three strains of Canada geese - the lesser, the greater, and the giant. Do any of you waterfowl experts agree?


I saw something unusual in the marina. There were six brown ducks swimming around, then I realised there was a muskrat chasing one of them. It wasn't just a matter of them going in the same direction at the same time, because when that particular duck changed course, the muskrat did too. It would get within a couple of feet of the duck, and the duck would take off and fly twenty feet or so. Then the chase would start all over. It chased the duck for a hundred yards or so, then seemed to give it up over by the bulrushes. A thought just occurred to me - maybe it was a mink?


We went to the annual Perigord Fall Supper tonight, and what a feast we had! I asked Francis Dube if the women might have sprinkled some magic dust on the food, it tasted so good. I also found out that pumpkin pie is a great chaser for apple pie. We didn't get there until about 5:30; years ago we learned that if we went a bit later, by the time we got our meals the crowd was starting to thin out, and we didn't feel we had to hurry to give someone else our place. We could visit to our hearts' content. And there is no place like Perigord for visiting!


I asked Connie Marquette if it was a record crowd - there sure seemed to be a lot of people and they had been coming since about four o'clock. She said they did worry a bit about whether there would be enough food. We talked to people from Mistatim, Rose Valley, Fosston and Lintlaw, and no doubt there were people from farther away than that.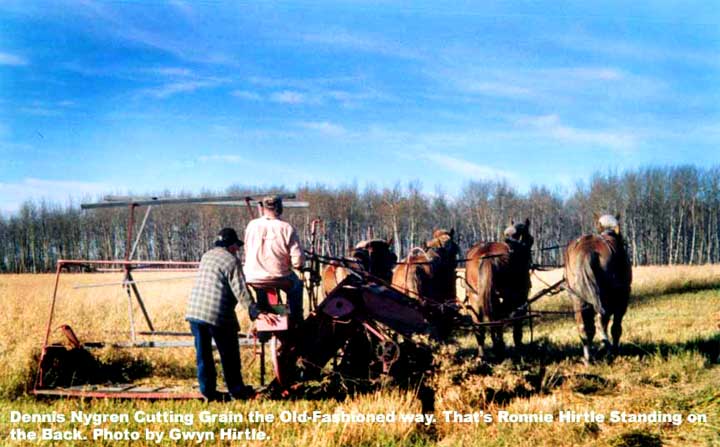 We got a good look at the flashing lights on the TV tower tonight. It seems to be just the top one that is so terribly bright; the ones lower down are fainter, as they were up to a week or so ago. The top one is like a camera flash going off into your eyes every second or so. Annoying, and unnecessary!

Gwyn and Ronnie Hirtle dropped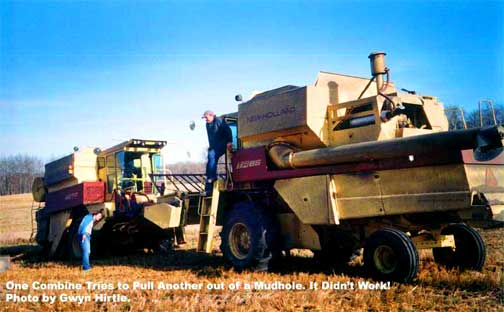 in last week They had been invited to Dennis Nygren's on October 10th to watch Dennis and his four-horse team driving a binder in an oat field, and Gwyn took a bunch of pictures of the event. Ronnie said the old eight-foot binder did a very good job of cutting, but I noticed a number of pictures showed a man either fixing or adjusting the machine. Seems to me that was typical - the knotters in particular were temperamental.

They also had some pictures of a combine stuck in Ronnie's field, one with a truck stuck beside it and a tractor trying to pull it out, and the other with a second combine trying to pull the first one out. There were lots of those kinds of problems this year!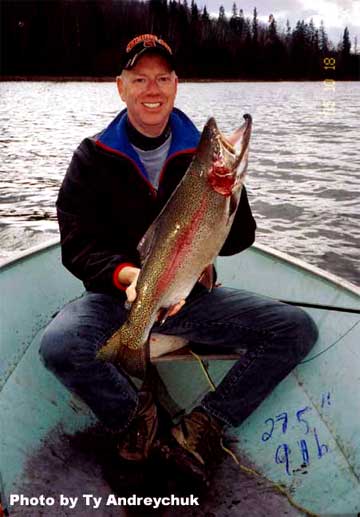 We went to the Parkland Photography Club meeting in Tisdale last Tuesday. Between Crooked River and Tisdale, we counted seven big fields of swaths still out, two or three fields of standing flax, and a couple of some kind of standing crop we couldn't recognise. Along there, as well as here, puddles just don't dry up or drain away, which I assume means the water table is mighty close to the surface. A good hard frost without snow might make it possible to get the standing crops, but I don't know what it would take to pick up those swaths. Frost would just freeze them down.

Fishing has been somewhat less than exceptional in Greenwater this fall, but we keep hearing about nice-sized rainbow trout coming out of Steiestol Lake. Last week, Casey Howie, a conservation officer from Prince Albert who was helping out here, went fishing with Tyrone Andreychuk. He caught a good one, nine pounds and 27? inches long, and Ty took a picture. Of course, Casey couldn't be allowed to bask in his glory - Ty immediately said that he had handed the tackle over to Casey not ten seconds prior to him catching the fish, and Mel Tkachuk said it would never have been caught except for a fly supplied by Mel. Everyone wants a piece of the glory!