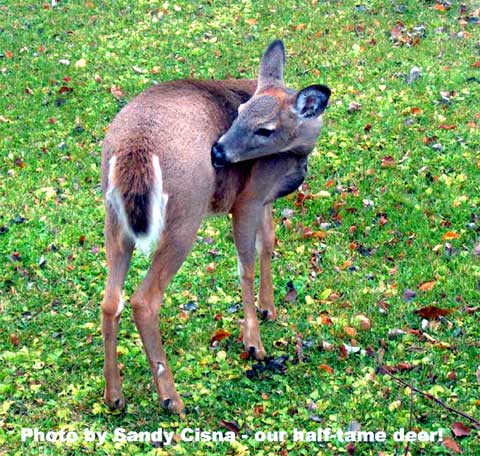 October 23rd, 2005: Not a bad day, today - clear and calm, though the temperature never got higher than about +5. The first half of the week was quite pleasant, with seasonal temperatures. On Thursday, though, it rained lightly almost all day, Friday and until noon Saturday were overcast, cold and windy. I guess we have to expect a few days like that. I understand there is still a lot of crop to come off particularly north-east of here, so we are still hoping for some warm, dry weather before winter.


We got our first blizzard of the season Friday. Actually, "blizzard" might be overstating it a little but there was a gray sky, wind, and at least seventeen snowflakes. We didn't bother putting on our snow tires, though.


When we pulled in to our yard Friday, we had to wait until a deer moved off the driveway. It just moved over about ten feet and watched us drive in and get out of the car. Another deer was browsing Doreen's flower beds without any great amount of enthusiasm, and a third was on the boulevard thirty feet away. They didn't show any alarm at our movements; we carried our groceries in, slamming the car doors, and the deer just moved closer. Sandy went out and took some pictures of them; of course, they immediately turned their backsides towards her. Sandy tried to feed them some celery, but by then they were getting a little nervous. I get nervous, too, when people try to feed me celery.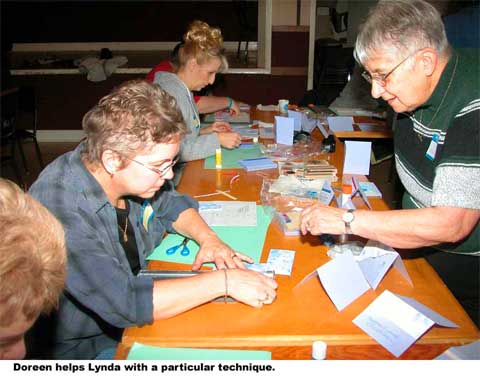 Lois Drobot put on her second annual Stampin' and Scrappin' Seminar at the Greenwater Hall yesterday. Over fifty women from as far away as Airdrie, Alberta came together to learn new techniques in card-making and scrapbooking. They broke down into five groups of about eight, and each group had a leader (Doreen was one) to guide them through a particular technique. They went at it all day, and Beta Iota Sorority provided a lunch at noon. Reports are that it was a very successful event.

Those scrapbooks are sure a far cry from the old photo albums. They decorate the pages with cut-outs and texts, and photos are trimmed to interesting shapes. They are usually organized into themes, such as grads, weddings, or family gatherings. One can get a lot of enjoyment out of thumbing through a scrapbook, even if one doesn't know the people involved.

The lights on the TV tower seem to have gotten out of synch again. When Sandy and Blaine got here Thursday evening, they commented on the flashing lights so bright they were blinding. Walking home Friday night, we thought for awhile that a thunder and lightning storm was approaching, then realized it was the strobe lights on the tower flashing through the clouds. We have been hearing complaints about them lighting up people's bedrooms, so I expect CBC Saskatoon will be getting lots of calls.

Moose season starts tomorrow. Bryan Grimson, Milton Grimson and Wayne Bjornson are going to use the old part of our cabin for headquarters while they beat the jungle, and pulled in tonight. We keep hoping they don't drag a thousand-pound animal into the cabin to dress it out, and so far we have been lucky. Sound unlikely? It has happened at the Cove in the past, though not with these particular hunters. Made quite a mess of one of the rental cabins there.

Next Sunday is the annual Perigord Fall Supper, the one everyone tries not to miss. I don't know why events at Perigord are so popular, witness their rummage sales and lunches, but suspect it has something to do with the warm and friendly atmosphere. Folks at Perigord are the best!