April 23rd, 2006: I'm sitting here at the computer, almost horizontal, barely able to move. We just got back from Perigord's Annual Spring Supper. Need I say more?

Yesterday was lovely; it got up over 20° and there was a good south wind all day. The ice is starting to break up, and was blown to the north, making some impressive piles on the north shore. We had a hundred yards or more of open water on the south end. Towards evening, the wind shifted to the west and then to the north, blowing the ice back to our shore. The slabs only look to be two or three inches thick, and honeycombed, so it shouldn't cause any damage to docks that are still out.

There was an inch of fresh snow on the ground this morning but it was gone well before noon. That north wind was mighty cold, walking to coffee. It was only about zero. The wind blew all day and it only warmed up to about +5°. Tomorrow is supposed to be warmer again; I wonder if there'll be any ice left when we wake up?

One of the docks from the Marina was at the entrance to the channel yesterday; today it was trapped in the ice out in front of our place. I don't see any other docks floating around.

Greenwater Creek is much calmer, and the water clearer. The same two boys have been fishing regularly but I haven't talked to them lately. I have heard reports of people seeing suckers running but am not sure if the Park is giving out any permits yet. For awhile there, it was dangerous to be getting too close to the water. This afternoon, the walking path beside the creek was muddy in spots, but no longer flooded.

We have our lake back! The level is as high as we have ever seen it, there should be no problem with rocks, and again we could prowl around close to the shoreline (if we had a boat!). Those large areas where we couldn't travel because of weeds should now be accessible. Launching and docking boats will be a breeze, with lots of depth and width at the boat launch. The marina is deep and wide, all around the island; the rental docks will be pulled farther up the bank, making more width in the center of the channel. Greenwater will again be a boater's paradise!

Last fall, we estimated the lake was still about 2½ feet below normal; now it is normal or above. In one day, from Saturday morning to Sunday morning last weekend, the water level came up about eight inches! Derek Woulfe says Marean Lake has also come up a good three feet. It doesn't drain as big an area as Greenwater, but I expect our lake is overflowing into Marean Lake now.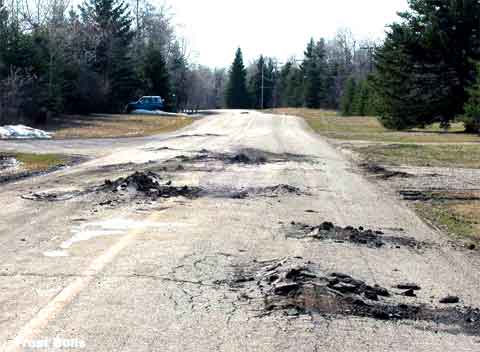 Roads are the next problem. Last fall's moisture is now boiling up in the form of frost boils, and in places it's hard to find a path around them. Surprisingly, the gravel portion of the grid to Archerwill as far as the bridge is quite good - smooth and no potholes.

The Red Deer River is running fast and wide. It would make wonderful canoeing, but those fences could be a problem. I have canoed it when it was running fast and hard, and again when it was hardly running at all. Now I think I'll let someone else do it.

On our way over to see the Red Deer River, a young cow moose was standing on the shoulder. We stopped to see what its intentions were, and it just looked at us for the longest time. Then it trotted across the road and into a slough on the opposite side. It stopped behind a willow where we couldn't see it. We moved until we could see it again, and it moved until we couldn't see it. Pretty cagy!

Little Nut Lake is huge! It has flooded the pasture land around it right to the highway; it is running fast through the floodgate at the highway but the water looks to be just as high on the west side. It should be draining into Nut Lake and then over the control dam into the Red Deer River but there might be enough willows etc. grown up during the dry years to impede its flow.

We have had several grackles coming to the feeders lately. They can be lovely birds when the light hits them just right, but Doreen doesn't like them because when they are around the songbirds stay away.
Retrun to Ensign
This page is a story posted on Ensign and/or Saskatchewan News, both of which are daily web sites offering a variety of material from scenic images, political commentary, information and news. These publications are the work of Faster Than Light Communications . If you would like to comment on this story or you wish to contact the editor of these sites please send us email.
Editor : Timothy W. Shire
Faster Than Light Communication
Box 1776, Tisdale, Saskatchewan, Canada, S0E 1T0
306 873 2004