July 2nd, 2006: Another lovely summer day, just ideal for the Canada Day weekend. Lots of people are taking advantage of it; there are vehicles at almost every cottage, and any time you look there is a solid line of cars parked at the beach. The wind came up pretty strongly this afternoon, but when I went down to the dock there were lots of boats, skiers and tubers out.

Yes, I finally got around to putting out our dock, though why I bother with no boat, I don't know. Before the ice broke up, I tied a rope around the two dock sections and tied them to a tree, so that they didn't wash away. The biggest and heaviest section was sold with the pontoon boat, so I just had two sections to worry about. Good thing, too, because it seems some of my dock hardware has disappeared.

The water was as warm as could be when I put the dock out (I don't even pretend to do it without getting wet!) and it felt pretty good. One of these days, we will surprise ourselves and go for a swim.

The Canada Day activities were reportedly well attended. We didn't go because we went to Kelvington to give Jenny a hand with her garage sale. It was pretty successful - there never seemed to be a lot of people around, but she sold a lot of stuff.

Mary Strome was one of the visitors. Doreen gave her a ride home, and admired her lovely garden - and came back with a bunch of fresh strawberries!

In the afternoon, I went to Porcupine Plain to take some photos of the chariot and chuckwagon races. I found out after I got there that I had misread the sign - the chariot races were already over and the chuckwagon races didn't start for another three hours. I took a few pictures of barrel racing and went home again.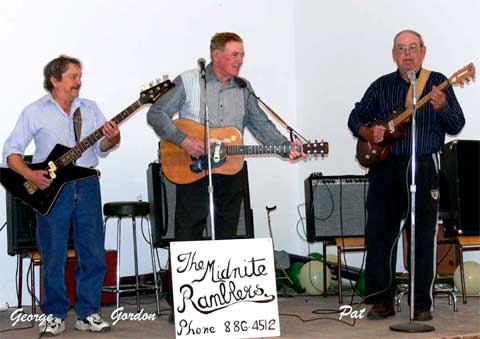 There was a party in the Chelan Hall in the evening, for Frank and Judith Duhaime. Frank retired this spring after thirty years as Park maintenance supervisor. There had been a Park party earlier which we weren't able to attend, but this one was put on by the family. We had a great time! There was a potluck supper, then a few presentations by family, and finally a dance with Gordon Davidson's Midnite Ramblers. We even had a dance!

Today, the Cabin Owners' Association held its annual meeting at Greenwater Hall. There must have been about forty people there, a normal crowd except when something really big is happening. We still haven't received our invoice for this year's lease; I think most people were expecting an increase over last year but it seems that won't be the case. The government has hit on a new way of computing lease rates and it looks as if we may even have a decrease. Yippee!

The mess made by Sask Power over in Uskatik was a hot topic. Joe said the Park has to take responsibility because there was no agreement with Sask Power to clean up afterwards. The Park intends to do the cleanup job but has to wait now until the ground freezes, as it is too soft to get in with trucks and tractors.

The Park has requested funds to build a walking and biking trail from Uskatik to the core area, but hasn't been able to get them so far. The road is too narrow, and traffic too fast, to make walking and biking safe. It's too bad that it will take a serious accident to make it happen.

Many thanks to Brian Gaetz, manager of the Mary Nisbet Campground, for allowing me to use his phone line to send out last week's report. An unusually obliging type.

Since Lloyd and Louise wanted to use the motorhome, we decided we might as well mooch around until we delivered it. We stopped at St. Louis and took some pictures, visited Bellevue, one of our favorite places, crossed the river on the St. Laurent Ferry, and browsed around in Duck Lake for awhile. We had some ice cream there and visited with a man who ranched a few miles north, then got a site in Valley Regional Park, at Rosthern. It was hot, so we were very pleased to have good evening shade. We stayed there for two nights, doing little but reading.

Wednesday night we spent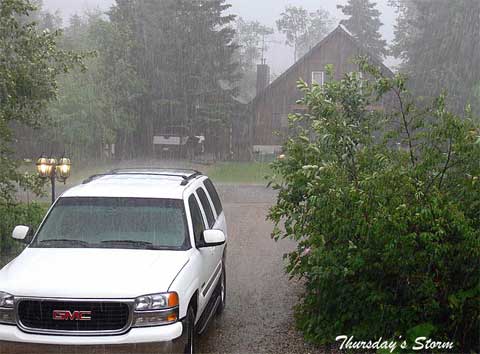 at the Saskatoon 16 West Campground, one of our favourites, then on Thursday, we turned the motorhome over to Lloyd and took his car home. Picked up our mail, had supper at the Cove and a visit with Sheryl, then home.

No sooner did we get here than a violent storm came up - very high winds kicked up breakers bigger than I have ever seen on this lake, then rain and hail, all to a thunder and lightning accompaniment. It lasted about fifteen minutes, and dropped over a quarter inch of rain. The hail was pea-sized; hopefully, there wasn't enough of it to do any real damage.

You pelican lovers out there will be happy to know that there is a very large flock hanging around the outflow from Little Nut Lake, south of Perigord. Francis Dube says they are sometimes on both sides of the highway. We saw them yesterday on our way back from Kelvington; they looked like a big snowbank against the trees. There must be fish in them thar waters!