June 11th, 2006: I'm sending this a day late, Monday. We just got home and found four inches of rain in our gauge; fields between Melfort and Tisdale were under water, and lots of crops are looking yellowish. The Red Deer River is running fast and high, and so is Greenwater Creek where it crosses the highway. Some kind soul mowed our back lawn; we were worried about it because I couldn't get at it before we left.

Sorry about missing last week's report – we went on a motor home trip to Alberta to visit Sandy and Blaine, and to help them move. They had a lovely acreage and house just south of Airdrie, but zoning regulations wouldn't let them proceed with their ceramics business, or sell pups.

They bought a house in Carstairs, about thirty miles north – a very attractive town, growing fast with lots of new residences. The one Sandy and Blaine got is an older home on a very nicely landscaped lot in a close, which means no through traffic and a park right across the road.

They also bought a small business building downtown; it is presently rented, but they plan to build onto the back of it and have a retail outlet for their ceramics. They have around three thousand molds and four kilns, and we had to transport them to a container in Didsbury for storage. Filled the container and just about killed us! We also gave them a hand getting yard in shape; it had been neglected since the previous owners left.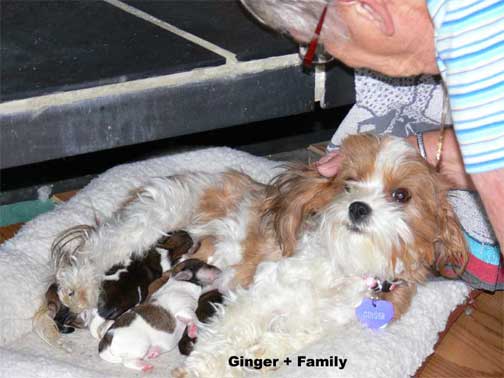 I think I have mentioned their dogs before – a male Yorkie/Havanese cross, and two female Shih Tzu/Bichons,the most adorable little mutts you have ever seen. One of the females, Tia, had a litter of seven pups in March. They all found homes as soon as they were weaned. The second female, Ginger, had five pups while we were at their place. Lovely, glossy little guys, growing like weeds!

It was raining when we left home, and off and on all the way to Oyen. We took the motor home so didn't travel very fast, in fact we only got to Wakaw the first night, staying at Poplar Beach Campground, right on the highway. When we left Oyen, the weather cleared and warmed up, and we had lovely weather right up until last Thursday, when it turned cool and rainy. I see by Ken Folstad's column that while we were enjoying the sunshine, it was raining at home.

While fuelling up near Hanna, I saw quite a sight – a huge transformer, weighing 350 tons, on a trailer with 240 wheels, being pulled by one semi tractor and pushed by another. I managed to grab a couple of shots as it went by, but would have dearly loved to see how it negotiated a corner. I couldn't see where the trailer was articulated, and can't imagine the two tractors skidding it around. By the way, I got the numbers from the man in charge of the gas station; he had been advised that it was coming.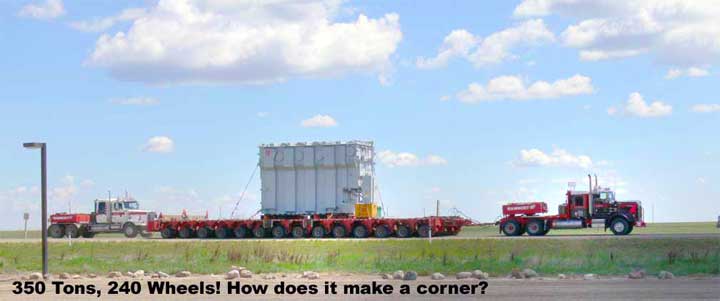 We couldn't go to Alberta without a stop at That's Crafty, near Drumheller, for a coffee and dessert, and a visit with June and Hugh (if he wasn't herding horses in the mountains). June introduced us to her new pet, a 5-year-old donkey named Ollie. Ollie spent the first years of her life training bulls to lead and keeping them from fighting. The rancher retired and June bought the donkey, just a few weeks ago. It had never been a pet but is getting used to being fed by hand and admired.

Something new has been added at That's Crafty – an Antique Barn, in the same yard. When I looked in, Hugh was sitting there holding a guitar, and his friend, Dick, had one too. They played and sang a song, and it was really delightful. They are very skilled entertainers. Hugh is a retired RCM Policeman; he served in many Saskatchewan places and knew Herman Duerksen, Don Johnston, and Bruce Irwin.

We visited some garage sales in Carstairs on Friday. At the first one, the lady running the sale impressed me with her beautiful blue eyes. I said to her, "You look like your name should be Rhonda Wheatley!" and she replied, "You look like the Crawfords!" I took her grad photos years ago and her parents, Edie and Allen Wheatley, still live in the Kelvington area. Rhonda told me she has lived in Carstairs for ten years.

We went to another garage sale, and the lady there was originally from Invermay, but hasn't lived there for over fifty years. They say that nobody over the age of fifty was born in Alberta.

We found another jewel on our trip - the hamlet of Rosebud, just west of Drumheller and about ten kilometers south.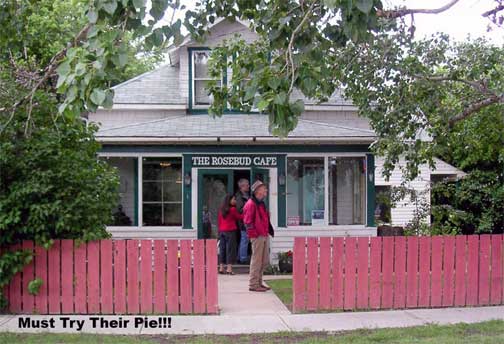 Population ninety, but it has a School of Fine Arts, and Opera House, the Rosebud Café, a general store and museum, a couple of art galleries and a Mercantile, which was closed. We got there just in time to miss a matinee of a stage performance; we tried to get tickets for the evening performance, but it was sold out. I hear it was a great show. If you go near there, try to phone ahead to see what is being staged and when, and to book tickets. And make sure you check out the Rosebud Café, the General Store and Museum, and any other places that might be open. There's also a good-looking campground nearby.