March 26th, 2006: It's been a dull and windy day, but the temperature was right around the freezing point. Lots of snowmobiles around. When we went for coffee this morning, a young man was loading up his machine into a trailer - said he had to get back to work. Doreen asked him how the snowmobiling had been and he said, "Awesome!" He obviously would have loved to spend the week here.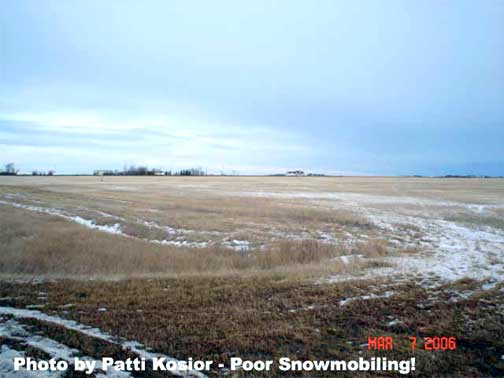 I got an e-mail from Patti Kosior last week. Patti was the bookkeeper at The Cove for a couple of years. She is now living in Weyburn, but follows the Greenwater Report faithfully. In contrast to all the snow we have had, Patti sent some pictures of Weyburn, showing almost no snow at all!

People with fishing shacks are having trouble getting them loose - they are frozen down. When a fishing hole is drilled, the water just doesn't stop coming up. Maurice doesn't have much sympathy for them; he says that has to be expected when they drill their holes and park their shacks in low spots. If they went to a high spot on the lake, they wouldn't have that problem. At least, that's what Maurice says.

The Kelvington Legion Fish Derby was scheduled for today, but has been cancelled due to flooding on the ice. Good move - I think it would have been pretty messy!

When we left on our trip, there was little snow from Rosetown west, and almost none in Alberta. We came home from Airdrie last Tuesday, planning to drive to Saskatoon for the night, but the wind and blowing snow made the highways terribly icy so we holed up in Kindersley for the night. We were surprised to see the fields covered with snow pretty well all the way.

Next morning, from Kindersley to about half way to Rosetown the road was very icy, but it gradually improved after that. We came all the way home that day, and the highway east of Saskatoon was fine. We could see where the highway trucks had some pretty impressive drifts to contend with and there had been a lot of bulldozer work done on driveways and approaches. I gather it was mostly wind and that there hadn't been much fresh snow since we left.

The heavy snow load has been taking its toll. The quonset building in the Park's maintenance compound collapsed; it's a forty-year-old building that has handled lots of snow in the past. It was what used to be called a Wonder Building - I thought they could handle anything, but apparently not. Some are of the opinion that the skylight panels were a weak spot. The Park crew have been shovelling off the roofs of the other buildings - no use taking chances. There are reports of other storage sheds collapsing, including a hog barn north of Porcupine Plain.

It would be interesting to know what the official snowfall in the area has been. A man in Porcupine told me he had measured sixty two inches, but there has been a lot of snow since then. I remember reading once that sixty inches is around normal but I don't know if that is for the province in general or for our area.

Alex and Merv have each been feeding deer, a combination of hay bales and alfalfa pellets. Alex figures between them they are likely feeding a hundred or more. They say the condition of those that have been coming regularly is good, but the more recent arrivals are in pretty rough shape. I hear stories about deer that get into the deep snow and aren't strong enough to get out. The coyotes will be well fed.

I notice a poster at The Cove - the Perigord Rummage Sale will be on Monday, April 10th. We always like to go there for lunch and a visit, and to watch the clothes flying through the air.
Also, Perigord is having a Spring Beef & Pork Supper on Sunday, April 23rd, from 4:30 PM to 6:30 PM. Is that a first? Should be fun.
Retrun to Ensign - Return to Saskatchewan News
This page is a story posted on Ensign and/or Saskatchewan News, both of which are daily web sites offering a variety of material from scenic images, political commentary, information and news. These publications are the work of Faster Than Light Communications . If you would like to comment on this story or you wish to contact the editor of these sites please send us email.
Editor : Timothy W. Shire
Faster Than Light Communication
Box 1776, Tisdale, Saskatchewan, Canada, S0E 1T0
306 873 2004