October 15th, 2006: The wind finally went down! The lake was like glass Friday and Saturday mornings, much easier to take than the previous horrible winds. No sign of snow, but the forecast calls for snow and rain tomorrow.
The
Perigord Rummage Sale
happens tomorrow so we will go down and veg and visit for an hour or two.
The rain last weekend had the creek running like springtime again. The lake has come up to very near its spring highs; the floating dock at the Marina is a good six inches higher than the fixed dock and the riprap around the Marina is barely visible. I suspect the land around is so saturated that every drop that falls runs right into the lake. If we assume that the lake drains an area twice its size, an inch of rain should result in the level coming up two inches. Of course, it drains out the north end as fast as it runs in.
We were forced to admit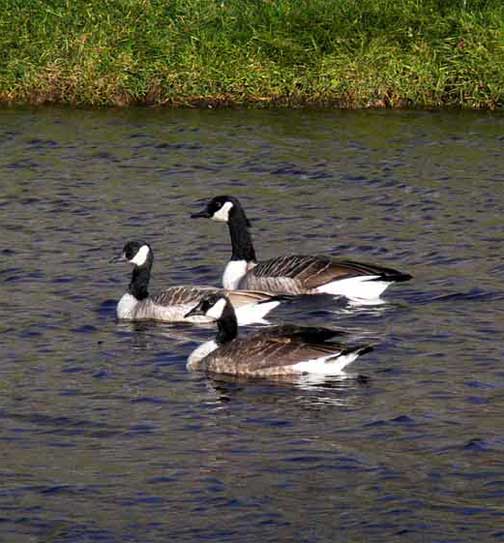 that maybe summer was over last week. Tuesday, the temperature did break zero by a degree or two, but a very strong north wind made being outside very uncomfortable. Wednesday was more of the same, though the temperature never did get up to zero. The north wind continued; we had breakers rolling in from the north like we rarely see on
Greenwater Lake
. There was a real blizzard in the morning for nearly an hour but a few sunny breaks melted most of it. All kinds of junk have been blown in to our shoreline, just about burying the dock which we just got around to pulling up on shore Friday. It was a lot calmer when we started but by the time we backed the jeep up to the shore, the wind came up as bad as the day before. My high-top boots weren't high enough to handle the waves rolling in. At least the job is finally done.
We went to
Porcupine Plain
on Thursday for their annual
Fall Fair
and
Craft Sale
. Had a very pleasant beef stew lunch and some visiting. I talked to
Robert
and
Nancy Howse
(
Bicycle Bob
). He tells me he hasn't been racing this year, but he rides regularly with a biking group in
Saskatoon
and has put just about seven thousand kilometers on his bike this year.
Our granddaughter,
Sheryl
, is now working at
Fort McMurray
and won't be back here, so she has asked us to sell her piano. It is still in the trailer at
The Cove
. If you know of anyone who would like a nice apartment-size
Baldwin
piano, suggest they call me.
We have had one showing of the house, and often see vehicles driving very slowly past the front and back streets, but no real action. Which is okay, because we are in no great rush to move. We have been working away on getting our professional negatives ready for the incinerator, so that will likely happen in a week or so. Then, of course, every time we have a visit from one of the kids, we unload more of our junk on them. Sometimes I think the best way would be to just hold an auction – if there is anything the kids want, they can bid on it.
Kelvington
is having a big week this week. They call it
Kelvington Days
and it includes special events every day of the week – seminars, store specials, fall suppers, garage sales – everything you could think of. Get hold of an agenda from any of the town business people and take part!