June 17th, 2007: Here we are, at Yellowstone National Park! We have visited Mammoth Hot Springs, Tower Falls, the Little Grand Canyon on the Yellowstone, and Yellowstone Lake, and we have seen lots of elk, a bear, many bison (including two huge bulls who went grazing through our campsite!), and hordes of people and vehicles. We even crossed Dunrovin Pass in a blizzard! What has impressed me most of all, though is the quality of people the public interacts with – they are superb! Warm, friendly, helpful and a joy to visit with. It makes us feel good about the whole park!

We spent Sunday night and part of Monday in Havre, Montana, where we went to the railroad museum and had a tour of Havre Underground. Apparently the town burned down in the early 1900s; the merchants and trades people moved into their basements and built a series of tunnels to connect the various businesses until they could get their buildings rebuilt, this time with brick. As with most tours, it is only as good as the tour guide, who we thought was pretty good – he made it interesting.

Fort Assiniboine was a disappointment – poorly signed, poorly described, and when we finally got there, there was a sign at the gate saying not to enter unless we were with a guided tour. So, we kept on to Fort Benton.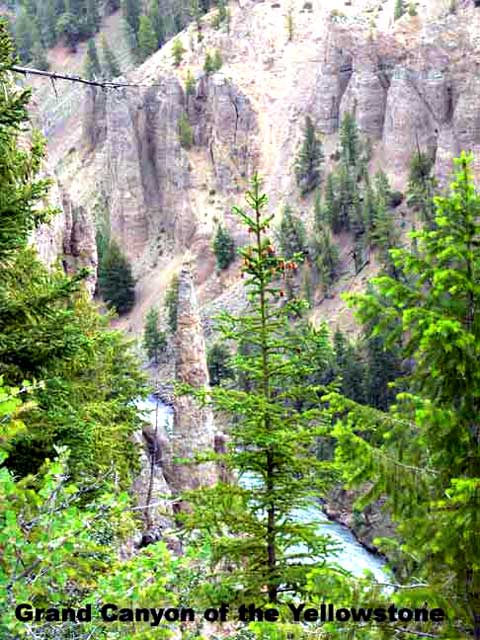 We found ourselves side-by-side sites in a lovely little campground in Fort Benton – lots of grass and trees, so Freckles was in seventh heaven. Cathy and I went to the owner's house to pay and Freckles came with us. There was a cat in a chair on the deck and it was gone over the side like a shot. As soon as the screen door opened, Freckles was inside like a shot. The lady said that was okay, so I shut the screen door behind me. Suddenly there was a black streak which hit the screen door and knocked it off its tracks – the lady's three-legged black cat had left the building. It reminded us of a stupid TV ad where the cat comes charging right through the wall to get the cat food. Anyway, we got the screen door back on its tracks, and another cat came charging out through another door. I never did find out how it got the door open, likely just smashed through. Freckles just looked startled.

Fort Benton's claim to fame is that it was the first fur trading post in Montana, early 1800s. The fur trade petered out by the end of the 1860s, and the post was turned over to the military in 1872. The town had three very good museums – one on the geology of the area, another on the first beginnings, and the third (a huge one) deals with the growth of agriculture in the area. We stayed two nights in Fort Benton so we could see all the museums, then left Wednesday afternoon for Great Falls and stayed there the next two nights.

On Thursday, we took a "trolley" tour of Great Falls which was interesting enough but didn't allow for many pictures. Nice to know the tour guide was "so proud" of their flag, volunteers and almost everything else, but it wasn't too informative. Then I dropped Doreen and Cathy off at a mall and took the motor home to a Chev dealer to get some problems looked after. I was there all afternoon drinking gallons of coffee, but had a couple of good visits with other people waiting for their vehicles so it wasn't a total waste. The problems, and their solutions, were very simple but still set me back $90. Cheap at half the price, especially if it solves the problem.

Had a great time on Friday, touring the Charles M. Russell Museum and Gallery, which was wonderful. Don't ever miss it if you are in Great Falls. Then we went to the Lewis and Clark Interpretive Center and got a good bit of the history of Lewis and Clark's famous trek up the Missouri, looking for a north-West Passage to the Pacific Ocean. They didn't find it, but they did learn a lot about the country, recently bought by the United States in The Louisiana Purchase.

We were in a campsite at White Sulphur Springs when we got a phone call from Darlene McCullough to say that Tibbie Frazer had died. Tibbie was a charter member of Parkland Photography Club, and a faithful member and contributor ever since. Our condolences to her family – we will miss her!

We spent Friday night at White Sulphur Springs, an almost defunct former mining town. Next day, we toured The Castle, a lovely old stone house built around 1890 and beautifully restored. Then we headed south down the Yellowstone River Valley, a wonderful trip, to Livingstone where we toured a railroad museum in a depot designed by the same architect who designed Grand Central Station in New York. Quality shows!

After brief holdups – one was three ambulances and three police cars at an overlook of the Yellowstone River, with ropes running down the side and one man in a wet suit – we assumed either someone ran over the side or a river raft met with an accident. Next was where a motorcycle apparently ran afoul of some loose gravel – an ambulance came along and picked up a man who was laying on the side of the road. Finally, we made it into Yellowstone National Park and got a campsite at Mammoth Hot Springs.

Now I will see if I can find a place to send this from.