September 2nd, 2007: Not a bad day at all. It never did get too warm today, though temperatures in the upper 20s were forecast, but it wasn't too windy, either. A surprising number of people were playing on the beach, boating, etc.

Lots of traffic around for the long weekend. I guess the forecast for good weather inspired people to spend one last weekend at the Park before settling into fall activities. Traditionally, this is the weekend when people come out to close up their cabins for the fall but that is becoming less of an event as more and more people use their places all year round, or at least keep them heated.

Yesterday was funny – at coffee we were remarking on how glassy the lake was – not a ripple. Some friends of ours were out canoeing in perfect conditions. They were all the way over to the far eastern end of the lake when the wind came up, creating instant white caps. They were forced to beach their canoe at the Church of God camp and walk home. It stayed windy for most of the day, and got quite cool. The only thing you can count on is that you can't count on anything.

We went to Saskatoon last Wednesday via Highway #5 and came back Thursday via Highway #41 through Melfort. The weather was pretty nice, especially on Thursday when it was summertime weather, yet we saw very little farming activity. One combine on the way in, plus a forage harvester, and about three combines on the way home. Several swathers, of course, and swathing seems to be very well advanced. We also saw one spray plane, likely spraying dessicant. Bill and Linda Woolley were out on Friday, and they said there were lots of combines at work between here and Tisdale. Just needed one more day of drying. Swaths looked good and heavy except along Highway #41 close to Saskatoon where they seemed very thin.

Highways are gradually being improved; one still has to be a bit careful in that rough stretch on Highway #349 west of Archerwill, but the bad part of #41 is pretty well patched up. There was some work being done on Highway #5 west of Humboldt; looked like they were doing a smoother job of patching those cracks across the pavement. I hate that "thump, thump thump" because there is no way around them. I'd prefer the odd pothole; at least one can make a game out of dodging them.

The Cove is open! At least, most of it is. The store, gas bar, and all accommodations opened on September 1st. They don't have their credit and debit card machine yet, but it should be along any day. In the meantime, they have the ATM in the store so people can get cash. I noticed they are advertising gas at $109.9 per litre, less than in Porcupine Plain. They have a small line of groceries in the store, with more to come. There are a couple of coffee tables set up and Darren says they will be open for coffee on Tuesday morning. Will he be able to handle the coffee crowd with two little tables and eight chairs? We'll let you know next week.

Last week, I said the Greenhills kitchen would be closing after this weekend, but Adele Kachur told me that is not the case – no decision has been made as to how long it will run, but they have some tournaments coming up and will certainly be open for them. My apologies to anyone who was misled by my remarks. Better to phone them direct for information.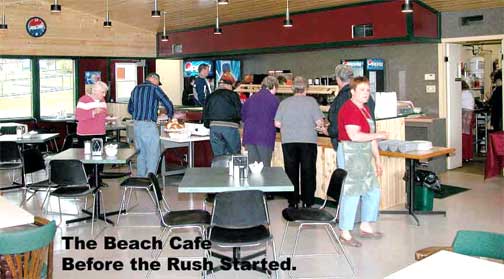 We went to the Beach Café for supper tonight; Jenny was out and came with us. Last smorg of the year, and was it busy! We went early, were finished before six o'clock, and the place was jumping the whole time. We finally took our coffee out onto the deck to make our table available for the next diners. Tomorrow morning we will go there for coffee, and that will be the last time. Connie and Gary will have a well-deserved rest over the winter, and will be ready to rock next May.