August 3rd, 2008: Today started out very pleasantly. It was sunny, with moderate winds and about 15°. We walked down to and around John Avant Park, about a mile south of us. There is a little lake surrounded by grassy areas and trees, and on the west and north sides there are attractive, well-maintained houses and yards. There are several places where one can sit down and rest, important to us old folk.

A muskrat swam up pretty close to us, no doubt seeing if there were any handouts, but when my camera came out, it swam away. Then there was a duck with ten little ducklings, not long out of the egg, exploring the rocks and weeds along the shore. How many clutches will a duck raise over the summer? These little guys have a lot of growing to do if they plan to fly south before freeze-up. There were lots of seagulls, of course, and several shore birds that we couldn't identify. They were about the size of avocets and their bill was about the same length but without the bend in it.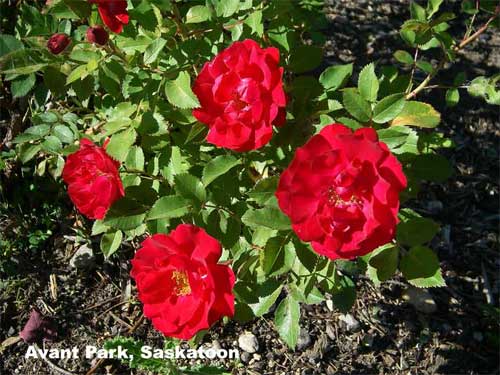 We went to Wynyard on Wednesday to say goodbye to Lois Thoen. She died a week ago yesterday. Lois and Ole were the first friends we had when we moved to Wynyard in early 1958, and we remained fast friends ever since. Ole died about twenty five years ago; Lois continued to be active in the dealership until ill health forced her to quit eight years ago. Her sons, Tim and Cal, continue to run the businesses in Wynyard and Saskatoon. The most common remark about Lois was that "She was a real lady!" and we echo the sentiment. Our condolences to Tim, Cathy and Cal, and to Lois's sisters, Avis and Edna.

We are now officially members of the Sunseeker Chapter of the Good Sam Club. Up to now, we have been attending their breakfasts and outings as guests. It is a lively, active and congenial group consisting of twenty-five units, therefore couples. They hold four outings a year at various regional parks plus breakfast every Saturday morning year-round, currently at the Roadhouse on Millar north of 51st. That is a wonderful feature; it gives us something to do Saturday mornings even in the winter. It seems to be very well-attended every week and is just a lot of fun. There are also a couple of outings with other chapters within the province, called Samborees. None of these outings are major trips, therefore not a major drain on the wallet.

We got home from Little Loon Regional Park last Monday and took our motor home straight to Mr. RV. The fridge wouldn't keep running on propane when not plugged in, which meant we had to empty it every time we got back from a trip, a major pain. That problem started while we were on our Dakota trip. Then, when we were at Greenwater, we found the lights going dim even when we were plugged in. Turns out the gizmo that converts 120 volt power to 12 volt DC power quit working, which meant the batteries weren't being charged. We solved that problem temporarily while we were at Little Loon by hooking up an ordinary battery charger to the coach batteries. It's all supposed to be fixed now; we haven't picked up the motor home yet so don't know how much it is going to cost us, but we can't seem to do anything to that rig for much less than a thousand bucks.

One of our weekend pastimes is visiting open houses and show homes. The show homes that we have looked at seem impossibly chopped up, with little rooms here and there and no end of steps. I suppose it is okay for young families where the parents can have their areas and the kids their own. We noticed that they put very small furniture into the bedrooms to make the rooms look bigger. We have steps here, but just one flight, and once up or down there is a big area with everything on one level. The name of the company we rent from is GSL Holdings, the GSL standing for Good Sensible Living, and I believe that fairly describes it. And then, maybe we are just old fashioned.