The cold snap broke last Tuesday. After a couple of nights of -30°, Tuesday started at -21° but warmed up to -8° by mid-afternoon. It stayed pretty moderate all week and there was even some sunlight. If our winters were like this all the time, who would bother going south? (Of course, there's always the golfing.)

Then, just to make me a liar, it dipped again to -17° about 7 AM today. I say it dipped about 7:00 AM because at 8:30, the bottle of drinking water in the car had no ice in it at all, and our garage isn't heated. Ergo, it couldn't have been cold for too long. At least it's sunny and not too windy. From now on, any cold snaps we get should be short. We don't need any more marathons.

The coffee crowd at Reggie's was talking about tomorrow being Groundhog Day. According to them if the groundhog comes out and sees its shadow, we get six more weeks of winter. I guess if it doesn't see its shadow, we still get about six weeks of winter, assuming spring starts on March 21st. What if it's sunny here, and it sees its shadow, but on the other side of town it's cloudy, and that groundhog doesn't see its shadow? Answer: we still get six more weeks of winter. Whether it is a pleasant six weeks or painful remains to be seen, and I doubt if the groundhog knows any better than we do.

The village of Kelliher is celebrating its 100th Birthday on July 3rd, 4th and 5th this summer. We have been in touch with my sister, Cathy, and are already planning to take our motor homes down there. We moved to Kelliher from Winnipeg in July of 1945. My father bought the Kelliher Creamery. We took our high school there, and by 1950 all three of us were gone, my sisters to further education and I to the CNR. In the early spring of 1954, Doreen and I and Sandy moved back to Kelliher and I joined my father in the family business. We lived there until the end of 1957, when we moved to Wynyard and started the poultry eviscerating plant.

We have a tendency to not live in the past so didn't have much contact with Kelliher people after we left, aside from the odd funeral or 50th anniversary. We did meet with David and Carol Thompson on a bus tour to Mesa a couple of years ago, and had some enjoyable visits with them. A few years ago, we stopped there on a motor home tour and visited with Barb and Almont Bolton, and with Stan Wicker. I doubt if anyone from Kelliher would recognize me now, with no hair and eighty pounds heavier, but people do recognize Doreen.

We took in the RV Show & Sale at Prairieland Park yesterday. Didn't see anything interesting, at least, not in our price range. There were a few smaller trailers but mostly humongous things that need a big truck to pull them. There weren't many motor homes and most of those were big, up to $250,000. Some people sell their homes and buy one of those monsters, then spend the rest of their life living in it and wandering all over the continent. Not for us – we like a place we can call home. Pleasureway makes some nice-looking machines that would likely suit our travel lifestyle, but they are awfully expensive. Our old Empress is just going to have to hold together until it dies, or we do, whichever occurs first.

In another part of the building, the Nutana Lion's Club held their annual Flea Market, and it was huge. I ran into a few friends and did some brief visiting, but otherwise didn't see anything too interesting. It took me fifteen minutes to see all I wanted; Doreen stretched it out to about an hour and spent one dollar.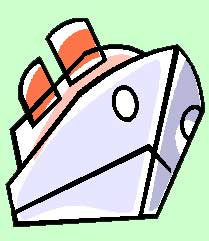 We went to the Western Development Museum and had soup and a biscuit with Jean and Jim Berg, friends from our bus tour to Mesa. They had taken a cruise through the Panama Canal and really enjoyed it. They made it sound wonderful and now we are tucking it into our minds for the next major trip we make. They flew to Los Angeles and caught the ship there, then cruised down the Pacific to the Canal, with stops along the way, through the Canal with some more stops on the Caribbean side, winding up at Fort Lauderdale. I think it was about a ten or twelve day cruise, just about long enough for us. They travelled with McConaghy Tours, so had guides to steer them through the airports, and that would be important. I get dreadfully confused in big airports, though Doreen always seems to know where we should be and when.

Did you know that Doreen got searched the last time we used the airlines? A few years ago, we flew to Seattle and Las Vegas, where we met Sandy and Blaine. As we were going through security here in Saskatoon, the alarm went off when they scanned her carry-on luggage. They said it was detecting traces of TNT. They called back her checked luggage and went through it thoroughly, then told Doreen she would have to be searched. A lady put on a pair of rubber gloves and asked if she would like to be searched right there or go into a private room, and Doreen opted for right there, with lots of witnesses. They settled for just patting her down. There was no problem at Calgary, Seattle or Las Vegas. We found out later that peanuts are used in making dynamite, and Doreen must have had some loose peanuts in her bag at some time. Lord knows how long it was since she last handled dynamite.