February 8th, 2009: Warm again, at least the last half of the week. How nice it is to not have to bundle up just to take out the garbage, to leave the toque and gloves on the shelf. It's nice, too, to see the ice build-up gradually melting away, even though most of it spends some time hanging on my paint job. Good thing I washed the car just when it turned warm.

Sounds like our weather may be changing. Today was bright and sunny, but the forecast for the next four days is for freezing rain, then snow flurries, and it will be colder later in the week, though still in the mid-teens. New snow will disappear fast if the sun just gets one good look at it.

Our renovations are progressing slowly. The dry-waller is finished except for the final painting; the vinyl is down in both bathrooms and it's starting to look like other than a demolition zone. It is to be hoped, next week will see the fixtures in place and maybe even the final coat of paint. For the past few weeks we have been down to one bathroom, not a problem when it's just us, but it means we can't wander around bare-assed when we have company. When our en suite is finished, we won't have to leave our bedroom until we are dressed.

Porcupine Plain's Colette Bourgonje has done it again! An item in the Star Phoenix last week said: "Colette Bourgonje of Saskatoon finished fourth in the 10-kilometre sit-ski event at the International Paralympic Committee world championships in Vuokatti, Finland." Saskatoon claims her now, since she teaches school in the city, but as far as the rest of us are concerned, she is a Porcupine Plain girl and her athletic accomplishments have brought a lot of pride to that town. There is a big sign-board picture of her (painted by Rose Steadman) at the entrance to the town, right beside one honoring Kelly Chase. Congratulations, Colette!

At Greenwater, we used to have an annual bike ride to Chelan and back, organized by Rob Howse (Bicycle Bob). One time, Colette rode with us on her special bike; I think Rob kept up with her but nobody else could. Colette has no use of her legs, so drives her bike with her hands. I wouldn't want her to give me the strap.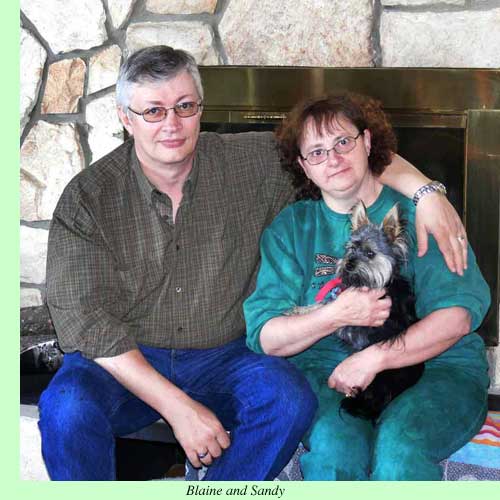 Sandy and Blaine spent a few days with us; Blaine's mother died after a long illness, and they went to Melfort and Gronlid for the funeral. I gather it was a great time for meeting with old friends and relations, as funerals usually are.

We got to baby sit with our great-grandkids again on Thursday. Doreen had a doctor's appointment at one, so Blaine and I went over and sat with the kids until Doreen and Sandy got there. What wonderful kids they are! Never a sign of making strange, and bright, cheerful and smart. As soon as Doreen and Sandy got there, Blaine and I took off for coffee, but then went back to play with the kids for awhile. I would say that Aimee and Al are doing a wonderful job of raising them.

Life carries on – Field House Monday, Wednesday and Friday; coffee there on Monday and Friday but at Market Mall on Wednesday. Coffee at the Co-op on Attridge Tuesday mornings, and at Reggie's Thursday morning and many afternoons. Breakfast with the Sunseekers on Saturday mornings. I just get home from coffee and it's time for lunch. Then my nap. Then if I haven't overslept, to Reggie's for coffee. What a busy existence! In between all those activities, I try to work in a few games of solitaire on the computer.