March 22nd, 2009: It has been a dull, windy day and as I write this it is drizzling ever so lightly, but the temperature didn't go below freezing all night. Rain was forecast but so far it's just that drizzle. Driving is sloppy and the snow is going down; what we need now is a few days of sunlight.

We attended the Home Show at Prairieland Park yesterday, and what a zoo. Although we got there about a half hour after it opened, we had to park away off at the outskirts of the parking lot. Luckily, we were able to catch a shuttle bus both ways so were spared any unnecessary exercise.

The place was packed, and there was a never-ending stream of people coming in and going out the whole time we were there.

Almost the whole show was in Building C, although there were some RVs in Building A – of no interest to us as we had seen them all at the sports show a couple of weeks ago. They soaked us twelve bucks apiece to get in, which I thought was a bit steep. I hate it when I have to pay someone to try and sell me something.

We did find a few booths offering something that interested us, so got some literature and promises of future calls. We watched a comedy act called the Duct Tape Boys. They are the guys who put out the series of little books on uses for duct tape. Learned some new but somewhat impractical uses for duct tape, too, such as completely covering a paper bag with duct tape to make a lunch bag that will last right through to college.

Best of all, we ran into several people from the Porcupine Plain area, and had some pleasant conversations with people that knew the Greenwater area, having once lived at Archerwill. We also had a great visit with Jonn Einarssen, originally from Wynyard, an artist who has made quite a name for himself. His early work was seascapes for which he has a unique touch, but he has recently branched out into prairie scenes, many of them featuring old elevators. Beautiful work. He is going to notify us when he has a showing at local galleries.

The lineup at the concession booth at lunchtime was imposing, so we bought a sausage from Boryski's booth and a chunk of fudge from the fudge booth, and that was our lunch. Enough to make a nutritionist shudder.

A friend from our Sunseekers club was celebrating his 90th birthday with a come and go in the afternoon, so we dropped in there after the show. We had some sandwiches and cake and coffee there, so that made up for the scanty lunch.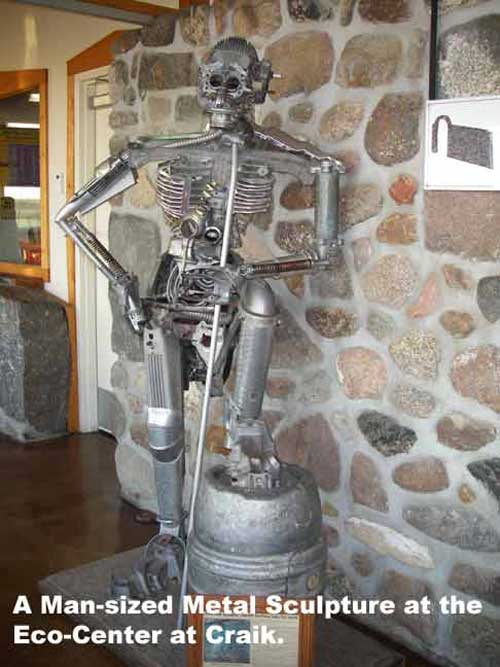 We went to Craik with some Sunseeker friends on Friday, to meet with the mayor, Rod Haugerud, and do some preliminary work for the outing on the long weekend in May. We had a great visit with Rod, and a nice lunch at the Ecological Centre. Craik has become famous for its ecological efforts.

The Ecological Centre is built of straw bales, and timbers from a demolished elevator, with much volunteer labour. It has its own water supply, its own waste reduction, solar heat, both panels and passive, and I believe much of its own power. It houses the golf clubhouse, a restaurant, and a gift store.
There is an Eco-village nearby with several ecological homes being built including a very interesting one that is a group of circles. There is also a flax store, built of flax bales and selling all kinds of flax products. Unfortunately, its owner died recently so its future is uncertain. A school teaching ecological methods started up last fall with twenty students from all over the world; the aim is to build up to two hundred students. There is a bio-gas plant in the immediate future, converting waste products like straw, wood chips and almost anything else into useable gas.
It's a small town, but its efforts have seen the population grow from around four hundred to well over five hundred souls.

There is also a very nice campground, with a little lake nearby that is reputed to offer good fishing. Craik is well worth a stop if you are looking for something different.