March 29th, 2009: Sunny again, and up over freezing. The snow is disappearing at a great rate; trouble is, it leaves the roads wet in places and they can turn awfully icy once the temperature drops.

We just got home from another fun evening at Off Broadway – good meal, good show and lots of people to visit with. We like to get all gussied up when we go to a dinner theatre, but not everyone does. There was everything from blue jeans and baseball caps to suits and ties, with the majority being casually dressed.

Last Sunday night, we got some rain, then some snow, then the temperature dropped to about -5°. Monday morning, the radio was advising drivers in most of the province to stay off the highways. Our little bit of sidewalk was like a curling rink, but our neighbour kindly came over with some ice melter.

We went to the Field House and didn't find any problem with the city streets, though we were being very cautious. After our exercises, we decided to try the highway out to the Dakota Dunes Casino. By then, the ice seemed to have melted off but there was a stiff west wind and blowing snow was sticking to the asphalt. We had no problem but again, we were being super cautious.

We left about ten dollars between the three of us at the Casino, but that was after we bought lunch, with coffee and desserts. So far this year, the Casino has been about our cheapest form of entertainment. They gave us fifty five dollars between the three of us to gamble with, and basically we gave it back to them.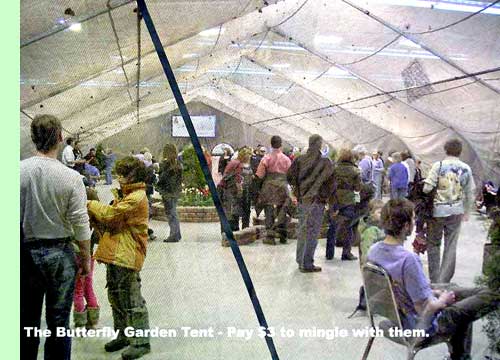 We went to Gardenscape at Prairieland Park on Friday; we have absolutely no garden space here but already Doreen is trying to decide what to do with it. We took Lucille with us; she has no garden space either, but did buy some dead twigs to dress up her coffee table (which she hasn't got, either).
It was very crowded, more so than the Homestyles show from the week before, but there were a lot of school kids touring the butterfly exhibit as a class. It was quite an exhibit – a large mesh tent with flower gardens inside, and thousands of live butterflies. You paid three dollars to go in and mingle with the butterflies. Kids loved having their pictures taken with butterflies on their hands and caps. We didn't go in.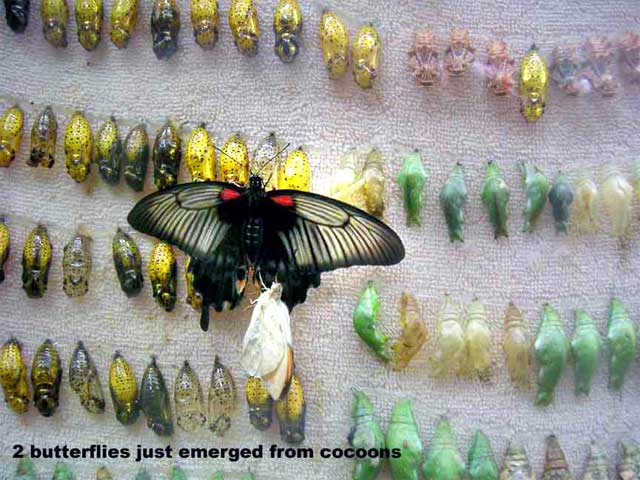 There was also a two-sided display set up like large windows; inside was fabric hung with thousands of cocoons, and butterflies were emerging as we watched. Some were small, others huge. Fascinating!
In the main part, at a Wildlife Conservation booth, a girl had a live bat; it had lost one wing so had no motion except to crawl around a bit.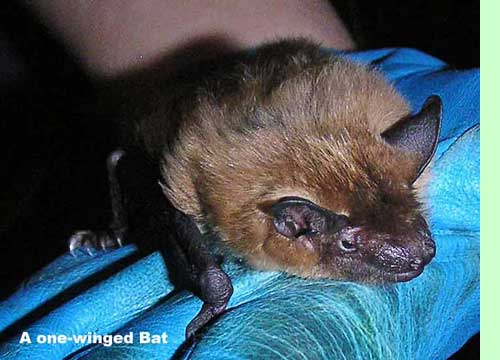 The girl wore gloves, and we weren't allowed to touch it (not that many wanted to) but she gently stroked its back and it seemed content. I took a picture of it.

There were bistros and cafeterias set up all over the place, and at one we were able to get saskatoon berry pie and ice cream, and was it ever a treat.

There was a lot of equipment on display, for home gardens and for professional landscapers, and many booths offering landscaping services. There were no Watkins booths, no fudge booths, but there was one Mary Kay booth – it must have been offering hand lotion for gardeners. All sorts of outdoor decorations, of course.

We ran into a few people we knew, some from the Parkland Photography Club and some from Greenwater, and that is always a plus.