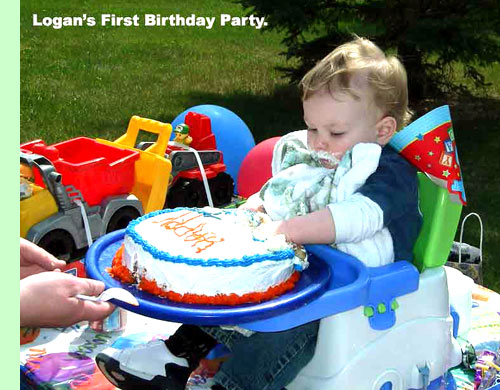 June 14th, 2009: According to the thermometer at our house, it got up to +32° today; the one in our motor home read +31° and I noticed the engine temperature edging up just a trifle. We're not used to this!
We took the Motor home to Tisdale on Sunday, and went to a birthday party for Logan at the Kinsmen Park, on the east side of town. Had a good time, once we found some shelter from the wind, and the rain left us alone. Logan had his own little cake, in which he could dig his hands and stuff himself to his heart's content. Wonder how he slept when he got home?
We went on to Greenwater and got a lovely lot in Lakeshore, level as can be and with 30 amp power. We just holed up Sunday night and rested after the trip.
Monday morning, we went to the Beach Café for coffee, and got a real education at the same time.
Jack lives at Marean Lake; he has never been a booster, though – in fact I think he would be happiest if people would just leave him alone. Until he gets lonely, that is – then he comes to Greenwater for coffee. He misses me terribly, since we moved away; I can tell by the warm greeting when I come back. "Are you back? I thought we got rid of you!"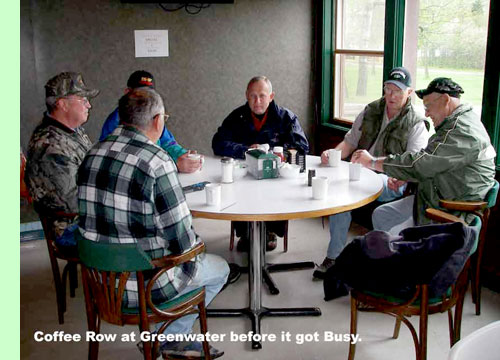 He told me that Marean Lake has a mercury problem. Apparently, too many people are using thermometers to see if the water temperature is right for fishing or swimming; some break, and leak mercury into the water. He says the mercury is hell on aluminum boat hulls, especially those from Greenwater Lake – sounds like the lake water leaves a deposit of microscopic life that attracts mercury, and it eats out the aluminum.
Merv said that is why Marean Lake fish, if you can ever catch any, glow in the dark. CO Corey said in the winter, people would catch their limit of perch then string them on a line and hang them up around their decks like a bunch of patio lights.
On a more serious note, he lamented that people can just not learn to leave baby deer alone. (By people, I mean adult women. Men, and children, seem to understand.) They see a tiny, helpless-looking fawn lying in the long grass and immediately assume it has been abandoned. They phone the Conservation Officers and insist that something be done with the poor thing. They hang around, oohing and aahing, never considering that mama is not going to come anywhere near as long as they are nearby. Leave the poor little bugger alone – mama will look after it!
An exciting new development at Greenwater Park! The Park has been under pressure to provide seasonal campsites – Almi Campground apparently has a long, long waiting list – but the Park feels their mandate is to cater to the less-than-seasonal campers. Nothing worse than driving in to a Park, seeing long lines of trailer-occupied sites with no people around, and being told the campground is full.
Fisherman's Cove wanted a road from the west end of the Kehrig subdivision into the back end of their property, but the powers-that-be wouldn't let them do it. So: compromise. The Cove puts in their road, but uses it to service twenty seasonal sites to the west. The land would be leased from the Park, but the Cove would run the campground. Problem solved. I should add that it is still just in the talking stages but sounds like a great plan.
From Greenwater, we went to Nipawin to attend the Good Sam Samboree, held at the Evergreen Centre there. We had about 250 rigs attend, from as far away as Maine, New Mexico, Nova Scotia, British Columbia, and points in between. Most, of course, were from Saskatchewan. Our group drew the chore of parking all those RVs, and most of them came in Wednesday morning, so we were really humping for awhile.
It was a great week, with some excellent features like an address by Dr. Lynda Haverstock, a tour of the museum, and lots and lots of coffee and visiting. We got a chance to visit with friends from Porcupine Plain, and spent some time with my sister, Cathy, and Freckles.
Happy hours arose at just about any time of the day or night, and they are my favourite part of camping.