July 19th, 2009: I wrote a Report last week – honest! I gave it to Doreen to proof-read and she fell asleep while reading it. I read it myself, and I fell asleep too. I made a decision right then – if I don't have anything to say, I'll shut up. No more bashing my head against the wall trying to find enough words for a report; no more freezing my buns off trying to take a picture of some inconsequential thing so I have a picture to send with the report. No more balancing my computer on some tippy picnic table, trying to pick up an Internet signal so I can send out a report. If there's no report in your favourite paper or e-mag, don't blame the media – blame me. If there is one, hopefully it will be more readable than the drivel I have been sending out recently.
The only thing that happened last week is that we spent the weekend at Manitou District Regional Park, near Watrous, on a campout with the Sunseekers. Weather was horrible Friday and Saturday but it just didn't matter – we had the use of a camp kitchen so just moved our fun and games inside. Sunday was lovely; most of the group left early, but six units stayed over another night and we had a marvellous time.
That Regional Park is one to recommend – nice, level sites, accommodation for groups, lots of trees, lots of fully serviced lots, and a nice staff. That was our second campout there, and we will be going back in September.
It seems lately that what little time we spend at home, Doreen is busy getting ready for our next outing – baking, sorting out groceries and stuff, and packing clothes. In between, she studies maps and reads tourist information so we have some sort of a plan when we take off. I mostly go for coffee and try to stay out of the way.
It's not that I don't do anything – I just don't do a hell of a lot.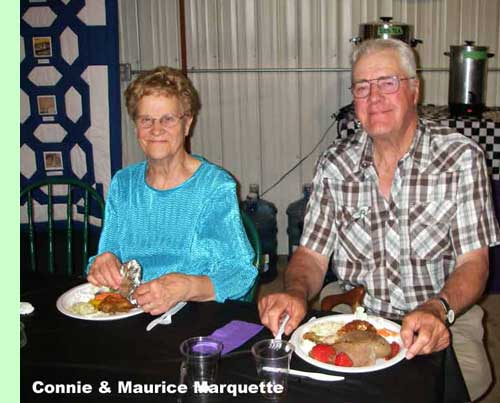 I shouldn't say that – having a motor home means lots of important technical stuff that I have to look after, like a noisy front end that I thought was wheel bearings but found out was poor tires. I made arrangements to have new tires installed, then to have an alignment done. I looked after getting the brakes checked on the car – technical stuff like that that Doreen can't do because she is just a girl. We both share the worrying about how in hell we are going to pay for all that and still have a few dollars to travel on.
We went to Greenwater this weekend – the occasion was the 100th anniversary of Marquette's farm just west of Perigord, and it really was a party. As usual, Maurice and Connie's descendants did a wonderful job of entertaining everyone, and there was a fantastic meal. There must have been 150 people or more in the shop, including most of Greenwater's coffee row.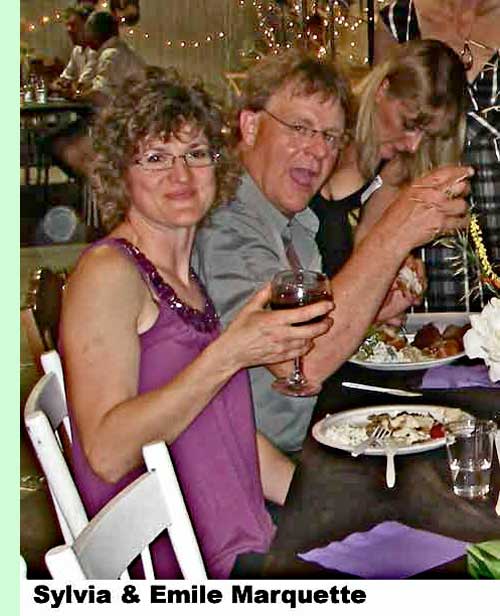 The rest, I believe, were related to the Marquettes. Someone commented how much they enjoyed listening to Merv Miller and Maurice insult each other at coffee. There's a big change coming up for Sylvia and Emile Marquette – they have sold their dairy quota and cows and from the end of the month on will be strictly grain farmers.
Back in 1979, when we sold our business in Wynyard, we spent most of the summer at Greenwater. We thought we would like to find a small acreage where if the whole world went to pot, we could throw up a little shack, cut firewood for heat, and pick berries for food. What we wound up with was a half section of bush with a big house and shed, and we lived there for over twenty years.
Well, Elwood (Woody) Prybylski is about to offer just what we were looking for back then – he has twelve ten-acre lots all surveyed, right across the highway from the Cove and Almi Campground. Each has enough level ground for a house and disposal field, and the rest is bush. Many have a view of the Lake. I believe most of them would be closer to the Park's beach than the far end of Uskatik. Elwood and Susan took us for a drive through the property; he has a pretty good road in a loop that will service each lot. Lots will be deeded – he just has one little formality to complete and that should be done by the end of August. What beautiful country – we haven't prowled the bush like that for ten years or more and it really felt good.